Texas got hot at the right time. It looked like Shaka Smart and Texas would end up on the bad end of the March Madness bubble, but the Longhorns won five in a row, including consecutive wins over #20 West Virginia, #22 Texas Tech, and fellow Big-12 bubble team, Oklahoma.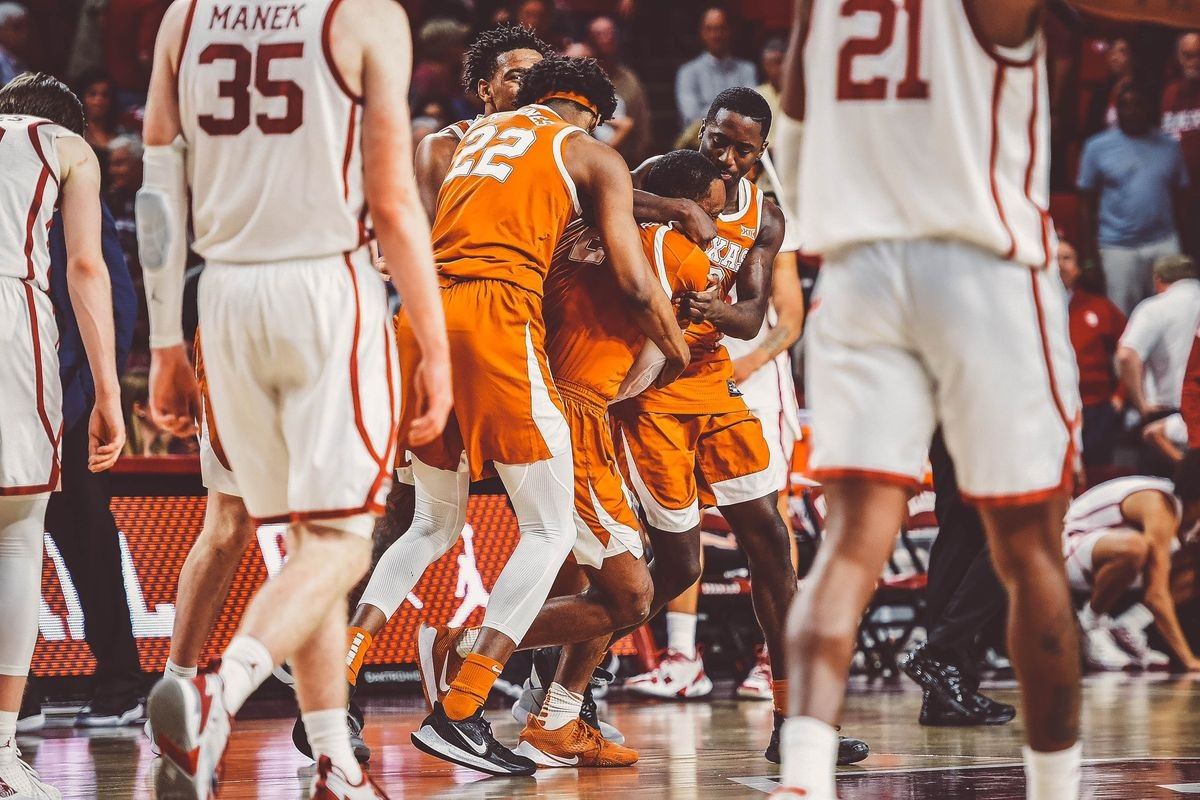 With one game remaining in the Big-12 schedule, Oklahoma State is the only team that stands in the way of a March Madness bid for Texas.
Shaka Smart will attempt to guide Texas to its third March Madness bid since he became their coach at the start of the 2015-16 season. In two previous trips to March Madness in 2016 and 2018, Texas busted in the Round of 64.
Big 12 Standings
Kansas 16-1 (27-3)
Baylor 15-2 (26-3)
Texas 9-8 (19-11)
Texas Tech 9-8 (18-12)
West Virginia 8-9 (20-10)
Oklahoma 8-9 (18-12)
Last season, Texas went 21-16 under Smart and missed 2019 March Madness as a bubble team. They were invited to the NIT and went on to become the 2019 NIT champion.
Smart is best known for his epic run with VCU almost a decade ago. Smart took VCU to the 2011 Final Four. In six seasons at VCU, he went 153-56 with five consecutive March Madness appearances.
Since he moved to Austin to coach Texas, Smart has struggled with a 90-81 overall record. Texas has never finished higher than fourth in the Big-12. At the moment, Texas is in third place behind the big dogs, #1 Kansas and #4 Baylor.
Big Win in Red River Rivalry
When you think Oklahoma and Texas, you immediately think about the "Red River Rivalry" between two fierce football teams. But it's cool when an intense rivalry spills over from the football field to the basketball court.
It looked like four Big-12 teams were a lock for March Madness with both Oklahoma and Texas on the bubble.
Texas is one of those deep teams that scores by committee, so you never know who will have the hot hand on any given night. Texas has a three-guard offense led by Matt Coleman III, Andrew Jones, and Courtney Ramey.
Coleman, a 6-foot-2 junior guard, leads Texas with 12.6 ppg. Jones, a 6-foot-4 sophomore guard, averages 11.6 ppg. Ramey, a 6-foot-3 guard, averages 11.1 ppg. He's the streaky shooter of the bunch. Since getting benched by Smart mid-season, he responded with 21-plus points off the bench in three out of his previous six games.
Coleman knocked down a tremendous 3-pointer at the buzzer to lift Texas 52-51 over Oklahoma. He finished with 21 points on 9-for-15 shooting.
"It's just a combination of a little passion, a little luck, and a little bit of March," said Coleman. "Like they say on the commercials, 'NBA is where amazing happens.' Well, March is where amazing happens for college."
"That was all him," said Smart. "It was a very imperfect game. Stats were ugly. Our guys showed resolve and toughness. We had guys going out with blood and even had one receive stitches on the bench. Very imperfect game, but their resolve and toughness was phenomenal."
On Deck: Oklahoma State
Texas picked off Oklahoma State in Stillwater earlier in the season, 76-64. Ramey led Texas with 16 points, nine rebounds, and six dimes in a must-win victory over Oklahoma State the last time they met.
Now it's do-or-die time for Shaka Smart and Texas, and the Longhorns could use a little help. A victory over Oklahoma State is necessary, along with other bubble teams losing this weekend. According to ESPN's Bracketology, Texas would miss out on the March Madness bubble. If Texas doesn't earn a coveted at-large bid, they'll have to run the table in the Big 12 conference tournament.
Remaining Games: (1) Oklahoma State
Key Wins: Oklahoma, Texas Tech, West Virginia, Purdue
Losses: Kansas (twice), Baylor (twice), Texas Tech, Iowa State, LSU, West Virginia, Providence, Oklahoma, Georgetown
According to a recent update from KenPom, Texas is ranked #49. KenPom has Texas with the #15 defense in the nation. Smart's teams are always tough defenders. They allow 62.7 points per game, which is ranked #23 in the nation.
For OG's coverage of other March Madness bubble teams, check out: Wichita State, USC, Stanford, Xavier, Oklahoma, Utah State, Cincinnati, Saint Mary's, Richmond, Providence, Rhode Island, and East Tennessee State/Furman.