Xavier (18-10) is only 7-8 in Big East conference play this year and the Musketeers find themselves on the March Madness bubble with three remaining games. Xavier hits a paltry 31.3% of their 3-point attempts this season, and they're ranked #281 in the NCAA out of 353 Division I basketball schools. On the nights Xavier heats up from the perimeter, they're difficult to beat. During games when Xavier's shooters go cold, head coach Travis Steele knows he's in for a long night.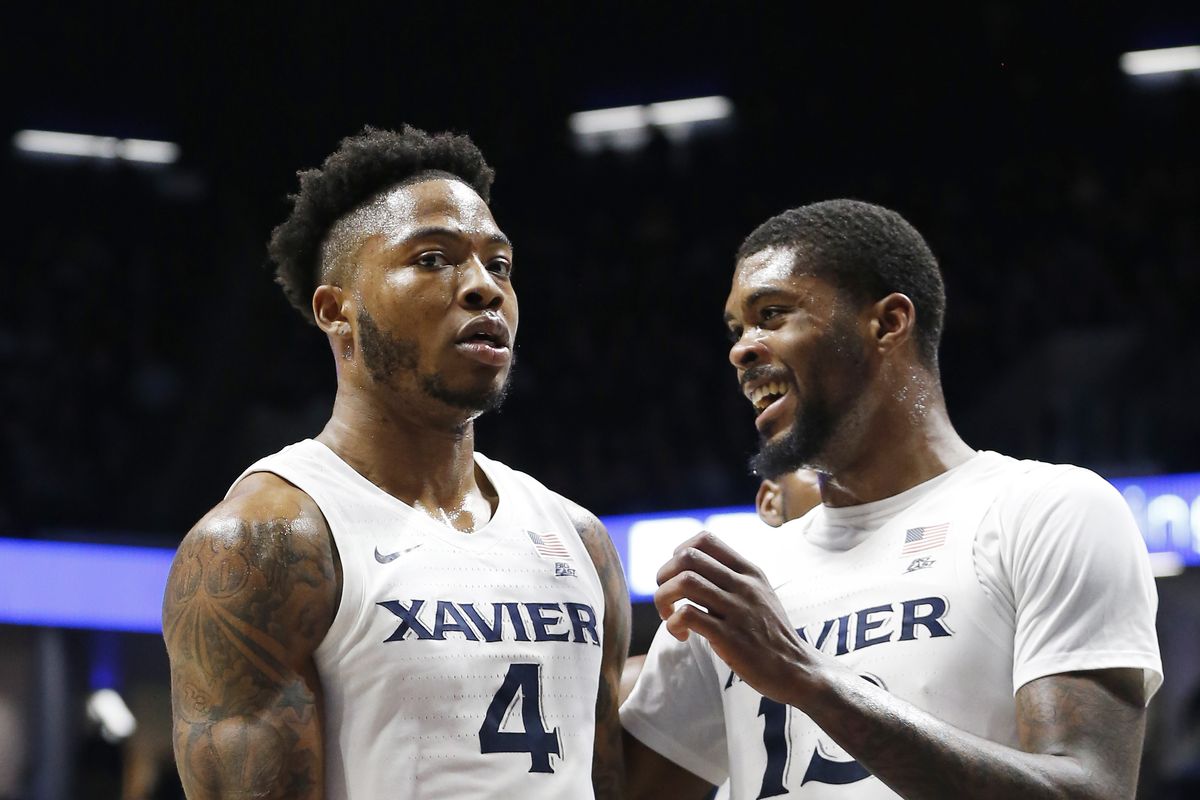 Xavier recently suffered a setback when they shot blanks against #10 Villanova. The Musketeers lost 64-55 and scored their lowest points total in over seven seasons.
"After that loss, we took practice very seriously," said Xavier's top shooter, Naji Marshall. "Guys got in the gym, worked on their jump shots, worked on film. Guys locked in the last two days and it showed on the court."
Xavier bounced back with a convincing 78-67 victory over DePaul in their last game.  Marshall led all scorers with 23 points.
With three games remaining, including Butler who beat them earlier in the season, Xavier will have to fight to finish with a .500 record in Big East action. If they can win the rest of their remaining games, they should secure an at-large bid to March Madness.
"We get to write our own story," said coach Steele. "Also, we want them to get the reality of where we are, and to play with the sense of urgency that we need."
According to ESPN's Bracketology, Xavier is currently a #11 seed with a play-in game. Other estimations from basketball experts list Xavier as a possible #10 seed. KenPom ranked Xavier #42 in his latest update.
X-Factors: The Marshall and Jones Show
Chris Mack, Xavier's former head coach, guided the musketeers to eight March Madness appearances in nine seasons. Mack took Xavier to the Sweet 16 four times, including a spot in the Elite Eight in 2017. Mack departed Xavier after the 2018 season in favor of Louisville, where he replaced interim coach David Padgett (who had taken over for Rick Pitino).
Xavier's new head coach, Travis Steele, had big shoes to fill after Mack's success put Xavier basketball on the map. Steele had been an assistant coach at Xavier since 2008. He coached under Sean Miller and Mack before Xavier tapped him to become their next men's basketball head coach.
In 2018-19, Xavier went 19-16 during Steele's rookie season. Xavier bubbled 2019 March Madness and finished with a 7-8 record in the Big East. This season, Steele has his eyes on his first trip to the big dance with the Musketeers.
Naji Marshall, a 6-foot-7 junior swingman, leads Xavier with 16.3 points and 6.1 rebounds per game. Marshall dropped a season-high 31 points in their intra-city rivalry game against Cincinnati. Xavier beat Cincy by 7 points, which is always a huge deal in the Queen City.
Tyrique Jones, a 6-foot-8 senior forward, undertook the role of workhorse for the season. He's Xavier's top rebounder with 11.1 boards per game, and their second-best scorer with 13.7 ppg. Jones posted 19 double-doubles this season, and is seeking #20 against Georgetown.
Jones recently had a string of nine consecutive double-doubles before foul trouble kept him off the floor in their recent victory over DePaul. During his epic double-double streak, which was second-best in school history, Jones hauled down 18 rebounds in three straight games.
On Deck: Georgetown, Providence, Butler
Xavier faces Patrick Ewing's Georgetown squad in Washington, DC on Sunday. They have one more road game next week at Providence. The Providence Friars are also on the March Madness bubble, so that's a pivotal game for Xavier. There's a small possibility that they both get in, while there's a chance neither team punches their ticket to March Madness.
Xavier finishes out the regular season with their final home game in Cincinnati when Butler, who beat them 66-61 two weeks earlier in Indianapolis, comes to town.
Xavier has an added perk of playing in the Big East. The power conference garners a little extra attention from the selection committee. But Xavier would rather not put their postseason fate in the hands of the committee with the possibility of missing out on the bubble.
If Xavier fails to win out their remaining three games, they'll have a last-gasp shot to secure an automatic bid by winning the Big East Conference basketball tournament. The annual tournament takes place at Madison Square Garden in New York City and teams have an uphill battle trying to win four games in four days.
Remaining Games: (3) at Georgetown, at Providence, Butler
Key Wins: #10 Seton Hall, Cincy, Providence
Losses: #10 Villanova (twice), Butler, Seton Hall, Creighton (twice), Marquette (twice), Florida, Wake Forest
For OG's coverage of other March Madness bubble teams, check out: Oklahoma, Utah State, Cincinnati, Saint Mary's, Richmond, Providence, Rhode Island, and East Tennessee State/Furman.