Here's your chance to predict the future and try to figure out how many points your favorite players will score next season. We like the under scoring average season totals for Nikola Jokic, Joel Embiid, Trae Young, and Dejounte Murray. We like the over scoring average season totals for James Harden, Luka Doncic, Ja Morant, Bradley Beal, and LeBron James.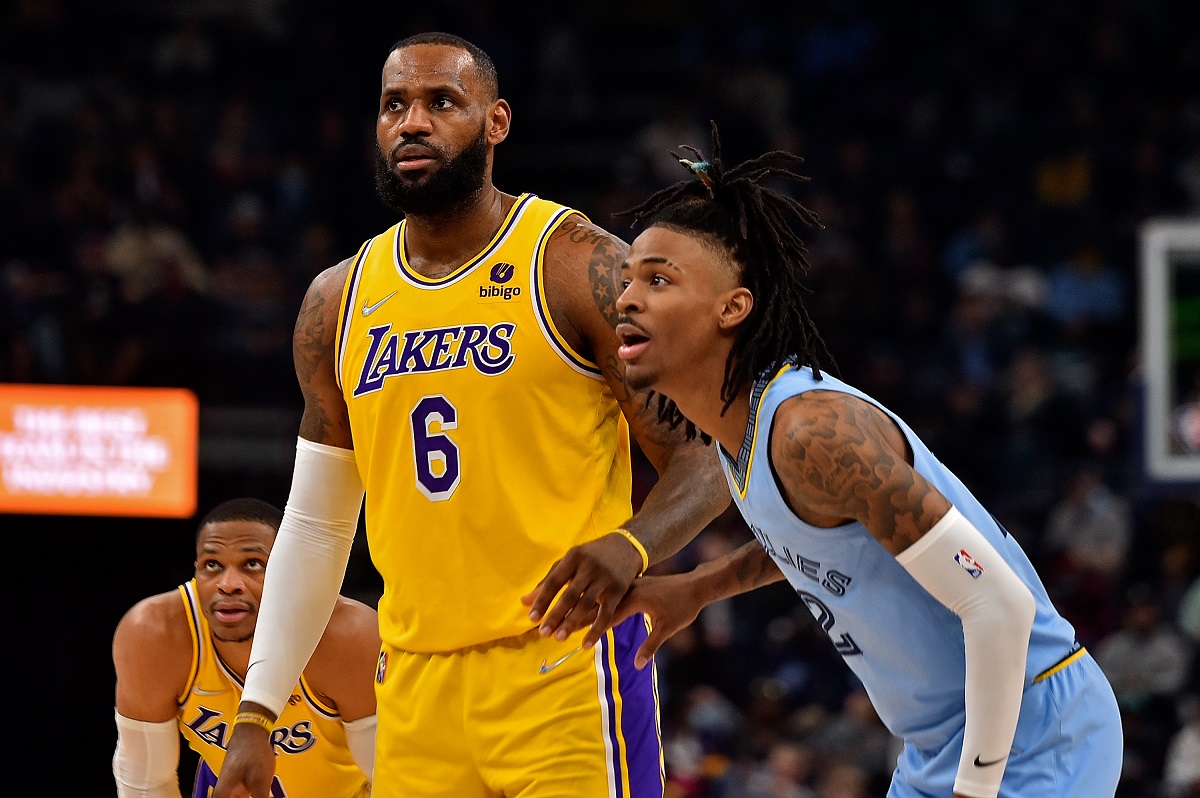 Joel Embiid (30.6 ppg) edged out LeBron James (30.3 ppg) for the scoring title in the 2021-22 season  because LeBron missed a quarter of the season due to injuries and failed to meet the minimum games eligibility.
LeBron James 28.2 o/u (OVER)
What will LeBron do this upcoming season? Will he try to win the scoring title in the same season he secures the NBA all-time scoring record? He's just 1,325 points away from tying Kareem Abdul-Jabbar (28,387) for most points in NBA history. If LeBron averages 27 ppg next season, it will take him 50 games to pass Abdul-Jabbar. If he averages 30 ppg, he'll do it in 45 games.
LeBron's scoring output depends on the health status of Anthony Davis. If Davis is out any significant time once again, expect LeBron to head north of an 29 ppg scoring average. Then there's the Russell Westbrook drama, which will affect LeBron's scoring average. If they Lakers cannot dump Westbrook, and it looks like they're bound for the Western Conference Play-In Tournament, expect LeBron to focus on the scoring title and breaking passing Abdul-Jabbar's record instead of worrying about winning another championship.
Joel Embiid 30.1 o/u (UNDER)
Embiid has to make a decision: win a championship, or win the MVP. Sure, there's a scenario where you can try to win both and that also hinges upon his overall health. Embiid was the runner-up in the closest MVP race in two decades. Philly fans think Embiid was robbed by Nikola Jokic, and you can make a fair assessment on either side.
Philadelphia has a narrow window to win the championship, and this might be their last chance with Doc Rivers as head coach and the current lineup. Embiid might not have to score as much as last season to win, but then again, he might have a chip on his shoulder and want to win the MVP. He won a scoring title and missed the MVP, so that achievement is not a lock to garner MVP votes. It looks like Harden will provide a much bigger scoring effort this season, so the scoring average of 30.1 under looks right for Embiid.
James Harden 21.7 o/u (OVER)
Harden is serious about trying to win a championship with the 76ers. He took a pay cut in the $15 million range so the team can afford to sign role players and former teammates with the Houston Rockets. He's staying out of strip clubs, working out nonstop, shed weight, and he's ordering In-n-Out Burger without the bun and skipping the fries.
Embiid challenged Harden to find the guy who averaged 36.1 ppg in 2019. He doesn't have to score 30-plus in Philadelphia, but expect him to improve upon last year's 21 ppg. Let's not forget he only appeared in 21 games with the 76ers after the Brooklyn Nets traded him for Ben Simmons, so he was still trying to figure out Embiid and the rest of the offense when the playoffs rolled around. We have faith in Harden that he really wants to win this year. So long as he stays out of clubs and cuts out the carbs, we feel good about a scoring average over 22 ppg.
Nikola Jokic 27.0 o/u (UNDER)
Jokic won the MVP in back-to-back seasons, and maybe he should've finished second to Embiid. Then again, he posted even better numbers than the previous season (27.1 point, 13.8 rebounds, 7.9 assists) and carried the entire Nuggets without two max-contract players. Jamal Murray missed the entire season with an ACL injury, and Michael Porter lasted a couple of weeks before he underwent season-ending back surgery. Both Murray and Porter are expected back in the lineup with full recoveries, so Jokic will not have to shoulder the scoring load. We like the under in scoring average for Jokic this season, but somewhere in the mid-20s and definitely below last year's 27.1 ppg.
Luka Doncic 28.9 o/u (OVER)
Doncic will try to lead his home country of Slovenia to back-to-back EuroBasket titles at the end of the summer. So, at least he'll be in shape by the time the season begins, unlike last year when he showed up to preseason a little paunchy. Doncic does not have the Unicorn or Jalen Brunson in the starting line up with him this season, so expect head coach Jason Kidd to rely on Doncic to score more than 30 ppg this season in the Mavs' heliocentric offense.
Trae Young 28.3 o/u (UNDER)
The Atlanta Hawks acquired Dejounte Murray in a trade with the San Antonio Spurs to bolster their defense. Murray and Young mark the first time in NBA history where there's a starting backcourt with players who averaged at least 20.0 points and 8.0 assists per game. But that's all on paper with two different teams. How will it work out in Atlanta? Can the Hawks have a backcourt like the Portland Trail Blazers during the peak Damian Lillard/CJ McCollum days? Or a backcourt like the Washington Wizards with Bradley Beal/John Wall?
The Hawks could encounter some sharing issues with only one ball and Young used to being a huge ball hog. It will be a close call on trying to predict a scoring average for Young, but it seems logical it goes under with Murray on the team.
Dejounte Murray 20.1 o/u (UNDER)
If Young is a legit coinflip and close call, then Murray seems a lot easier to predict. He's the new guy on the Hawks and will defer to Young. Expect Murray to score in the high teens over the season with a couple of monstrous games on nights when opposing teams are triple-teaming Young, or on the rare night Young goes cold from downtown.
Bradley Beal 25.5 o/u (OVER)
Beal missed the last part of the season with wrist surgery. He said he's not 100% healed, but a lingering injury will be the only thing that prevents him from averaging more than 25.5 ppg.
Two seasons ago, Beal (31.3 ppg) missed out on winning the scoring title when Steph Curry edged him out in the final weekend of the season. The seasons before that, Beal averaged 30.5 ppg for the first time in his career. Last season, Beal attempted to average 30-plus in three-straight seasons, but the wrist injury derailed his pursuit of that rare feat. Heck, only 11 players in NBA history averaged 30 ppg for at least three times in their career. Beal might not do it in three-straight seasons but he'd like to become player #12 on that exclusive list of NBA elite scorers.
In case you were wondering, Michael Jordan leads everyone with eight seasons averaging at least 30 ppg, followed by Wilt Chamberlain (7), and Oscar Robertson (6).
Ja Morant 27.5 o/u (OVER)
We love Ja Morant and he was our pick for MVP last season averaging 27.4 points, 6.7 assists, 5.7 rebounds, and 1.2 steals per game.The Grizzlies won 56 games and finished with the second-best record thanks to Morant. He turns 23 next week and has yet to hit his full ceiling heading into his fourth NBA season. Health will be the main concern. Morant went down in the playoffs with a knee injury. He also missed 25 games last season with various injuries. If you think Morant can stay off the IL, then a scoring average north of 30 ppg is a possibility.
Devin Booker 26.7 o/u (TBD)
Booker averaged around 26 ppg the last four seasons, so his current scoring average total of 26.7 o/u seems spot on. Before we try to predict what Booker will do next season, let's try to figure out what the hell happened to the Phoenix Suns in Game 7 of the Western Conference Semifinals against the Dallas Mavs.
It was probably the worst performance in a series-clinching playoff game in NBA history. Hey, blow outs happen all the time in the NBA. Last postseason had a significant uptick in blowouts because of so many teams living/dying by 3-point shots. In a do-or-die Game 7, the Suns were down by 46 points. They lost by 33 points but the final score made it seem a lot closer than the reality.
Franchises usually do not bounce back from an embarrassment like that Game 7 loss, so we'll see if the Suns will return to their winning ways, or if the Game 7 shellacking is a harbinger of doom.
We buried the lede on Booker. He broke up with girlfriend Kendall Jenner and I don't blame Kendall for splitting up with Booker after how poorly he played in Game 7. Apparently the two lovebirds are back together, but you can never trust the Hollywood gossip rags. So, are we really going to make an NBA prop bet based on a relationship status? If Booker and Jenner resume their relationship, bet the under. If they break up for good a second time, then bet the over because he's going to be wicked pissed off and will channel his relationship angst into a scoring flurry.