A fierce rivalry has emerged.The Golden State Warriors throttled the Memphis Grizzlies 142-112 in Game 3 of the Western Conference Semifinals, but Memphis point guard Ja Morant left the game midway through the fourth quarter with a knee injury after Jordan Poole from Golden State grabbed Morant's knee while battling for a loose ball.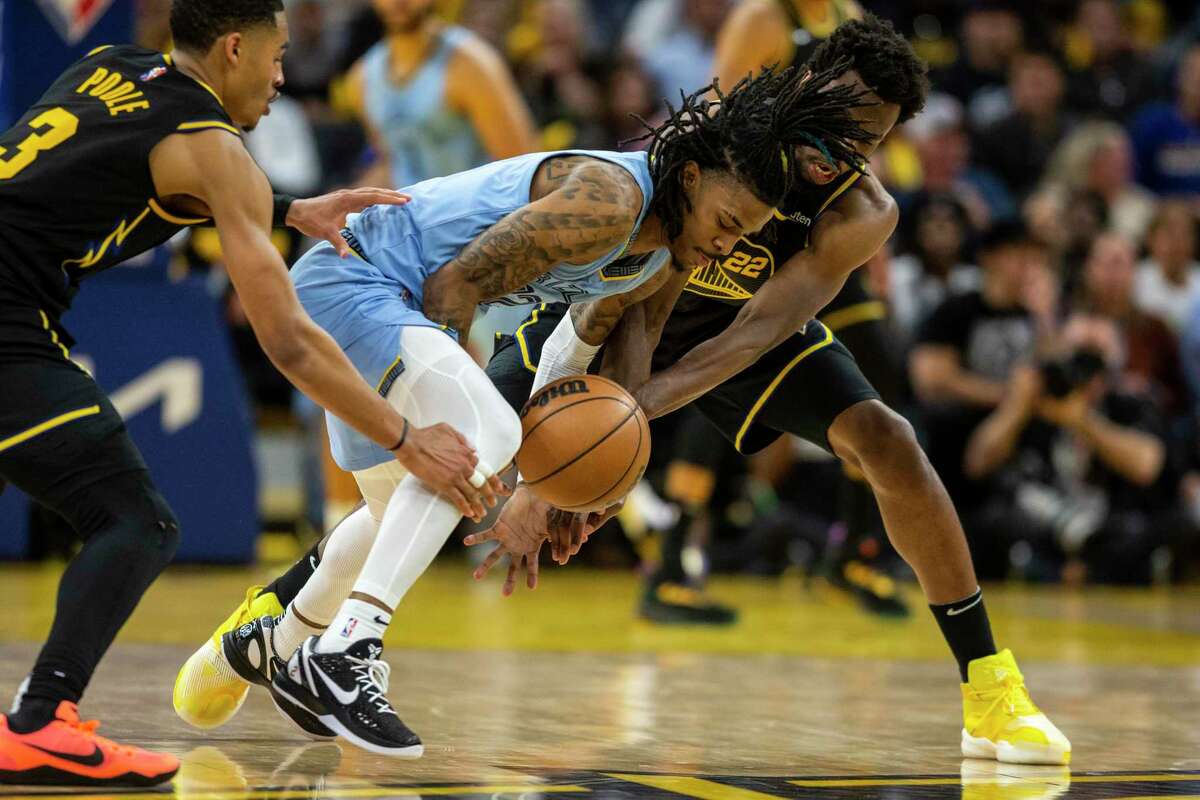 The second-round series between the #2 Grizzlies and #3 Warriors has been hyper-physical since the opening game when Draymond Green from the Warriors was ejected from grabbing Grizzlies forward Brandon Clarke in Game 1.
In Game 2, officials ejected Dillon Brooks from the Grizzlies after a flagrant foul against Warriors guard Gary Payton II. Payton fractured his left elbow and suffered ligament damage. Warriors head coach Steve Kerr thought called out Brooks for dirty play that "broke the code" of playoff basketball — where hard fouls are the norm, but you do not intentionally injure an opponent. The NBA suspended Brooks for Game 3, but the Warriors felt he should've missed more time considering Payton is out for a month.
In Game 3, Poole and Morant jostled for a loose ball when Poole inadvertently grabbed Morant's knee.
"It was a basketball play when we doubled him," said Poole. "I hit the ball, and I was going for the ball. You don't want to see anybody get hurt. I'm not even that type of player. I respect everybody."
Morant exited the game soon after with a knee injury, but the Grizzlies felt the move was intentional considering the escalated chippy nature of the series.
Poole Denies Dirty Play
Morant had another spectacular game scoring 34 points in 36 minutes. He also added seven assists, three rebounds, and three steals.
Morant averages 38.3 points, 8.3 assists, and 6.7 rebounds per game against the Warriors this series, which includes 47 points in a Game 2 victory. He tallied 34 points in both losses.
The Grizzlies were down 17 points when Morant left Game 3 with a little more than six minutes remaining in the fourth quarter with the apparent knee injury.
"He was going after a dribble and Jordan Poole actually grabbed his knee and yanked it, which kind of triggered whatever happened, so I'm actually going to be very curious to see what happens after that," said Memphis head coach Taylor Jenkins.
"Hopefully he gets better and, you know, we can see him out there next game," said Poole. "I don't even play like that for real. That's not my type game."
"I don't even think he's strong enough to affect somebody's knee," said Klay Thompson. We're not out there trying to hurt people, or trying to club people in the back of the head on a fast break."
Poole scored 27 points off the bench for the Warriors. The sharpshooting Pool connected on 11-for-17 from the floor, including 3-for-5 from beyond the arc.
Griz: Poole "Broke the Code"
Jaren Jackson, Jr. stood up for his teammate during a post-game press conference. Jackson invoked the verbiage that Kerr used to describe Brooks' flagrant foul that injured Payton.
"We're going to ride for our own," said Jackson. "You know our mentality. You make a play on the ball. It's unfortunate. You never want to see that type of stuff. Obviously, no one is out here dirty. No one is out here like that. But it's just unfortunate. You know the code. Talk about the code all series at this point."
Morant erased a tweet that said "broke the code" which alluded that it was a dirty play by Poole.
"It is unfortunate," added Desmond Bane. "Ja is obviously having a great series. For something like that to happen, something that is somewhat controllable, Jordan Poole reached out and grabbed his knee and kind of put him in an awkward position, you know, it's unfortunate."
Bane drew criticism for an incident earlier in the game where it appeared he tried to take out Poole's knees when he dove for a loose ball.
A couple of medical professionals suggested that the incident was a legit basketball play and that even it was intentional, it's difficult to injure a knee that way. Replays suggested that Morant suffered a knee injury earlier in the game when he banged into Thompson during a defensive close out.
Ja Morant reacted to Jordan Poole grabbing his knee.

(via @JaMorant) pic.twitter.com/9XhvkPfYxG

— SportsCenter (@SportsCenter) May 8, 2022
On Deck: Game 4 on Monday
The Warriors hold a 2-1 lead in this super-chippy and ultra-physical series. Morant is listed as day-to-day. The Warriors are -9 favorites in Game 4 on Monday night at the Chase Center in San Francisco.
Considering how this series has played out with incidents in every game, Game 4 is must-see TV. Will the Grizzlies retaliate in Game 4? Perhaps the officials call a tight game to avoid any more fisticuffs? Will the zebras swallow the whistles and let the two teams slug it out like the rough and tumble 1990s?
According to an update at DraftKings, the Warriors are -650 odds to win the series and advance to the Western Conference Finals. The Grizzlies are +400 to rally back after falling behind 2-1.
The Warriors are +265 odds to win the 2022 NBA championship as the second-highest team on the futures board at DraftKings. The Grizzlies are one of the long shots at +2800 odds to win the championship.
Check out more of OG's coverage of the 2022 NBA playoffs.