NFL Futures - Regular Season, Playoffs, and Super Bowl Odds
Turn your 2021 NFL predictions into profit by betting NFL futures. Wager on a range of markets with our live odds table, including your picks for who will win the Super Bowl, make the Playoffs, and more.
Read more
What are NFL futures?
An NFL futures bet is a wager placed far in advance of when the bet's outcome will be decided. NFL futures usually cover markets that span the entire season, with the result coming at the end of the regular season or postseason. Popular futures markets range from betting on who will make the Playoffs or win the Super Bowl to which player will make the most interceptions in a season.
Are NFL futures bets worth it?
NFL futures splits opinion among football fans; for casual bettors, it's a chance for a big payout with little stake, but for serious bettors, it can be one risk too far.
These risks are justified too — betting on who will win the Super Bowl six months before the Playoffs start is exciting, but there's an element of guesswork involved. Between placing your bet and knowing the result, each team will play 17 games, and that's not counting the Playoffs.
However, just because the result is unlikely doesn't mean it can't happen. In 1999, the St Louis Rams (now Los Angeles Rams) were +30,000 to win the Super Bowl and in February 2000 they won the Vince Lombardi Trophy. A simple $10 wager would have returned $3,000 profit.
While you're unlikely to get odds of +30,000 for many markets these days, futures odds are always generous because of the lower implied probability. Even if a team was +2000, you'd still win $200 from a $10 wager.
In short, we believe NFL futures are worth it, as long as you're sensible with your stake and remember the risks involved. We recommend only wagering small amounts on these long-term bets — keep reading for more advice on giving yourself the best chance of success with season predictions.
Understanding Line Movement with NFL Futures
During the NFL season, betting on individual games has a standard pattern. The lines will open on Monday or Tuesday, change throughout the week, and then close as the game kicks off on Sunday.
NFL futures are a little different, as the lines open almost as soon as the previous season ends, and in most cases won't close until the start of the following season's Super Bowl. The betting lines will change after each of the 272 games, whether substantially or not. That's why it's essential to understand the line movement with NFL futures, so you can bet at the right time and get the best odds.
Here's a breakdown of the three betting options you have when wagering on NFL futures:
When the betting lines open
With many of the betting lines opening as soon as the previous season is wrapped up, betting the opening line of NFL futures is very risky.
These lines are likely to be based completely on the performance in the previous season, which isn't an accurate reflection of what could happen. Over the spring and summer, team rosters can change dramatically, with drafts and trades, retiring players, or long-term injuries.
Opening lines can be deceiving, too. Following a Super Bowl victory, you might be tempted to back the champions and favorites for next year's title. However, despite there being seven back-to-back champions in the entire history of the NFL, it hasn't been done in 17 years when the Patriots defended in 2005.
While we don't recommend betting the opening line for serious bettors, you can still use your knowledge of the previous season to note down some of your picks. That way, once August rolls around and you have all the information for the new season, you can refer back to the notes and see if they match up.
When the season starts
Making your season predictions in late July and August is a more sensible and popular time to do so. At this stage, you'll have more information to base your prediction off and use a team's performance in the NFL draft, trading over the summer, or their preseason form.
Since 2001, only the 2006 Indianapolis Colts (+600) and 2016 New England Patriots (+650) have won the Super Bowl after being preseason favorites.
Remember that while you'll have more context making your NFL predictions later in the year, so will the bookmakers when adjusting the lines. A strong preseason, on or off the field, will lead to shorter odds for many futures markets. Although don't fret too much, the nature of the markets means odds won't be slashed too much and even if a team you favored from last season has a strong summer, you'll still get good value.
When making bets towards the start of a new NFL season, here are three key things to look at:
Roster: Following the draft, how strong is their squad? If a team has lost any key players and not replaced them, you can begin to worry they might not even perform as well as the previous season. Also, are they carrying any long-term injuries into the new season? If they are, perhaps check if there are any trade rumors before the deadline.
Preseason: Taking notice of performances in preseason isn't for everyone, especially since they've been cut back to just three games. Many coaches are reluctant for their star players to play and risk injury, peak fitness levels are still being reached, and stadiums aren't anywhere near full capacity. That said, for some markets, it can be a great insight for any early bettors — preseason games offer a great opportunity to get a look at any new players or rookies that might contend for some of the NFL season awards.
Schedule: The strength of schedule for NFL teams should be a consideration when making your predictions for the season, especially given the extra interconference game in 2021. If you're backing an outsider to make the Playoffs from the NFC and their extra game is a road matchup against a Super Bowl favorite from the AFC, are they still worth the wager?
During the season
Once the season starts the games will come thick and fast, with betting action focusing around point spreads, totals, and money lines for each matchup. This doesn't mean you can't still bet on NFL futures though, in fact, many bettors prefer to wait for the season to start.
Betting during the season will definitely give you the best chance of success with futures bets, but be aware that the lines will move every week. As the season rolls on, the lines will begin to sharpen and the bookmakers will start slashing odds for any in-form favorites. Outsiders who you might have favored before will either be performing well and have their odds slashed, or struggling, at which point they might be too far off to be serious contenders.
True success with futures will come from your ability to analyze the information, especially if you're looking for undervalued teams. Let's say you want to back the Falcons to win the NFC South, but they've lost three games in a row, and you think it's only because of a short-term injury to a key player. At this point, you would find more value in betting that future if you still believed they could turn it around.
NFL Futures - Hedge your bets
A phrase universally used when referencing a difficult decision, hedging your bets is also a legitimate strategy when betting on NFL futures. Here's an example of how to execute it:
Two weeks before the season starts you back the Baltimore Ravens to win the Super Bowl at +1200. During the regular season, they cruise to the AFC North title and book their place in the Playoffs. The Ravens will play a maximum of four games in the postseason, so why not hedge your bets and back each of their opponents? Yes, this will eat into potential profits if your futures bet does win, but it also mitigates the risk — you might break even or still make some profits, depending on your original stake.
Types of NFL Futures
Even though betting on the Super Bowl winner is by far the most popular NFL futures bet, there are many more season-long wagers you can make. Here are all of the markets you can take advantage of each season:
Super Bowl Champions: Simply bet on who you think will win the upcoming Super Bowl. The odds to win the Super Bowl are released as the previous season ends, so you can take advantage of generous betting lines.
AFC and NFC Championship Predictions: With shorter odds than the Super Bowl lines, this is another popular market that is effectively backing a team to make the Super Bowl but not to win it.
NFL Division Predictions: One step back from the Championship predictions is betting on who will win each NFL division. With only four teams in each division, this is easier to predict, but the odds will be considerably lower.
Playoffs Futures: Predicting which teams will make the Playoffs can be easier than the markets above, but for great value, you'd need to pick an outsider. This year the Detroit Lions have received the most wagers to make the postseason, even though their odds were +750.
Seasonal Awards: Traditionally held the night before the Super Bowl, the NFL honors are an annual event shining a light on the season's star players and coaches. You can bet on these awards at sportsbooks, they include:
MVP
Coach of the Year
Offensive Player of the Year
Defensive Player of the Year
Rookie of the Year
Comeback Player of the Year
Team Performance: Another popular futures market is predicting the number of wins each team will get throughout the regular season. This is made easier as the bookmakers will set a total and you just need to bet whether they'll get over or under that total.
Player Performance: You can also bet on which players will perform best against the main performance stats throughout the season. From the players in each position, you can predict the leader for passing, rushing, and receiving yards. For the same stats, you can also bet over or under a set total against each player, which has been set by the oddsmakers.
Our Top NFL Betting Guides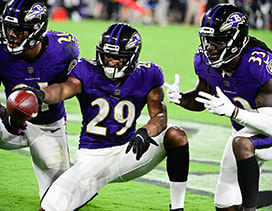 NFL Hub
Your destination for all things NFL betting. Find all our guides from this page, including how to bet on NFL.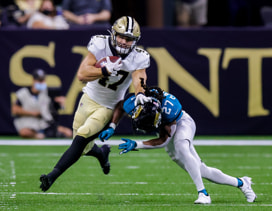 NFL Odds
Want the latest NFL betting lines and odds from the leading sportsbooks? Head to our NFL Odds guide for point spreads, totals, and moneylines.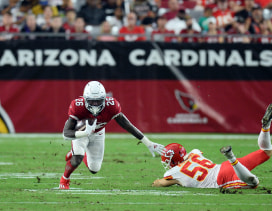 NFL Schedule
See our full schedule for the 2021 NFL regular season and find today's matchups, live scores, and results.