Led by the two-time reigning NBA MVP Nikola Jokic from the Denver Nuggets, Serbia is the betting favorite at +300 odds to win the 2022 EuroBasket, and listed ahead of France (+450), Slovenia (+450), and Greece (+500).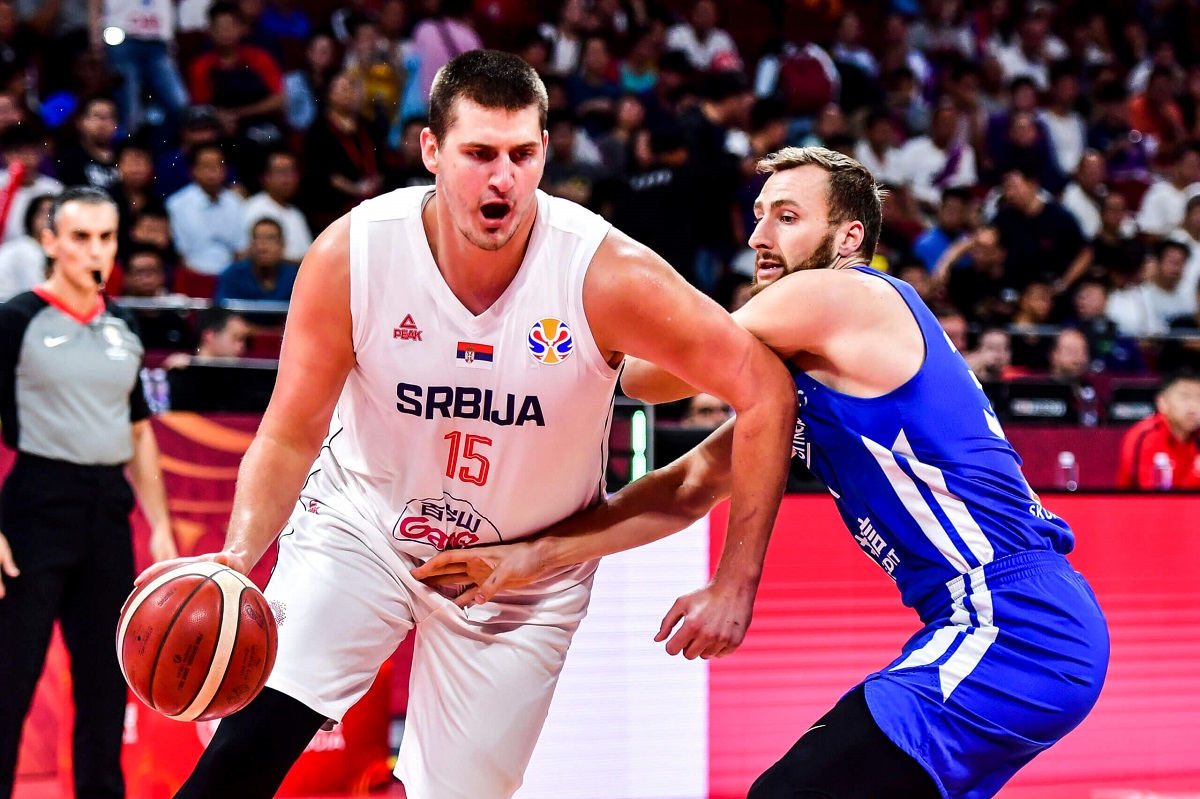 Defending champion Slovenia defeated Serbia in the 2017 EuroBasket championship game. They're a close second on the betting board to win back-to-back titles at +450 odds.
The 2022 EuroBasket tournament features 24 nations with Germany, Czech Republic, Italy, and Georgia sharing co-hosting duties.
Serbia +300
Slovenia +450
France +450
Greece +500
Spain +900
Lithuania +1200
Italy +1400
Turkey +1600
Germany +1700
Croatia +2000
Czech Republic +3500
Israel +4000
Poland +5000
Finland +5000
Montenegro +5000
Ukraine +5000
Belgium +6500
Georgia +6500
Netherlands +8000
Great Britain +8000
Bulgaria +10000
Bosnia +15000
Estonia +20000
Hungary +20000
---
EuroBasket was originally supposed to take place in 2021, but the four-year event was pushed back until 2022 to accommodate the rescheduled 2020 Tokyo Olympics, which took place last summer.
EuroBasket 2022 starts September 8, and concludes with the championship game in Berlin, Germany on September 18.
FIBA banned Russia due to the invasion of Ukraine, and they were replaced by Montenegro.
Serbia +300
Jokic is thrilled to return to Serbia to play for the national team for the first time since the 2019 World Cup. Jokic is on a mission to make sure Serbia locks up a berth in the 2023 FIBA World Cup before they focus on avenging a loss in the championship game at 2017 EuroBasket.
"I feel great, similar to every time I reunite with these guys," said Jokic. "I just met some of them. We are preparing, we just started and we will see how far we can go. Up first are the FIBA World Cup Qualifiers and the goal of helping Serbia qualify to the World Cup."
Serbia is a mix of NBA players and pros in Europe. Not every player with NBA experience was allowed to participate. Serbia will miss two big men because Aleksej Pokusevski and Nikola Jovic did not obtain permission from their teams. The Oklahoma City Thunder would not grant Pokusevski permission to miss workouts with the team. Jovic, a late first-round pick with the Miami Heat, was also not allowed to play in EuroBasket. The Heat want their incoming rookie to focus on the upcoming season.
Nemanja "Belly" Bjelica just won a NBA championship with the Golden State Warriors and Serbia is hoping his winning luck rubs off on them. The roster also includes Boban Marjanovic, who is one of the nicest guys in the NBA, but rides the bench for the Dallas Mavs. Filip Petrusev averaged 17 ppg with Gonzaga a couple seasons ago, and he's on the Serbian roster.
Serbia is the team to beat this year because Jokic is playing the best ball of his life, so it's no surprise that they're the betting favorite at +300 odds to win EuroBasket 2022. Serbia has a somewhat easy knockout pool round in Group D that also includes the Czech Republic, Poland, Finland, Israel, and the Netherlands.
Slovenia +450
All eyes will be on Luka Doncic from the Dallas Mavs, and the NBA All-Star leads the defending champion Slovenia into battle. Goran Dragic from the Brooklyn Nets will be Doncic's wing man heading into EuroBasket. With Doncic and Dragic, Slovenia boasts one of the top backcourts in Europe.
In two World Cup qualifying games, Doncic led Slovenia averaging 26 points, 9 rebounds, and 8 assists per game. Dragic averaged 19.5 points and 2.5 assists per game while shooting 61% from the floor.
Keep an eye on center Mike Tobey, who played college basketball in America for Virginia. Tobey currently plays for FC Barcelona Lassa in Spain-Liga Endesa. He averaged 13.3 points and 9.8 rebounds for Slovenia in the World Cup qualifiers.
Slovenia is the best team in Group B, but France, Germany, and Lithuania are no slouches. With Doncic anchoring the team, Slovenia is worthy of a flier to win EuroBasket 2022 at +450 odds.
France +450
Joel Embiid was recently granted French citizenship, but he will not be able to play for France in EuroBasket 2022. Keep an eye out for the next Olympics though, where Embiid is itching to play.
France has a couple of NBA ringers including Frank Ntilikina from the Dallas Mavs, Petr Cormelie of the Denver Nuggets, and Jaylen Hoard and Theo Maledon from the Oklahoma City Thunder.
Victor Wembanyama, the teenage sensation and projected #1 pick in the 2023 NBA Draft, is not playing on the national team.
Maledon, the starting point guard, led France in scoring with 13.5 points and 3.5 assists per game during a couple of World Cup qualifying games.
Center Vincent Poirier plays for Real Madrid in Spain, and he was France's second-best scorer in the WCQs with 13.5 points and 7.5 rebounds per game.
France last won EuroBasket in 2013 with a runner-up finish in 2011 and a third-place finish in 2015. In 2017, they finished a disappointing 12th place. France has a tough draw in the knockout pool of Group B that also includes Slovenia, Lithuania, Germany, Hungary, and Bosnia and Herzegovina.
Greece +500
As expected, Giannis 'Greek Freak' Antetokounmpo returns home to play for Greece. With the Greek Freak on the court, Greece has a fighting chance.
Georgios Papagiannis, the 7-foot-3 starting center, played high school ball in America but ignored scholarship offers to blue chip programs to go back to Greece to play for Panathinaikos. He has a short stint in the NBA with the Sacramento Kings in 2016-2018 sandwiched in between his time with Panathinaikos. Papagiannis averaged 16.3 points and 7.7 rebounds per game in three games during the World Cup qualifying round.
Dimitris Agravanis was drafted by the Atlanta Hawks in 2015, but his draft rights were traded to the Sacramento Kings and Cleveland Cavs. He never played in the NBA, and spent the last few seasons with Promitheas Patras. Agravanis ed Greece with 17 ppg in five WCQ games while shooting 41% from 3-point range.
Greece should dominate in Group C in the knockout pool round against Italy, Croatia, Ukraine, Great Britain, and Estonia. If you're looking to take a flier on a team that's not Serbia or Slovenia, Greece is worthy of a flier at +500 odds. They last won EuroBasket in 2005, but finished in eighth place in 2017.