"Bull Durham", a 1988 film about a season with the Durham Bulls minor league baseball team, follows an aging catcher (Kevin Costner) named Crash Davis and a talented but eccentric young pitcher (Tim Robbins) who both compete for the affections of a local English literature professor (Susan Sarandon).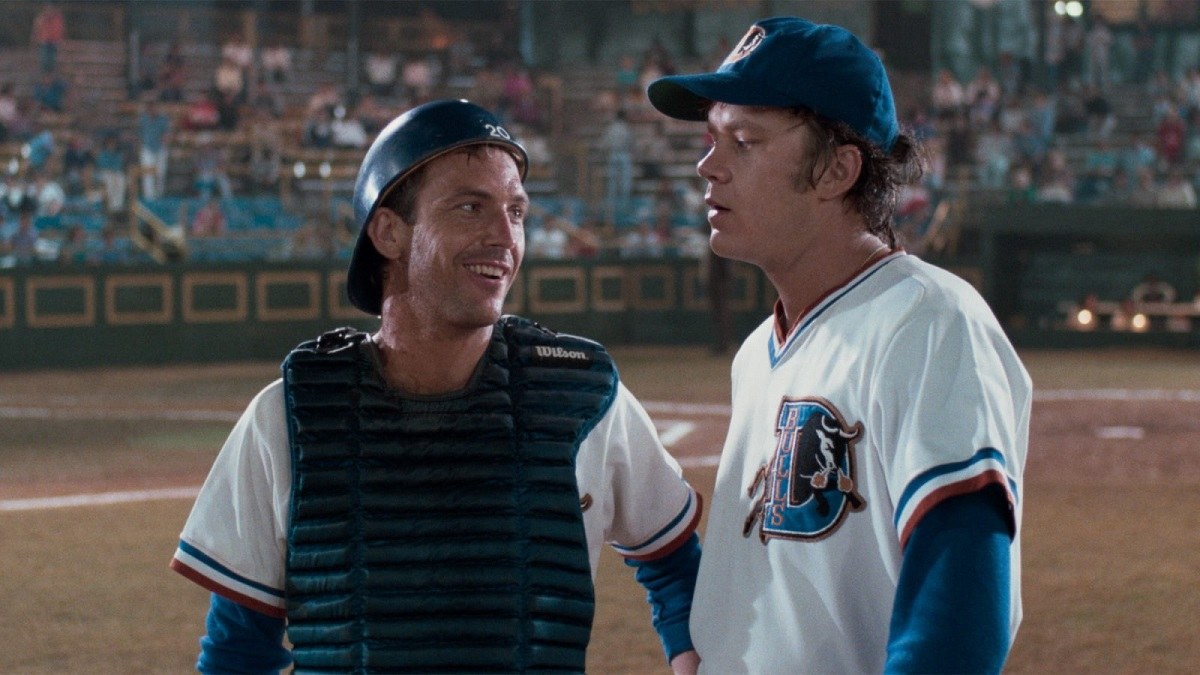 "Bull Durham", written and directed by Ron Shelton, is based on his experiences playing in the minor leagues for several seasons.
"I wanted 'Bull Durham' to be about the players who were grinding it out trying to make a living in this game," said Ron Shelton. "I knew so many guys like Crash Davis."
BULL DURHAM
Release: June 1988
Produced by: Thom Mount and Mark Burg
Written/Directed by: Ron Shelton
Distributed by: Orion
"Bull Durham" marked Shelton's directorial debut. It became a huge hit and earned nearly $51 million at the box office (with only a $7.5 million budget). Shelton received an Oscar nomination for Best Original Screenplay.
Shelton previously wrote or co-wrote many sports movies including "Cobb", "Tin Cup", "Blue Chips", and the "Best of Times".
This film is often described as a romantic comedy disguised as a sports film. If anything, "Bull Durham" is a love letter from Shelton to minor league baseball. He made a baseball movie about the true love of the game and the quirky things that happen in between pitches and in between games. There's also an appreciation of the devout followers of the game that view baseball more like a religion. The opening line of the film is "I believe in the Church of Baseball."
The Plot: Love and Hard Times in the Carolina League
A lifer in the minor leagues, Crash Davis (Kevin Costner), is shipped down to Single-A ball as the new switch-hitting catcher for the Durham Bulls. The organization wanted Crash to mentor their best pitching prospect Calvin "Nuke" LaLoosh (Tim Robbins), who has a "million dollar arm" but is too wild and inexperienced. Crash gets to play for one more season while he teaches the rube how to become a professional ball player.
Annie Savoy (Susan Sarandon), a college professor and the Bulls' biggest groupie, picks one player to have a relationship with during the season. She narrowed down her prospects to Crash and Nuke. Crash opts out of the courtship despite the fact Crash and Annie are more suitable as mates than Nuke and Annie.
Nuke stumbles out of the gate as a pitcher and gets off to a poor relationship with Davis. When Nuke tries to shake off a pitch, Davis tells the hitter what pitch is coming, which ensues in a long home run. This happens again when Nuke is on the verge of his first complete-game shutout. He shakes off Crash, who in turn tips the batter off to the pitch.
From Meat to the Show
Off the field, Annie reads poetry and discusses metaphysics with Nuke. She also teaches him to pitch more like Fernando Valenzuela, who was known to pitch with his eyes closed and breathe out of his eyelids.
The Bulls start winning when Nuke turns his game around after finally listening to both Crash and Annie. Nuke and Annie abstain from sex during an epic winning streak.
Annie discovers that Crash is a couple of home runs away from the minor league record. He begs her not to tell Sporting News or alert the local press.
During September call-ups, the pro team decides to call up Nuke to the "Show" to gauge his talent. With Crash's services no longer needed in Durham, the team releases him. Skip the manager thinks Crash would make an excellent coach and manager some day.
Crash finishes out the season with the Asheville Tourists, where he breaks the minor league home run record. Crash quits baseball and returns to Durham to pursue a relationship with Annie.
Bull Durham Quotes
Probably one of the funniest lines in the movie occurs during one of the best scenes with the infamous meeting on the mound to discuss everyone's personal problems. Robert Wuhl, who played Larry the pitching coach, ad-libbed the "Candlesticks make a nice gift" line.
"I'm the player to be named later." – Crash Davis
"I want to bring the heater. Announce my presence with authority." – Nuke
"He's got a million dollar arm, and a five cent head." – Larry
"Strikeouts are fascist. Ground balls are democratic. " – Crash Davis
"This is a simple game. You throw the ball. You hit the ball. You catch the ball. Got it?" – Manager Skip
"I was in the Show. I was in the Show for 21 days once. The twenty-one greatest days of my life." – Crash Davis
"You gotta play this game with fear and arrogance." – Crash Davis
Did You Know?
As with most major films, the final cast was not always the first choices by the producers and director. Orion Pictures originally wanted Mel Gibson or Kurt Russell as Crash Davis. Costner was not a huge star yet. He was well on his way, however, he didn't have the same box office appeals as Gibson and Russell at the time. Costner played baseball in high school as a switch hitter. He took Shelton to a batting cage in LA to demonstrate his skills from both sides of the plate.
The studio also wanted Charlie Sheen to play the clueless Nuke LaLoosh. Sheen turned them down and opted for "Major League" instead.
In the lead female role, everyone liked Ellen Barkin for the role as the temptress Annie Savoy. Susan Sarandon won out in the end. In more Hollywood lore, Sarandon and Robbins met during the filming of "Bull Durham" and they would become romantically linked afterwards.
BULL DURHAM CAST
Crash Davis (Kevin Costner)
Annie Savoy (Susan Sarandon)
Nuke LaLoosh (Tim Robbins)
Skip the Manager (Trey Wilson)
Larry the Pitching Coach (Robert Wuhl)
Millie (Jenny Robertson)
Kevin Costner appeared in three baseball movies with "Bull Durham" (1988) as the first, followed by "Field of Dreams" (1989) and "For the Love of the Game" (1999).
For other baseball movies, check out: "Major League" and "Eight Men Out".