Brittney Griner is facing nine years in prison after a Russian court convicted the basketball star of drug possession and smuggling on Thursday.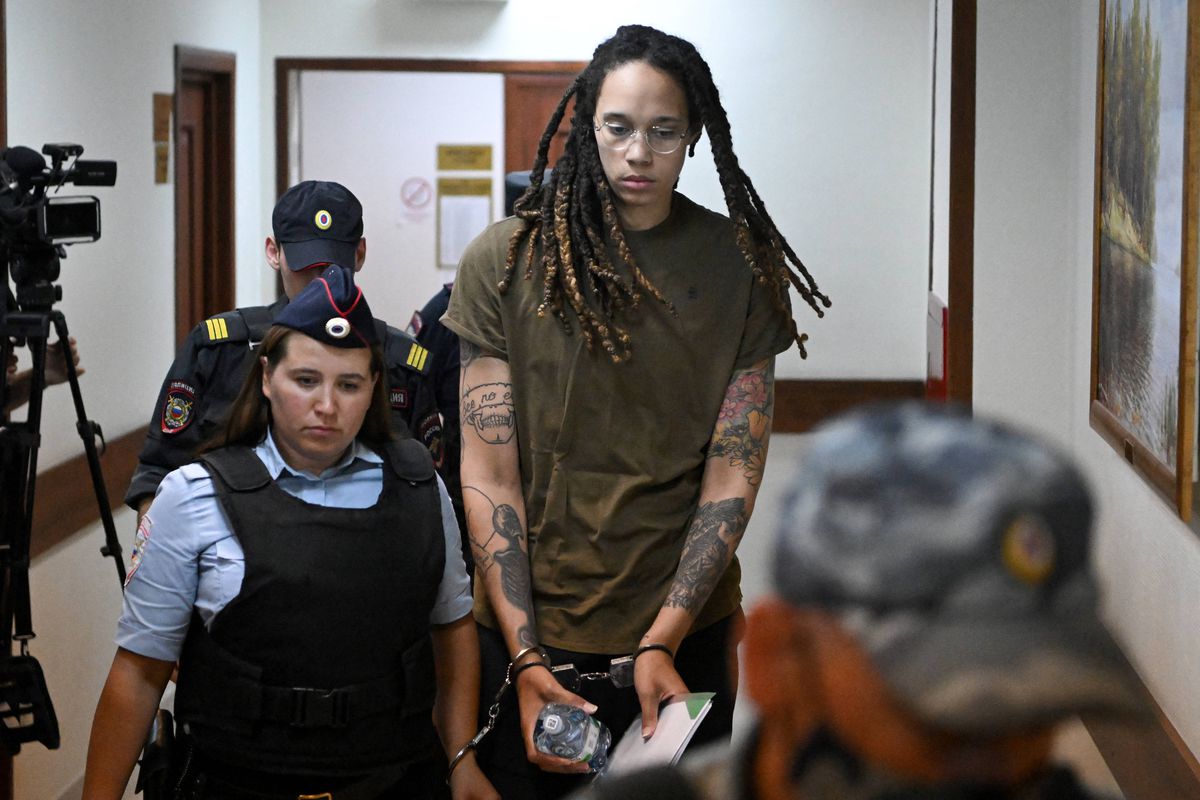 Judge Anna Sotnikova announced the sentence, which also included a fine of one million rubles ($16,700).
Griner sentence prelude to further negotiation
Legal observers expected Griner to receive a guilty verdict and jail time as a necessary step before any potential prisoner exchange between Russia and the United States. The verdict was relatively harsh by Russian legal standards: it came near the maximum punishment of ten years in prison, while most Russians spend up to five years in prison for possessing small quantities of illegal drugs.
Russian police said they found vape cartridges with cannabis oil in Griner's luggage when she landed at Moscow's Sheremetyevo Airport on Feb. 17. Griner was traveling to Russia to play for UMMC Ekaterinburg in Yekaterinburg, where she competes in the WNBA's offseason.
US President Joe Biden released a statement decrying the verdict.
"Today, American citizen Brittney Griner received a prison sentence that is one more reminder of what the world already knew: Russia is wrongfully detaining Brittney," Biden said in the statement. "I call on Russia to release her immediately so she can be with her wife, loved ones, friends, and teammates."
US officials have offered a prisoner exchange with Russia. Many have speculated that the United States would send Russian arms dealer Viktor Bout in exchange for Griner and Paul Whelan, who has remained in Russian custody since an arrest in December 2018 on espionage charges.
Russia looks for leverage in prisoner swap
The guilty verdict also opens up other avenues for Griner's release. She could appeal the verdict, or appear to Russian President Vladimir Putin for an appeal. However, a prisoner swap remains the most likely outcome, something Griner tangentially acknowledged in court.
"I made an honest mistake, and I hope that in your ruling, that it doesn't end my life here," Griner said on Thursday. "I know that everybody keeps talking about 'political pawn' and 'politics,' but I hope that is far from this courtroom."
Griner's trial proceeded quickly for a politically charged case involving a foreigner, raising hopes that Russia may move for an exchange sooner rather than later. However, the severity of Griner's sentence could also be a tactic to gain leverage against the United States.
"I think that the harsher the sentence, the more pressure there will be on the Biden administration to make a deal," lawyer Tom Firestone told the Associated Press. "Obviously they like leveraging that pressure."
Griner is a seven-time WNBA All-Star and a two-time Defensive Player of the Year who has spent her entire professional career with the Phoenix Mercury. She has twice led the league in scoring, and is the all-time career leader in blocks per game, averaging 2.8 for her career.