Among the fraternity of NBA players, winning the Most Improved Player Award is a special distinction that the Indiana Pacers' Tyrese Haliburton is the betting favorite to claim at +1200 odds, according to DraftKings. We like Josh Giddey from the Oklahoma City Thunder to make a big impact in his second season in the NBA, and he's an outside contender to win the Most Improved Player at +3500 odds.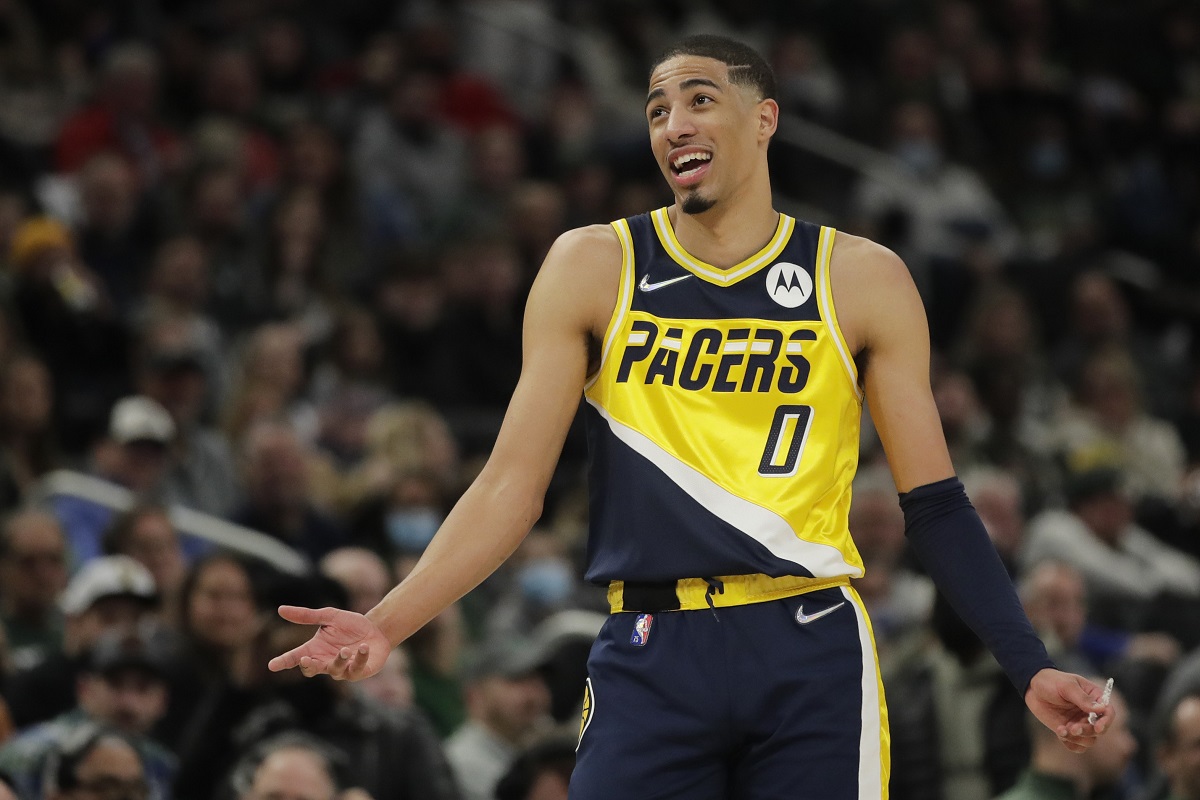 Anthony Edwards (+1500 odds), Jalen Brunson (+1500), Cade Cunningham (+2000), RJ Barrett (+2000), and Shai Gilgeous-Alexander (+2000) are also in the top five, betting-wise, to win the Most Improved Player.
---
2023 NBA Most Improved Player Odds
Tyrese Haliburton +1200
Anthony Edwards +1500
Jalen Brunson +1500
RJ Barrett +2000
Cade Cunningham +2000
Shai Gilgeous-Alexander +2000
Jordan Poole +2500
Anfernee Simons +2500
Zion Williamson +2500
Tyree Maxey +2500
Jalen Green +2500
LaMelo Ball +3000
Keldon Johnson +3000
Josh Giddey +3500
OG Anunoby +4000
Michael Porter, Jr +4000
James Wiseman +4000
Immanuel Quickley +4000
Desmond Bane +5000
Ben Simmons +7500
---
Ja Morant from the Memphis Grizzlies won the 2022 NBA Most Improved Player, which was silly because he was already a star in everyone's minds and in consideration for the MVP. Even Morant felt weird about winning the award and gave the actual MIP trophy to his teammate, Desmond Bane.
Haliburton, Cunningham, Ant Man
Haliburton will play his first full season with the Pacers after the Sacramento Kings traded him prior to the deadline. He flourished with the Pacers, averaging 17.5 points and 9.6 assists per game while shooting 41.6% from 3-point range. It was a small sample size of 26 games, but head coach Rick Carlisle wants the offense to run through him. That's why Haliburton is the betting favorite at +1200 odds to win the Most Improved Player next season.
Anthony Edwards — a past #1 draft pick — did a stellar job playing the villain in the Adam Sandler basketball movie "Hustle." He had a standout season with the Minnesota Timberwolves last season, averaging 21.3 ppg, so it would be another Morant situation if Ant Man wins the MIP this season. You can back him at +1500 odds.
Cade Cunningham — the #1 pick in the 2021 NBA Draft — overcame a slow start during his rookie season with the Detroit Pistons. He finished the season with a respectable 17.4 ppg, 5.6 assists, and 5.5 rebounds per game. Too bad he plays with the Pistons, otherwise he'd have a better platform on which to put his skills on display.
Most improved Knicks: Barrett, Brunson
The New York Knicks added Jalen Brunson as a free agent and finally got themselves a legit point guard. Brunson wanted to play for a team that respected his playmaking abilities and grew tired of playing second fiddle to Luka Doncic with the Dallas Mavericks.
Brunson will soon realize that Julius Randle can also slow down the offensive flow, so don't expect him to have a stellar season in his first year playing at Madison Square Garden. The public seems high on Brunson though, and he's one of the top favorites at +1500 odds to win the 2023 Most Improved Player.
RJ Barrett has been steadily improving each season with the Knicks. While Randle struggled last season and dragged the Knicks out of the playoff hunt, Barrett was one of the few high points among the starting five, averaging 20 ppg, 5.8 rebounds, and 3.1 assists per game. It's hard to improve on those numbers, so save your money on any Barrett MIP wagers.
OG's faves: Anunoby, Giddey
Josh Giddey has a bright future with the Oklahoma City Thunder. During his rookie season, the Aussie set an NBA record for the youngest player to post a triple-double, and the youngest to post back-to-back triple-doubles. There's plenty of upside for Giddey entering his second season, and he's been working on his jump shot and his 3-point shooting.
Hopefully, the Thunder decide to let their young guns play without any restrictions and the franchise chooses not to tank. If that's the case, we love Giddey at +3500 odds to win the 2023 Most Improved Player.
There have been numerous rumors that Kevin Durant will end up with the Toronto Raptors, and if that's the case, the Brooklyn Nets would get a massive trade package that includes OG Anunoby. Our favorite NBA player wants out of the Great White North because he believes he can make a bigger impact on the offense somewhere else. He's been mentioned in trade rumors involving the Portland Trail Blazers, but any new team will provide an opportunity for Anunoby to put his skills on display. If the Nets and Raptors pull off the Durant trade, Anunoby is a solid value pick at +400 odds to win MIP.
M-I-I-P?
Sometimes there's a big case to be made that the Most Improved Player award should go to a player returning from an injury, so consider including Zion Williamson, James Wiseman, Ben Simmons, and Michael Porter Jr.
When he's healthy, Williamson is a beast on the court. Too bad multiple injuries plagued him in his first three seasons. He missed all of the 2021-22 season with a foot injury, but he's 100% recovered and ready to make an impact this season after signing an extension. You can back Williamson at +2500 odds to win the 2023 MIP, but you're essentially betting on a healthy season.
James Wiseman missed all of last season with the Golden State Warriors while recovering from an ACL injury. The Warriors won the title without the former #2 draft pick, but they'll need him going forward if they expect to defend their crown this season. Wiseman is +4000 odds to win MIP, but he might not get enough playing time to make a noticeable impact.
We tossed Ben Simmons into the mix because there's a good chance he'll become the Nets' main guy after they deal Kyrie Irving and Kevin Durant in a trade. Simmons is a long shot at +7500 odds to win the 2023 Most Improved Player.
Michael Porter Jr played in just nine games with the Denver Nuggets before he had season-ending back surgery. MPJ is another player who can be an All-Star if he's healthy, and he's worthy of a flier to win the MIP at +4000 odds.