The Oklahoma Sooners are sitting on the March Madness bubble, but they helped their cause with a decisive 65-51 win over Texas Tech in Big 12 action.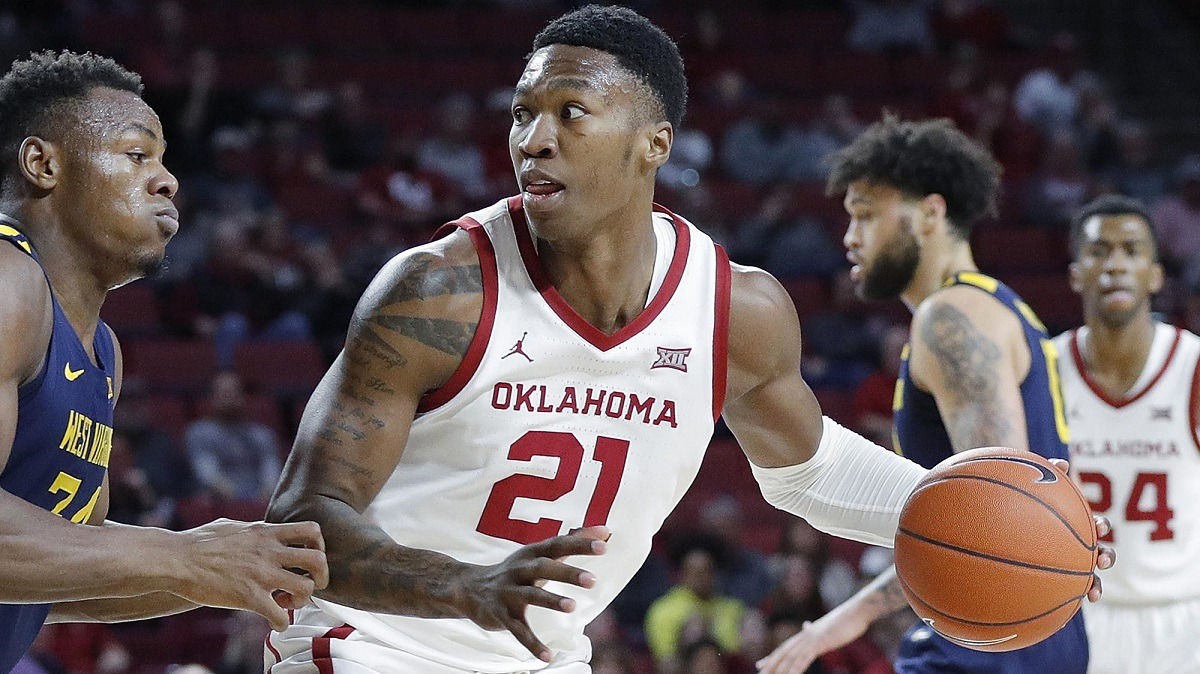 The victory against Texas Tech snapped a three-game losing streak. The "Quadrant 1" win improved the chances for head coach Lon Kruger and Oklahoma to avoid the proverbial March Madness bubble.
The Sooners were trying to prove to everyone that they're fourth-best team in a difficult Big 12 that's stacked with #1 Kansas, #2 Baylor, #20 West Virginia, and #22 Texas Tech.
The Big 12 boast two of the best teams in the country during this wild season in college basketball. Between Kansas and Baylor, they shared the #1 ranking seven weeks this season.
Big 12 Standings – Top 5
Baylor 14-1 (25-2 overall)
Kansas 14-1 (25-3)
Texas Tech 9-6 (18-10)
West Virginia 7-8 (19-9)
Oklahoma 7-8 (17-11)
Last season, Texas Tech and their stifling defense represented the Big 12 in the Final Four. Texas Tech advanced to the championship game, but lost 85-77 in overtime to Virginia. Tech lost Jarrett Culver to the NBA, but they're still a Top-25 squad.
Beating Texas Tech in Must-Win Spot
Kristian Doolittle is the heart and soul of the Oklahoma Sooners, and originally from Edmond, Oklahoma. The 6-foot-7 senior swingman leads Oklahoma with 15.5 points and 8.9 rebounds per game.
Brady Manek, a 6-foot-9 junior forward, averages 14.9 points and 6.3 rebounds for Oklahoma.
As per usual, the combination of Kristian Doolittle and Brady Manek led the Sooners to victory. They combined for 34 points in a much-needed win over Texas Tech. Doolittle led all scorers with 19 points. He added seven rebounds and three steals.
"Guys understand where we stand," said Oklahoma coach Lon Kruger said. "There are 30 or 40 teams that are in the same position as we are right now."
Despite an off shooting night from 3-point range, Oklahoma knocked off Texas Tech by 14 points this week. Oklahoma got help from a combination of good perimeter defense and poor shooting from Texas Tech. Tech hit only 33% of their long-range shots on 5-for-15 shooting. Oklahoma had an even uglier night with a 5-for-23 clip or 21.7% from downtown.
Oklahoma's defense shut down Tech's leading scorer, Jahmi'us Ramsey. They held Ramsey to zero points.
"We stayed with him possession after possession and didn't want to give him anything easy that could get him started," said Kruger.
Oklahoma hosted Texas Tech in Oklahoma City at the OKC Thunder's home arena. Two Big 12 teams played a game at NBA arena for the first time since the conference expanded in 1996. OKC is located 22 miles from the campus in Norman, Oklahoma.
On Deck: West Virginia, Texas, TCU
The Oklahoma Sooners can avoid the dreaded bubble and secure themselves an invite to March Madness with a victory over #20 West Virginia on Saturday. They already picked off the Mountaineers once, 69-59, but that game occurred at home in Norman, Oklahoma. Doolittle led all scorers with 27 points in a dominating performance.
Oklahoma can secure 20 wins by winning all three of their remaining games. After a difficult test on the road in West Virginia, they'll end the season with back-to-back home games, including their Red River rival, Texas.
Baylor and Kansas swept Oklahoma during their season series. Four of their 11 losses happened at the hands of probable #1 seeds. However, they also had a couple of cringe-worthy losses including Oklahoma State.
Remaining Games: (3) at West Virginia, Texas, at TCU
Key Wins: Texas Tech, West Virginia
Losses: Baylor (twice), Kansas (twice), Stanford, Wichita State, Creighton, Iowa State, Kansas State, Oklahoma State
According to KenPom, Oklahoma is ranked #39 according to his latest update.
For OG's coverage of other March Madness bubble teams, check out: Utah State, Cincinnati, Saint Mary's, Richmond, Providence, Rhode Island, and East Tennessee State/Furman.