Utah State (23-7), led by local legend Sam Merrill, is seeking back-to-back appearances in the March Madness college basketball tournament, but the Aggies currently find themselves on the postseason bubble once again.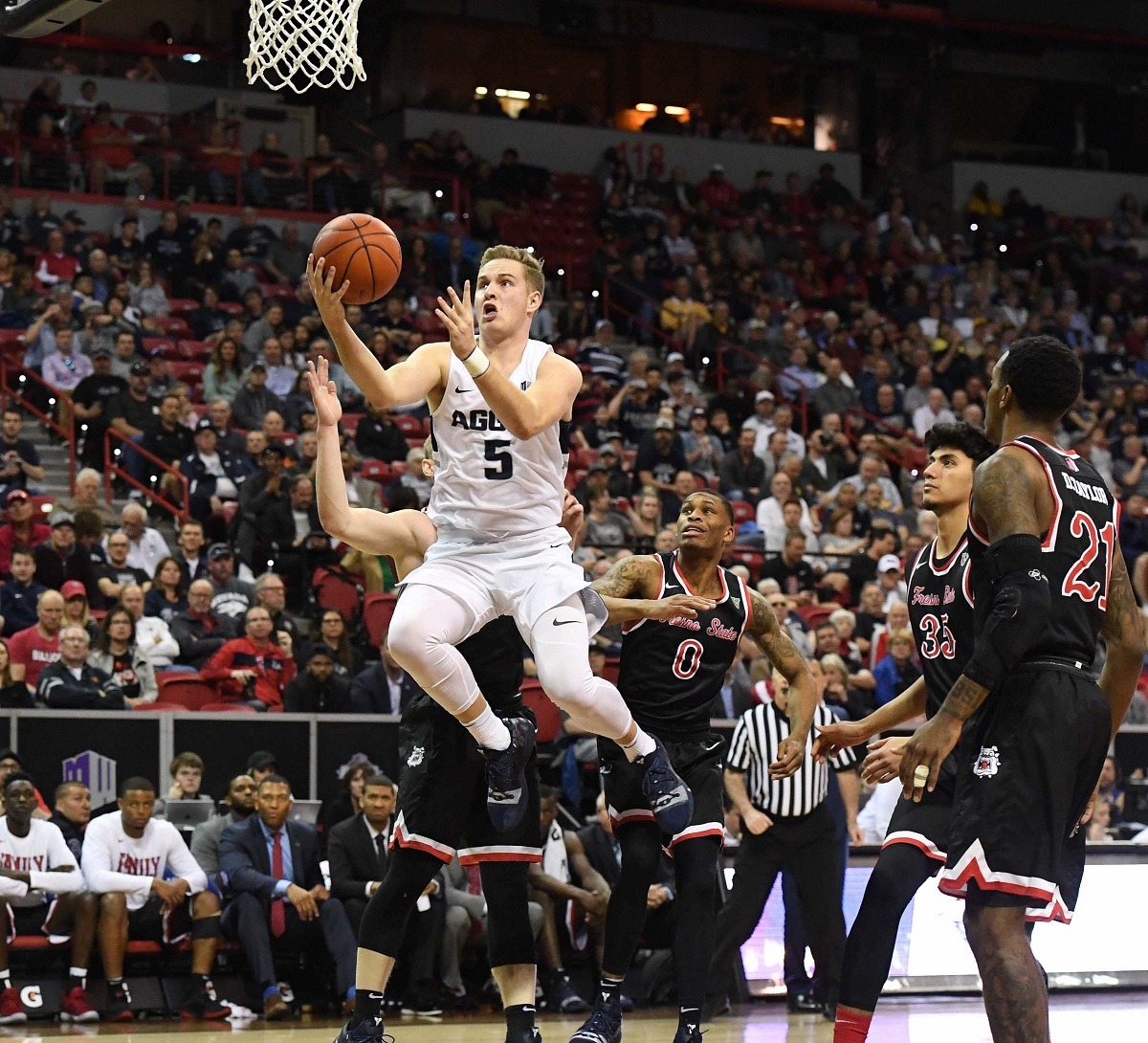 Last season, Utah State went 28-7 under first-year head coach Craig Smith. Utah State punched their ticket to March Madness with a victory in the 2019 Mountain West conference tournament by defeating San Diego State.
Utah State might have to win the Mountain West tournament once again if they expect to pack their bags for March Madness. The Aggies are currently in second place in the Mountain West behind previously unbeaten San Diego State (27-1). While San Diego State fights for a #1 overall seed, Utah State might bubble the tournament because the March Madness selection committee has little respect for West Coast teams.
Mountain West Standings – Top 5
San Diego State 16-1 (27-1 overall)
Utah State 12-5 (23-7)
Nevada 12-5 (19-10)
UNLV 11-6 (16-14)
Boise State 11-7 (19-11)
Despite their claims about strength of schedule dictating their at-large selections, there's an overall media bias against West Coast teams not in the Pac-12, as can be seen in the advanced metrics. KenPom ranked Utah State #38 in its latest ranking. According to the numbers, Utah State should be the second Mountain West team heading to March Madness.
However, mid-major schools in secondary conferences have an uphill battle impressing the selection committee. If you're a second-place team from the Mountain West or West Coast Conference, you had better win the conference tournament because it's difficult to secure an at-large bid when the selection committee will stack the tournament with ten Big Ten teams and a half-dozen Big East teams.
Logan Madness
Where is the hardest place to play a college basketball game? You might suggest Duke's Cameron Indoor Stadium or Kansas's Phog Allen Field House, but very few people will say the Dee Glen Smith Spectrum in Logan, Utah.
Wait, what? Logan, Utah? The small town isn't a historically-known basketball hotspot like Durham, North Carolina or Lawrence, Kansas. But if you compete in the Mountain West, then you're well aware of how difficult it can be to play a road game at Utah State.
Utah State is best known for its outrageous fan base. Those Mormon kids don't share in the typical vices that most average American college students enjoy. As a a result, Utah State students let off steam and pent-up energy during home basketball games at the Dee Glen Smith Spectrum. The arena has a capacity of 10,420, but it sounds much louder. The student section loses its collective mind at games.
The frenzied crowd makes Utah State a difficult place to play on the road. No one likes heading into hostile territory, but no matter how good or bad the team is, Utah State home games are raucous affairs.
The only drawback to Utah State is that they can't bring their home-court advantage to March Madness or the Mountain West tournament, where games are played on a neutral site.
On Deck: New Mexico Lobos
Utah State is stuck on the bubble with only one more game remaining on their schedule. The Aggies head to New Mexico (17-13) for the final game of the regular season.
Utah State is led by Sam Merrill. The 6-foot-5 senior guard is a cult hero from nearby Bountiful, Utah.
"Sam Merrill will go down as one of the best players to ever put on an Aggie uniform," said Utah State coach Craig Smith. "He certainly does it on the offensive end. Third in all-time scoring and second in assists, and it's incredible. But he's also an excellent defensive player, as well."
Merrill scored 30-plus twice this season, including a season-high 32 points against Colorado State a couple of weeks ago. Merrill knocked down a season-high, six treys on 6-for-10 shooting behind the arc. He's had nine games this season in which he's connected on four or more 3-pointers in a game.
In 28 games this season, Merrill averages 18.9 points, 4.2 rebounds, and 4.1 assists per game. He had better numbers in his junior year with 20.9 ppg, even though he has a better supporting cast this season thanks to sophomores Justin Bean and Neemias Queta.
Justin Bean, a 6-foot-7 sophomore forward, is second in scoring with 12.5 ppg. Bean is also the Aggies' top rebounder with 10.4 boards per game.
Neemias Queta, a 7-foot-0 sophomore center, is originally from Portugal. Queta is third in scoring and second in rebounding with 12.4 points and 7.6 rebounds per game. The highly efficient Queta hits 61.9% of his shots.
Remaining Games: New Mexico
Key Wins: LSU, Nevada
Losses: SDSU (twice), BYU, Boise State, UNLV, Air Force
For OG's coverage of other March Madness bubble teams, check out: Cincinnati, Saint Mary's, Richmond, Providence, Rhode Island, and East Tennessee State/Furman.