The Providence Friars (16-12), led by senior guard Alpha Diallo, are one of several Big East teams fighting for an at-large bid to March Madness. Projections suggest at least six teams from the Big East will earn invites to March Madness, but Providence and Xavier are currently on the bubble.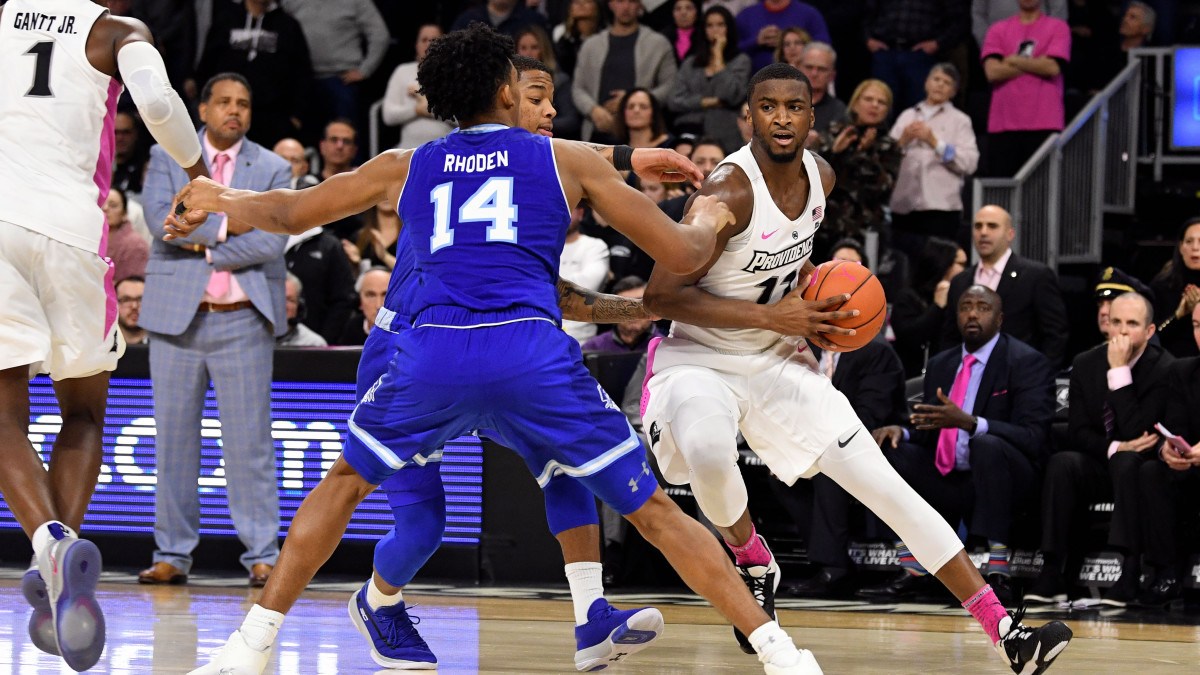 The Big East is top-loaded this season. Seton Hall and Villanova were slugging it out for first place in the Big East during the first half of the season, while Creighton has been on fire over the past couple of weeks.
The Creighton Bluejays rocketed from #21 to #10 in a short span, winning nine out of their last 10 games. Creighton's only loss during their hot streak was a thumping at Providence 73-56.
The Big East's top tier is occupied by #10 Creighton (22-6), #12 Villanova (21-6), and #13 Seton Hall (20-7). The second tier features previously-ranked Butler (19-9) and Marquette (17-9).
The third tier, with the bubble teams, includes both Xavier (17-10) and Providence (16-12).
Providence stumbled out of the gate with early losses in November to Penn, Long Beach State, and Charleston. Any time you lose to an Ivy League team, it doesn't look good, especially if you're from the Big East.
"We know we didn't start the way we wanted to start," said head coach Ed Cooley. "We gave away some games early as we were trying to build our identity. I can't worry about where we were. I can only worry about where we're trying to go."
In the last two weeks, Providence produced victories over Marquette, Villanova, Creighton, and Butler. All four were ranked at the time, which is why Providence is in consideration for an invite to March Madness.
Beating Marquette and Markus Howard
Providence lit up #19 Marquette over the weekend with an 84-72 victory. They got off to a hot start thanks to clutch sharpshooting with eight 3-pointers. Providence held on to win despite another big game from the Big East's all-time leading scorer, Markus Howard.
Providence is led by 6-foot-7 senior guard, Alpha Diallo, who averages 14 points and eight rebounds per game. He exploded for 35 points in a huge upset over Villanova last week. He had an awful game against Marquette on 1-for-9 shooting, yet he cobbled together 10 points and led the Friars to victory.
Despite another insane game from Howard, Providence contained the rest of Marquette and shut them down in the victory. In two games this season, Howard dropped 39 and 38 against Providence. Last season, Howard torched them for 52 points.
"I'm really happy I'll never see Markus in this building again," joked Cooley. "I'm just glad we're done with him until hopefully the Big East finals."
On Deck: at Nova, Xavier, and DePaul
If you're a fan of smaller conferences, then you'll despise the fact that a sixth or seventh Big East team is in consideration for a March Madness spot. It all hinges upon strength of schedule, which is one of those catch-22 situations for mid-major schools. Their conferences lack depth, so their strength of schedule can't compete with the power conferences like the Big East, Big Ten, and ACC. It seems absurd that the Big Ten and Big East will send as many as 16 teams to the 2020 March Madness tournament, or 25% of the bracket.
Providence has only three games left on the Big East conference schedule. They play their final road game at Villanova (21-6) on Saturday. Next week, Providence hosts Xavier (17-10) and DePaul (14-13) at home.
"There's no more desperate team in America than Providence College," said Cooley.
It goes without saying that Providence has to run the table and win all three of their remaining games if they expect to impress the selection committee. Knocking off Villanova will help boost the Friars with another Top-15 win under their belt. They'll also have to fend off Xavier, who is also on the bubble. The loser of that Xavier/Providence game might be the odd team out.
Remaining Games: (3) at Villanova, Xavier, DePaul
Key Wins: #19 Marquette, #10 Seton Hall, #21 Creighton, #16 Butler
Non-Big East Losses: Northwestern, Penn, Long Beach State, Charleston, Rhode Island, Florida
Losses vs. Ranked Teams: #6 Butler, #25 Creighton, #10 Seton Hall, #9 Villanova
KenPom ranked Providence at #48 and Xavier at #46 in the latest update. ESPN's Bracketology has Xavier as a #11 seed in a play-in game, while Providence is on stuck on the bubble.