The Creighton Bluejays (17-5), led by junior guard Ty-Shon Alexander, upset #8 Villanova at home last week to snap the Wildcats' Big East, home-game winning streak dating back to 2018. The victory propelled Creighton back into the Top 25 after the latest AP College Basketball Poll ranked the Bluejays #21 in the nation.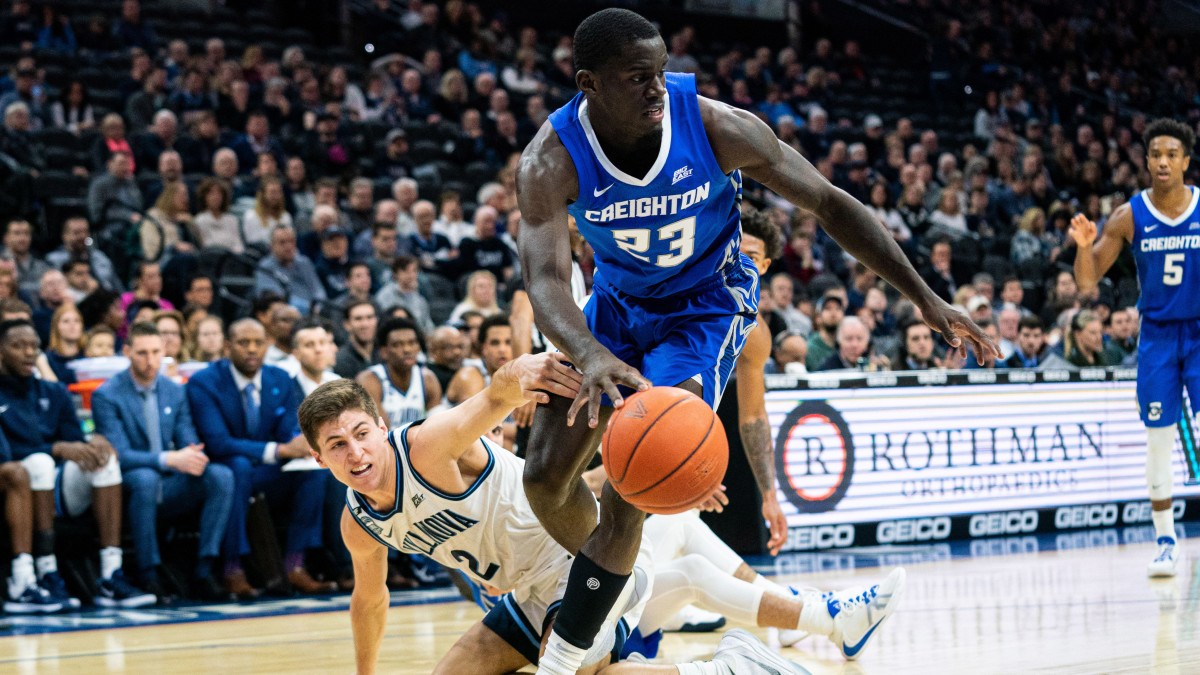 Creighton is one of those teams to watch in the lead up to the March Madness basketball tournament.
The Bluejays improved to 6-3 in the Big East, and moved into third place overall. #12 Seton Hall sits in first place at 8-1 in conference play, while #10 Villanova slipped to second with a 7-2 Big East record.
KenPom ranked Creighton #19 overall. He also projected Creighton to finish the season 23-8 with a 12-6 record in Big East.
Creighton suffered an early season loss at Michigan, and were blown out on a neutral court against San Diego State, who are still undefeated and rocking the #4 ranking. They went on an eight-game winning streak before suffering their only skid of the season with back-to-back losses to start 2020. Creighton lost a 14-point game at #11 Butler, and then imploded against Villanova (who were ranked #16 at the time). The Bluejays lost a close game 83-80 at Georgetown, but it was another game they should have won.
Since that 1-3 stretch, Creighton won four in a row, including a huge game at Villanova last weekend.
Nova Rematch and Creighton Revenge
Creighton avenged an earlier 5-point loss on home against Villanova. The Bluejays choked big-time when they squandered a huge lead, and Nova stormed back to defeat them. Nova held Ty-Shon Alexander in check in his worst game of the season.
Alexander looked like a different player in the rematch. He finished with 16 points and 10 rebounds in the resounding 76-61 victory. Alexander shot 4-for-6 from three-point range. His backcourt partner, Mitch Ballock, shot 5-for-7 from downtown for 15 points.
Villanova fell behind by double digits early on and never recovered, despite having home-court advantage. Creighton held Nova to only 23 points in the first half. Creighton didn't blow the double-digit lead in the second half this time around. Denzel Mahoney, a junior guard, came off Creighton's bench to score a game-high 21 points.
"I'm really proud of my team," said Creighton coach Greg McDermott. "There's nobody we respect more than Villanova. It's a heck of a win for our program because of how good Villanova is."
"Creighton deserves a lot of credit," added Villanova head coach Jay Wright. "They came in here and played a better basketball game. We weren't that bad. They just played a better all-around game. They did a great job defensively and hit big shots. Ty-Shon Alexander is a heck of a player.."
"Over the past few games, we've been doing a better job as a whole," said Mahoney.
On Deck: Providence, St. John's and Seton Hall
The Creighton Bluejays are currently playing their best basketball of the season, but they want to keep up their winning streak. Providence (12-10) and St. John's (13-10) are in the bottom half of the Big East standings, so those should be easy opponents for Creighton. The Bluejays head up to Providence to play the Friars on Wednesday. They return home to Nebraska to host St. John's this weekend.
Their next big game occurs next week with a trip to #12 Seton Hall. The Pirates currently occupy first place in the Big East.
If the Bluejays want a legit crack at the Big East title, they'll have to step up in their next game against Seton Hall. It will be the first of two games against the Pirates. Creighton closes out the season with a home game against Seton Hall. The Bluejays already proved they could defeat Villanova on the road, so why not a big road win against Seton Hall?