DraftKings posted a prop bet on what team Donovan Mitchell will play his next regular season with the New York Knicks — heavily rumored to acquire Mitchell in a trade — installed as the betting favorite at -325 odds, followed by the Utah Jazz at +200, and Miami Heat at +350.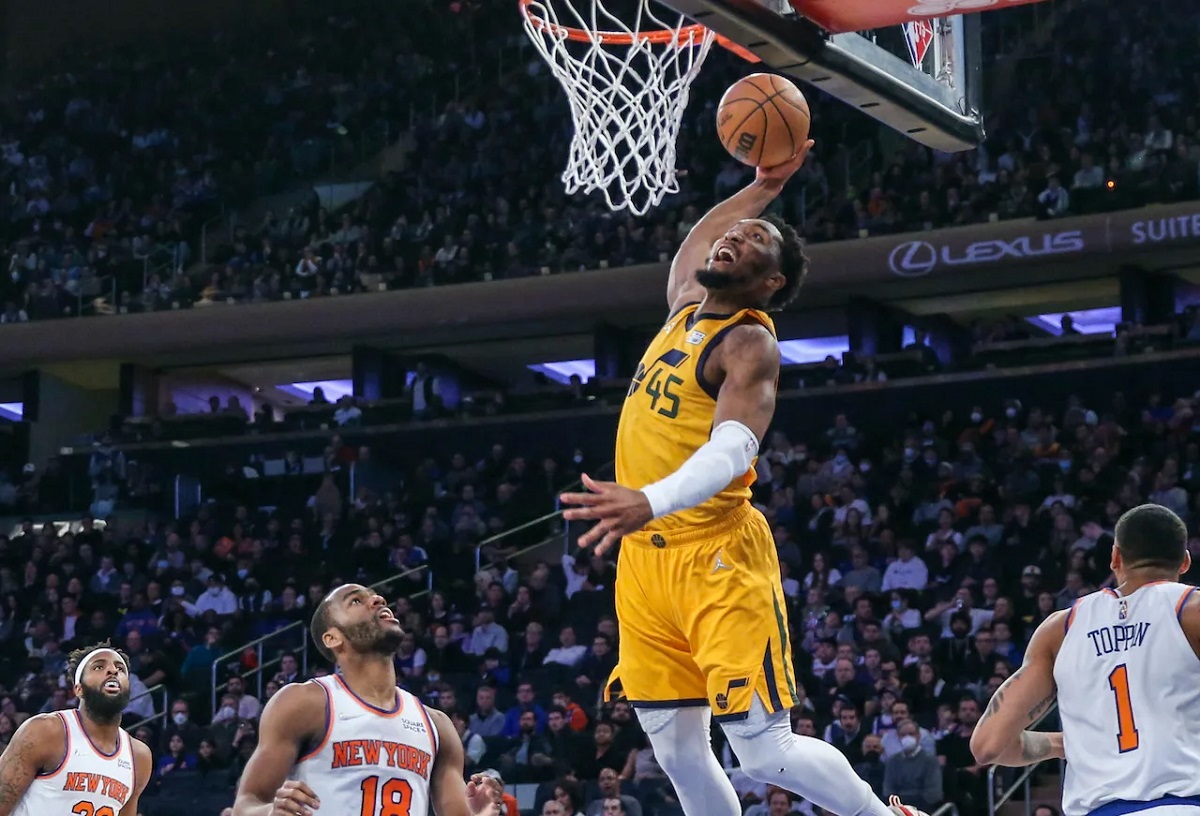 Jazz team president Danny Ainge is willing to trade all of their veterans, including Mitchell and Mike Conley, after they decided to implode the team and start from scratch.
PROP BET: DONOVAN MITCHELL NEXT TEAM ODDS
New York Knicks -325
Utah Jazz +200
Miami Heat +350
Brooklyn Nets +1000
Charlotte Hornets +1200
Washington Wizards +1400
LA Lakers +2500
Philadelphia 76ers +3500
Dallas Mavs +3500
Cleveland Cavs +3500
LA Clippers +4000
Indiana Pacers +4000
Toronto Raptors +4000
Portland Trail Blazers +4500
New Orleans Pelicans +4500
Memphis Grizzlies +5000
Sacramento Kings +5000
Phoenix Suns +5000
Boston Celtics +5000
Golden State Warriors +6000
Minnesota Timberwolves +6000
Denver Nuggets +6000
Chicago Bulls +6500
Houston Rockets +7000
Oklahoma City Thunder +7500
Detroit Pistons +8000
Orlando Magic +8000
Atlanta Hawks +8000
Milwaukee Bucks +8000
San Antonio Spurs +8000
---
There's a scenario in which the Jazz are unable to trade Mitchell in the offseason and must start the NBA regular season with him on the roster, which is why the Jazz are +200 odds as Mitchell's next team.
New York Knicks -325
All the signs point toward the Knicks adding Mitchell in a trade, which is why they were listed as the betting favorite at -325 odds. Mitchell grew up in Westchester as a Knicks fan, and he's hinted at playing at MSG for a couple of years now. The Knicks made several moves this offseason to put themselves at the front of the line to acquire Mitchell, including a draft0night trade with the Oklahoma City Thunder which netted three future first-round picks.
The asking price is the only thing that prevented the Knicks from adding Mitchell in a trade. Ainge and the Jazz want six first-round draft picks plus three up-and-coming players. The Knicks were willing to deal four first-rounders plus RJ Barrett and Quentin Grimes, but the Jazz declined. The Jazz do not want to have to work out a contract extension with Barrett, which is why they'd prefer Obi Toppin or Immanuel Quickley to go along with Grimes and six first-rounders.
Knicks fans and general manager Leon Rose are pissed off that the Minnesota Timberwolves ruined the trade market. Ainge set forth a chain of events that began with trading Rudy Gobert to the Minnesota Timberwolves for four first-round draft picks and five players including a first-round pick from the 2022 NBA Draft. The Timberwolves were totally fleeced in the trade, but it now set precedent. If Gobert is worth four picks, then Mitchell is worth six.
Trade talks between the Knicks and Jazz cooled down, mostly because there's limited interest from other teams and Ainge's current asking price for Mitchell is too high.
Miami Heat +350
The Heat are trying to add a star player to their roster through a trade. They were banged-up int he postseason, yet were one 3-pointer short of a trip to the NBA Finals for the second time in the last three seasons. Pat Riley has been keeping tabs on the trade market for Mitchell, Kevin Durant, and even Kyrie Irving. But the shrewd Riley will not leverage the Heat's future unless he thinks he can get the right player to win them another championship.
The Nets are on no rush to trade Durant or Irving, so they're not desperate to dump their unhappy stars which means they can dictate the price. The Heat prefers Durant, but the Nets want Bam Adebayo involved in any trade package. But that would entail the Nets to trade Ben Simmons because there's a trade rule that a team cannot acquire two rookie max-contract players on the same team. The trade market for Simmons is extremely low right now, so the Durant trade chatter died down.
The big question remains: will the Heat be willing to cough up six first-round picks for Mitchell, while parting ways with Sixth Man of the Year Tyler Herro? The Heat are +350 odds to add Mitchell in a trade and they're the only other serious contender aside from the Knicks.
Charlotte Hornets +1200
The Charlotte Hornets recently the mix with Mitchell trade rumors buzzing around Buzz City, according to a report from Shams Charania.
Gordon Hayward has not been shy about leaving the Hornets for a better opportunity. He could return to the Jazz, where he began his NBA career and played his first seven seasons. Hayward and Ainge have history together back in Boston. Ainge was the general manager of the Celtics when he offered Hayward a four-year contract worth $128 million. Then again, Ainge also traded the injury-prone Hayward to the Hornets in 2020, so he might not want him back.
The Hornets could offer a trade package for Mitchell that includes four first-round draft picks, Hayward and a handful of young players and former first-round picks like PJ Washington, James Bouknight, Mark Williams, and Kai Jones. Hornets GM Mitch Kupchak could also toss in Mason Plumlee and Terry Rozier in the deal to even out the value of Mitchell's max contract.
The Hornets are +1200 odds to become the next team for Mitchell, but they definitely cannot compete with six first-round picks if the Knicks finally cave to Ainge's insane demands.
Trade talks between the Utah Jazz and New York Knicks have stalled, sources tell @ShamsCharania.

The Jazz are engaging other teams, such as the Hornets and Wizards.

🎥 @TheRallypic.twitter.com/gC8Rjurky2

— The Athletic NBA (@TheAthleticNBA) July 29, 2022
Check out more NBA trade rumors.