The American Conference has several bubble teams fighting for an at-large bid to the 2020 March Madness tournament, including Cincinnati, Wichita State, Memphis, Tulsa, and SMU. The Cincinnati Bearcats (18-9), led by senior guard Jarron Cumberland, are currently tied for first place in the American with Houston (21-7) and Tulsa (19-9).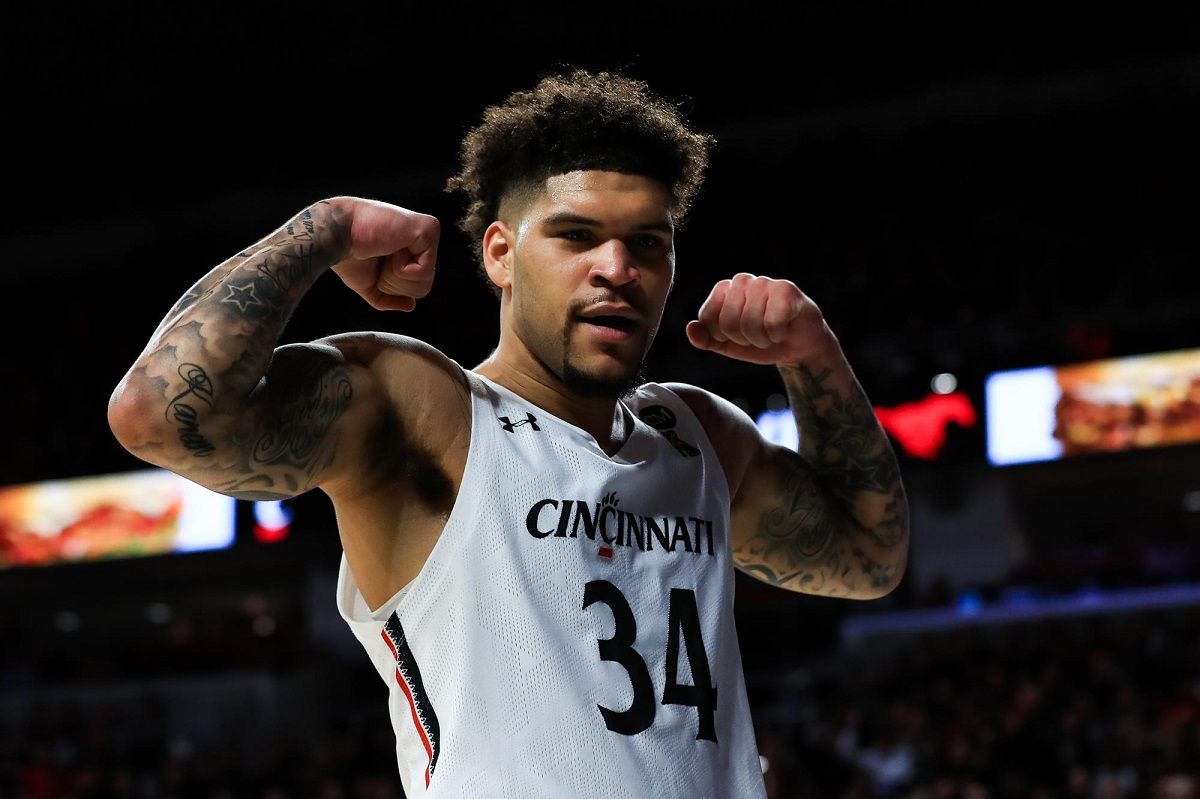 Cincinnati is attempting to secure its 10th consecutive trip to March Madness, yet they're stuck on the bubble. The Bearcats hope that early season losses to Tulane and Colgate don't come back to haunt them.
Cincinnati's entire season will be on the line against the #25 Houston Cougars. Houston is the top dog in the American conference, but they lost earlier in the season to Cincy in Cincinnati. Houston hosts the rematch on their home court, where the Cougars are tough to beat with a 12-2 home record.
AMERICAN CONFERENCE STANDINGS – TOP 6
Houston 11-4 (21-7 overall)
Tulsa 11-4 (19-9)
Cincinnati 11-4 (18-9)
SMU 9-6 (19-8)
Wichita State 8-6 (20-7)
Memphis 8-7 (19-9)
If the Bearcats can sweep the Houston series, it will almost lock up a March Madness berth for Cincy. The Houston game is scheduled for Sunday, March 1.
At the present moment, ESPN's Bracketology has Cincinnati as a #12 seed, but they could easily bubble the tournament with a couple of key losses in the final stretch. Other prognosticators have Cincinnati appearing in a play-in game for the #11 seed.
KenPom ranked Cincinnati #42 in his latest update.
Cumberland Clan in the Queen City
Cincinnati is a true family affair with the Cumberland cousins. Jarron Cumberland, a 6-foot-5 senior, leads Cincinnati with 15.5 points per game. He grew up in Ohio as a top-notch hoops and football player. He was runner-up as Ohio's Mr. Basketball his senior year in high school. Instead of Ohio State, he opted to play at Cincinnati.
Last season, Cumberland averaged 18.8 ppg and won the 2019 American Conference Player of the Year. As a freshman, he came off the bench and earned the Sixth Man of the Year award in the AAC.
Jarron's cousin, Jaevin Cumberland, is a graduate transfer. Jaevin played several seasons with the Oakland Golden Grizzlies before joining his cousin for one season in Cincinnati. Jaevin averaged 17.2 ppg last season with Oakland. This season as a valuable reserve, Jaevin averages 9.2 ppg coming off the bench.
Cronin > Brannen
In 13 seasons with Cincinnati, Mick Cronin guided the Bearcats to nine consecutive trips to March Madness. He took them to the Sweet 16 in 2012. During his tenure, Cincy departed from the Big East and joined the American (AAC). In his last six trips, Cincy could never advance out of the Round of 32.
Cronin left Cincinnati at the end of last season and headed to West Los Angeles to fill the vacancy at UCLA.
John Brannen took over for Cronin. Brannen didn't have to travel far because Northern Kentucky is located only nine miles away across the Ohio River. He turned the program at Northern Kentucky into a powerhouse in the Horizon League. Brannen took NKU to March Madness twice in the previous three seasons. Now, he's tasked with guiding the Bearcats to their 10th consecutive trip to the big dance.
Huge Win Against Shockers
After four consecutive overtime games, Cincinnati only needed regulation time to defeat the Wichita State Shockers 67-64.
"I mean, it crosses your mind," Cumberland said.
Cumberland led all scorers with 24 points. He earned every point after a terrible shooting performance (3-for-11 from the floor), but hit 16-for-18 free throws to put Cincinnati in a spot to win a much-needed game. Cincinnati completed the season sweep over Wichita State, which is also on the March Madness bubble.
"That's a huge win for us," said Cumberland. "Especially with the things we want to accomplish."
"We made it about defense this week," said coach John Brannen. "Felt we needed to play better. We just haven't been playing well, and it started with our investment, our physical and emotional investment."
On Deck: Houston, USF, Temple
Talk about cardiac Bearcats, eh? The Cincinnati Bearcats played several close affairs over their previous seven games. Cincy had a streak of four consecutive games that went into overtime, which tied an NCAA record. They went 2-2 in that stretch and easily could have gone 4-0 if things went the other way.
Aside from those OT games, Cincy had three other games in the last three weeks that were decided by a bucket or less.
The entire season hinges upon Sunday's game at Houston. If they don't get by Houston, then Cincy must win their final two games at South Florida and the season-finale against Temple at home.
Remaining Games: (3) at #25 Houston, at South Florida, Temple
Key Wins: #21 Tennessee, #21 Houston, Wichita State, Memphis
Losses: #18 Ohio State, #22 Memphis, UCONN, Iowa, Xavier, Colgate, Tulane, Bowling Green, UCF
If the selection committee decides to invite three American teams, then Cincinnati will punch their ticket to March Madness. If not, then they'll have to win the American tournament or pack their bags for the NIT.
For OG's coverage of other March Madness bubble teams, check out: Saint Mary's, Richmond, Providence, Rhode Island, and East Tennessee State/Furman.