After ending a three-game skid, USC (21-9) won four out of their last six games and find themselves on the March Madness Bubble. USC has one final game on their schedule when they host crosstown basketball rival UCLA on Saturday night. The loser of the UCLA/USC game will most likely miss out on an at-large bid to March Madness.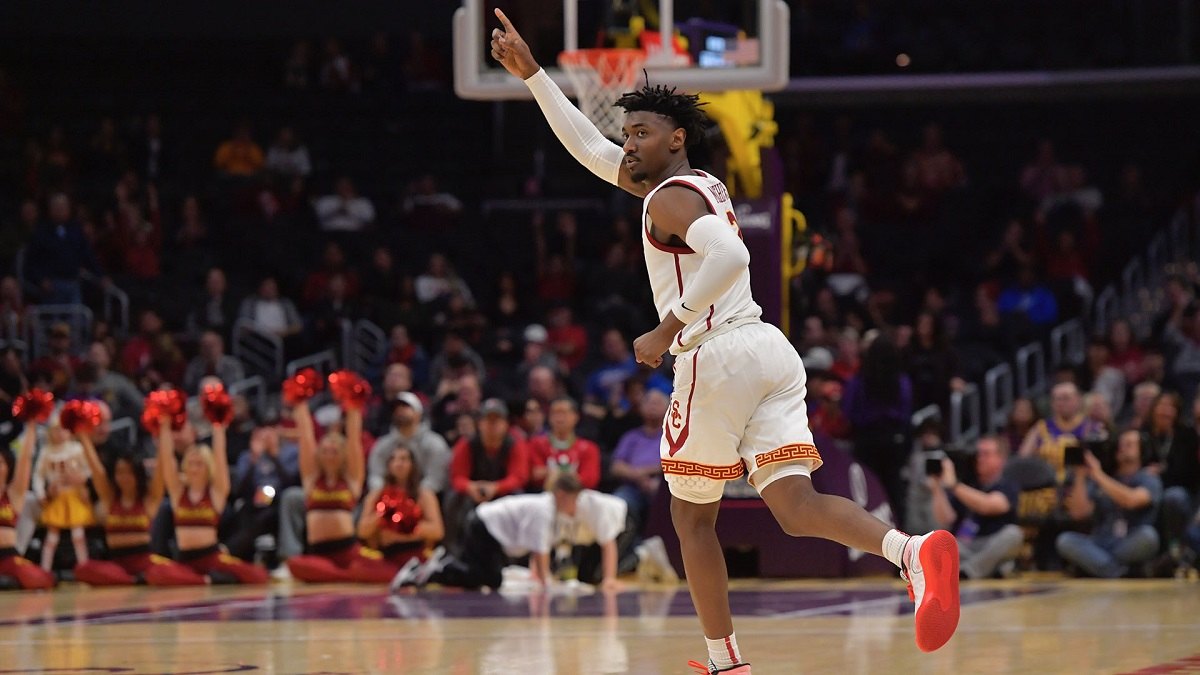 USC is currently tied for fourth place in the Pac-12. USC is lumped together with Arizona State, UCLA, and Stanford on the March Madness bubble. The good news for Trojans fans is that they're in much better shape than their Pac-12 foes. However, a loss to UCLA would derail a late-season comeback for Andy Enfield's squad.
Enfield guided the Trojans to a March Madness berth twice (2016 and 2017) in seven previous seasons as the head basketball coach at USC. They bubbled in 2018, and weren't even in contention with a 16-17 record last season.
Enfield secured 20 wins for USC for the fourth time in the previous five seasons. USC won 20 games for only the 21st time in school history.
PAC-12 Standings
UCLA 12-5 (19-11)
Oregon 11-5 (22-7)
Arizona State 10-6 (19-10)
Colorado 10-7 (21-9)
USC 10-7 (21-9)
Stanford 9-7 (20-9)
Arizona 9-7 (19-10)
Henry Bibby took USC to the Elite 8 in 2001, but they've only been to the Sweet 16 once since then with Tim Floyd's run in 2007.
Two out of USC's last three March Madness appearances have been in "First Four" play-in games while earning a #11 seed. USC is 1-1 in play-in games since March Madness introduced them in 2011.
Sweeping Arizona/Arizona State
Los Angeles is a fair-weather sports town and USC doesn't draw fans like they do across town in Westwood. USC is in fourth place while fighting for the popularity in Tinseltown with the LA Lakers, LA Clippers, and UCLA. However, USC won two huge home games that tipped the March Madness scales in their favor.
USC picked up convincing wins against Arizona and Arizona State. They avenged earlier season losses in tight games against both teams. Arizona beat them by 5 points in Tucson, while Arizona State won a thriller 66-64.
USC got payback with an easy win over Arizona. The Wildcats had a terrible shooting night and USC took advantage of their lackluster scoring to pull out a 57-48 victory.
Jonah Mathews, a 6-foot-3 senior guard, averages 13.2 points per game. Despite a stomach bug, Mathews stepped up with 23 points to lead USC to a victory over Arizona State.
"He's just been playing super basketball," said Enfield.
Onyeka Okongwu, a 6-foot-9 freshman forward, leads the Trojans with 16.2 points and 8.7 rebounds per game in his first season. He also hits 61.4% of his shots. He had two off nights against Arizona and Arizona State due to foul trouble.
On Deck: West Side vs. East Side
A trip to March Madness or a bubble nightmare will be determined by one of the longest standing basketball rivalries on the West Coast between USC and UCLA.
USC beat UCLA in Westwood 74-63 in early January. Mathews scored 16 points in the win, but freshman Okongwu had foul trouble issues. Okongwu scored only 4 points and added two rebounds in limited action.
"That can take a toll on you mentally," said teammate Nick Rakocevic. "We are going to definitely need Big O down the stretch."
UCLA currently sits in first place in the Pac-12. The Bruins won 11 out of their last 13 games. They're also in the middle of a seven-game winning streak. They recently picked off Arizona State and Arizona. The Bruins also swept #21 Colorado this season.
Remaining Games: (1) UCLA
Key Wins: UCLA, Stanford, Nevada, LSU
Losses: Oregon, Colorado (2), UW, Utah, Marquette, Temple, Arizona, Arizona State
In a recent update by KenPom, he ranked USC #52 and UCLA #80.
For OG's coverage of other March Madness bubble teams, check out: Stanford, Xavier, Oklahoma, Utah State, Cincinnati, Saint Mary's, Richmond, Providence, Rhode Island, and East Tennessee State/Furman.