The Wichita State Shockers (22-7) are one of the several bubble teams from the American Conference (AAC) that hope they secured enough big wins to impress the March Madness selection committee.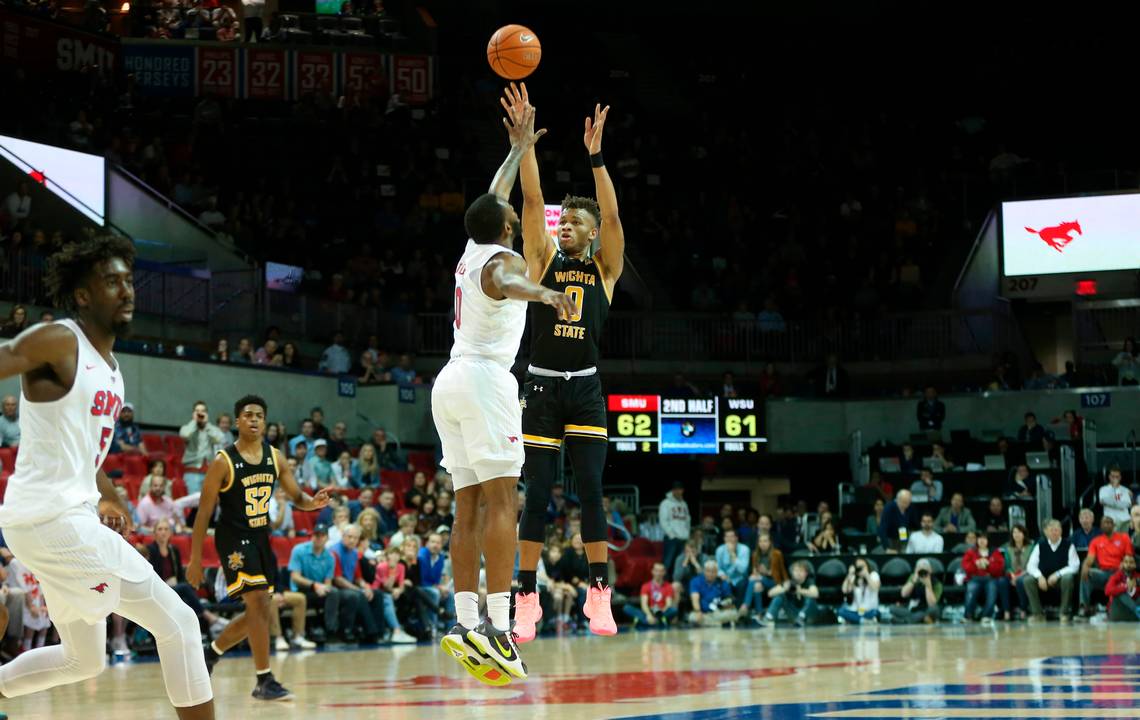 The Houston Cougars (22-7) were a Top 25 team this season, yet Tulsa surprised everyone by competing with the Cougars for first place in the AAC.
While Tulsa and Cincinnati jockeyed for position at the top of the AAC standings, Wichita State, Memphis, and SMU are stuck on the March Madness bubble.
ESPN's Bracketology currently projects Houston with a #7 seed. Among the bubble teams, Wichita State could get as high as a #9 seed, while Cincinnati would earn an at-large invite as a #12 seed. Tulsa looks like the odd team out, while Memphis and SMU are doomed.
AMERICAN STANDINGS
Houston 12-4 (22-7)
Tulsa 12-4 (20-9)
Cincinnati 12-5 (19-10)
Wichita State 10-6 (22-7)
Memphis 9-7 (20-9)
SMU 9-7 (19-9)
Gregg Marshall has a 337-120 record in 13 seasons with Wichita State. When they played in the Missouri Valley Conference, Wichita State earned six straight March Madness berths and it was not strange for them to win 30-plus games. Marshall took Shockers to the 2013 Final Four.
Since joining the AAC in the 2017-18 season, Wichita State earned an at-large bid to March Madness only once in 2018. Wichita State won 22 games last season but failed to get off the bubble and missed a trip to 2019 March Madness, which ended a seven-year streak for Marshall.
Shockers Scoring by Committee
The Wichita State Shockers are tough to defend because you cannot pinpoint their top scorer every night because it could be one of five different players. The Shockers are a true offensive unit with seven players sharing the scoring wealth. Only 3.6 points separate the top seven scorers.
Big man Jaime Echenique, a 6-foot-11 center from Colombia, leads the Shockers with 11.2 points, 7.6 rebounds, and 1.6 blocks. He recorded six double-doubles in 26 games this season. He destroyed Temple this season averaging 17 points and 13 rebounds against them.
Erik Stevenson, a 6-foot-3 sophomore shooting guard, averages 11.1 points per game. Stevenson unleashed a couple big performances in victories over Ole Miss (29 points) and UCF (27 points).
Jamarius Burton, a 6-foot-4 point guard, averages 10.1 and 3.4 assists per game. Dexter Dennis, a 6-foot-5 sophomore guard, averages 9.1 points per game. Dennis recently destroyed SMU with 25 points including seven 3-pointers to spark one of the most-thrilling comeback victories of the season.
On Deck: Memphis and Tulsa
Wichita State got smoked by Houston both times they met including a 33-point shellacking a couple of weeks ago. That ugly loss was a wake-up call for the Shockers. Wichita State won five out of six games since then including a 24-point comeback against a stunned SMU.
Wichita State knocked off Memphis when they were ranked #23 and Memphis was #21. Burton scored 16 points and knocked down a couple of clutch free throws to ice the game. Memphis' Precious Achiuwa dropped 22 points and 12 rebounds against the Shockers in the loss.
If Wichita State can shut down Achiuwa in the rematch, then they'll be in a good spot. Memphis, coached by ex-NBA All-Star Penny Hardaway, is tough to beat at home this season with a 15-3 record. It's a must-win game for Memphis if they want a shot at an invite March Madness.
Wichita State closes out the season at home, where they went 15-2 this season. They face Tulsa (20-9), who struggles on the road (5-6). Tulsa beat them 54-51 in Oklahoma four weeks earlier. Tulsa stormed back in the second half with pinpoint sharpshooting knocking down 50% of their 3-point attempts. The Shockers went cold on the perimeter with 19.4% clip. Echenique led the Shockers with 15 points and 10 rebounds in the loss.
If Wichita State loses both of these games, their March Madness dreams will pop and they'll end up on the dreaded bubble.
Remaining Games: (2) at Memphis, Tulsa
Key Wins: Memphis, Oklahoma, South Carolina
Losses: Houston (twice), Cincinnati (twice), Tulsa, Temple, West Virginia
KenPom recently ranked the Wichita State Shockers #41. They have the #8 ranked defensive efficiency and a Top 25 team at defending the 3-point line. Wichita State allows 63.9 points per game, which is ranked #36 in the nation.
For OG's coverage of other March Madness bubble teams, check out: USC, Stanford, Xavier, Oklahoma, Utah State, Cincinnati, Saint Mary's, Richmond, Providence, Rhode Island, and East Tennessee State/Furman.