We all know that swearing is pervasive in the world of online gaming — you won't be able to play a session of Call of Duty or often a single match in FIFA without a curse-laden outburst from at least one passionate, angry, or over-excited player.
Here at OnlineGambling.com, we've decided to take a closer look at this foul-mouthed behavior among gamers — drilling down to the bare effing statistics for a breakdown of which type of gamers are most likely to offend (by console), and which expletives are favorites among players of different games. Where better to find potentially R-rated convo among gamers than on Reddit?
In a study of over 40,000 comments on gaming subreddits, from players across the world, OG examined 14 discussions about popular games and platforms. We scoured more than 100 recent posts for each, and logged occurrences of words you wouldn't use in front of your mother. The result provided a revealing overview of the personalities in the online gaming world and how they engage publicly.
Foul-Mouthed Findings
Whether you're looking for a clean, child-friendly atmosphere, or would rather get into slanging match with fellow sh*t-talkers, OG took off our earmuffs and dove into the online morass to see which games' players had the most colorful online vocabularies. A few highlights from our research:
The most common cuss word across all games: s**t
F-bombs, and variations on it, was most frequently used in the harshest gaming communities
PC gamers swore the most, while X-box players were least likely to use foul language
Overwatch has 50% more cussing than Call of Duty
Starcraft and Minecraft are almost equal in the relative cleanliness of their gaming communities,
Most Popular Profanities
Let's jump in and take a broad view of all games first. Overall, the most commonly used swear word across all subreddits was "s**t" – not too offensive to many, but some might still would rather not see it flash up on the screen in front of them.
You'll also notice that there are many uses of the word "f**k", as well as its many variations.
Check out the infographic below for a full breakdown of the swear words used by gamers across all subreddits…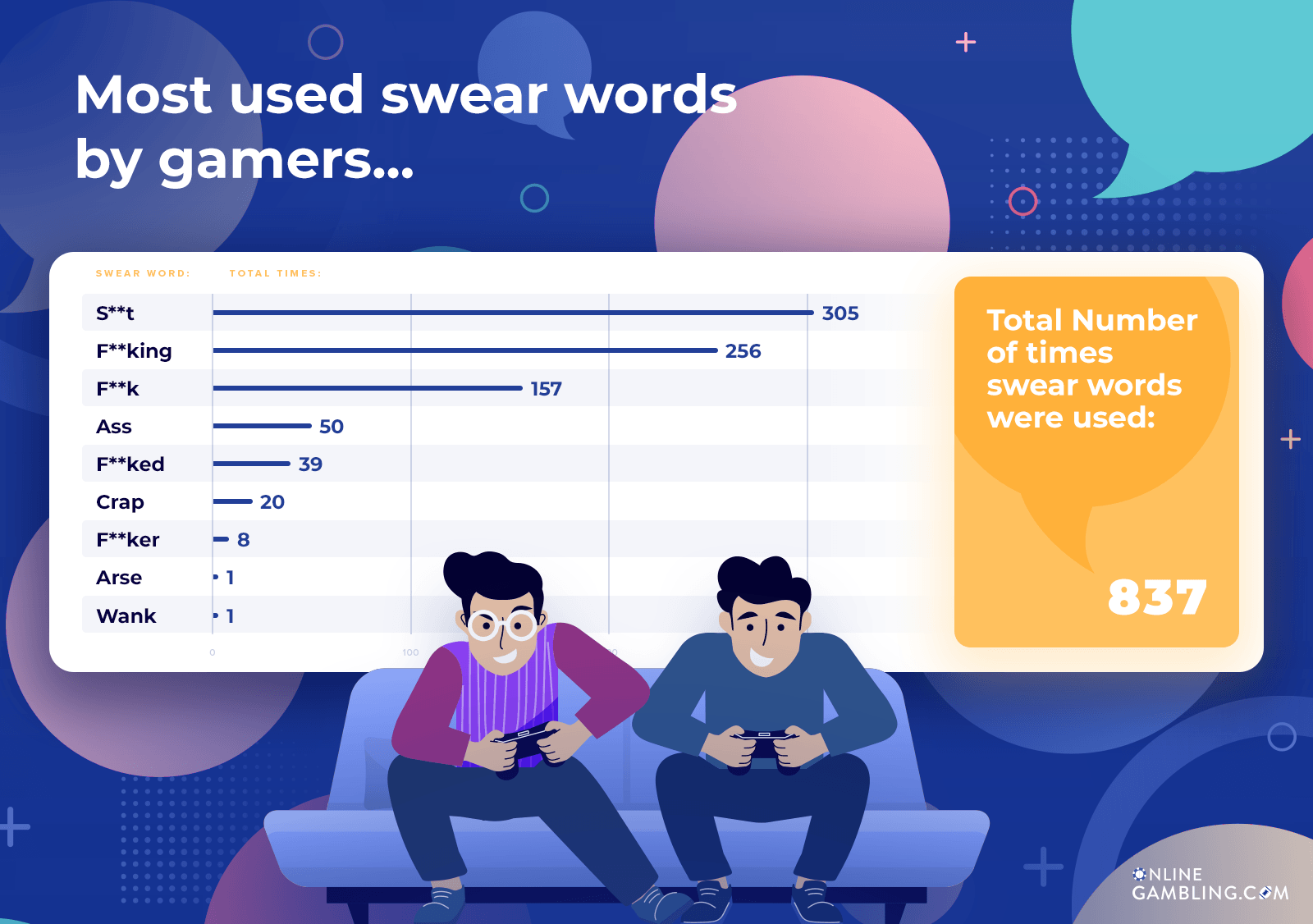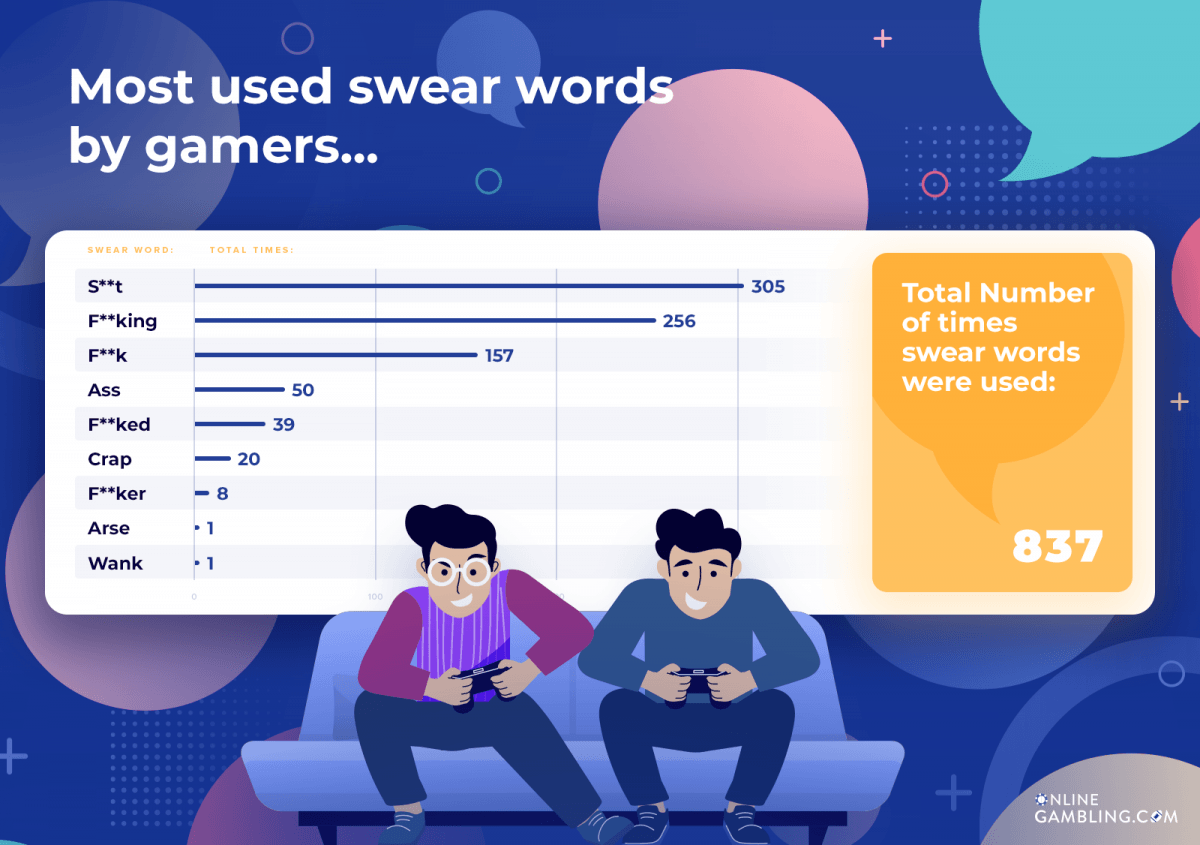 Overall, we found 837 instances of swearing across 26,207 different comments within 14 subreddits. That's a swear word once every 31 comments or so. Surprisingly, this shows that the majority of gamers on Reddit actually refrain from using profanities. What's more, many of the comments will have multiple swear words in them, meaning that overall, 31 might be a slightly low number.
Whatever the number, the figures show that you're still pretty likely to come across some bad language when looking through any gaming subreddit.
Swearing by Gaming Platform
Online gamers swear by their favorite platform — quite literally. We thought it might be interesting to see which platform has the rudest language on their subreddits, so we decided to take a look at comments about PC gaming, PS4, Xbox and Nintendo Switch.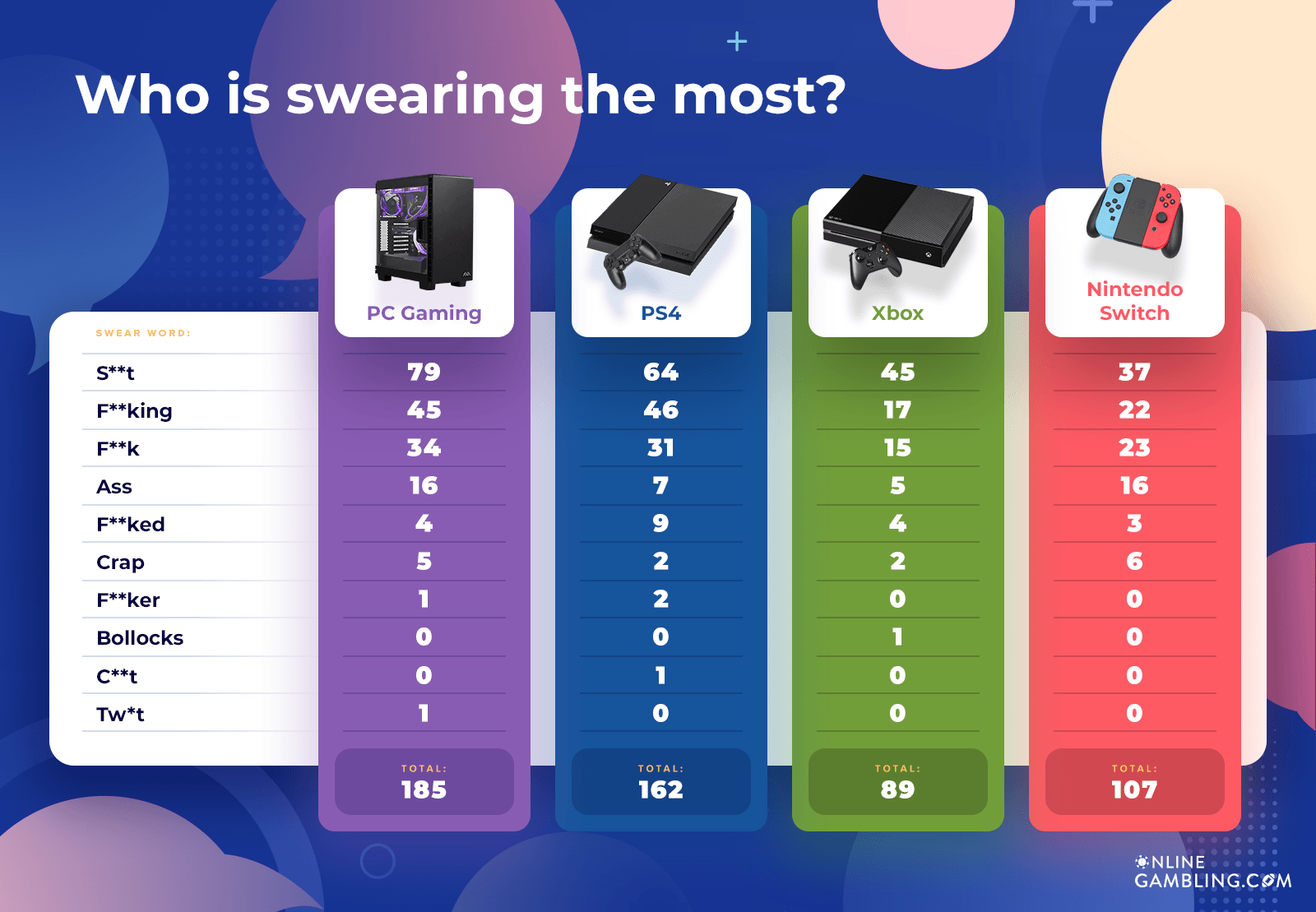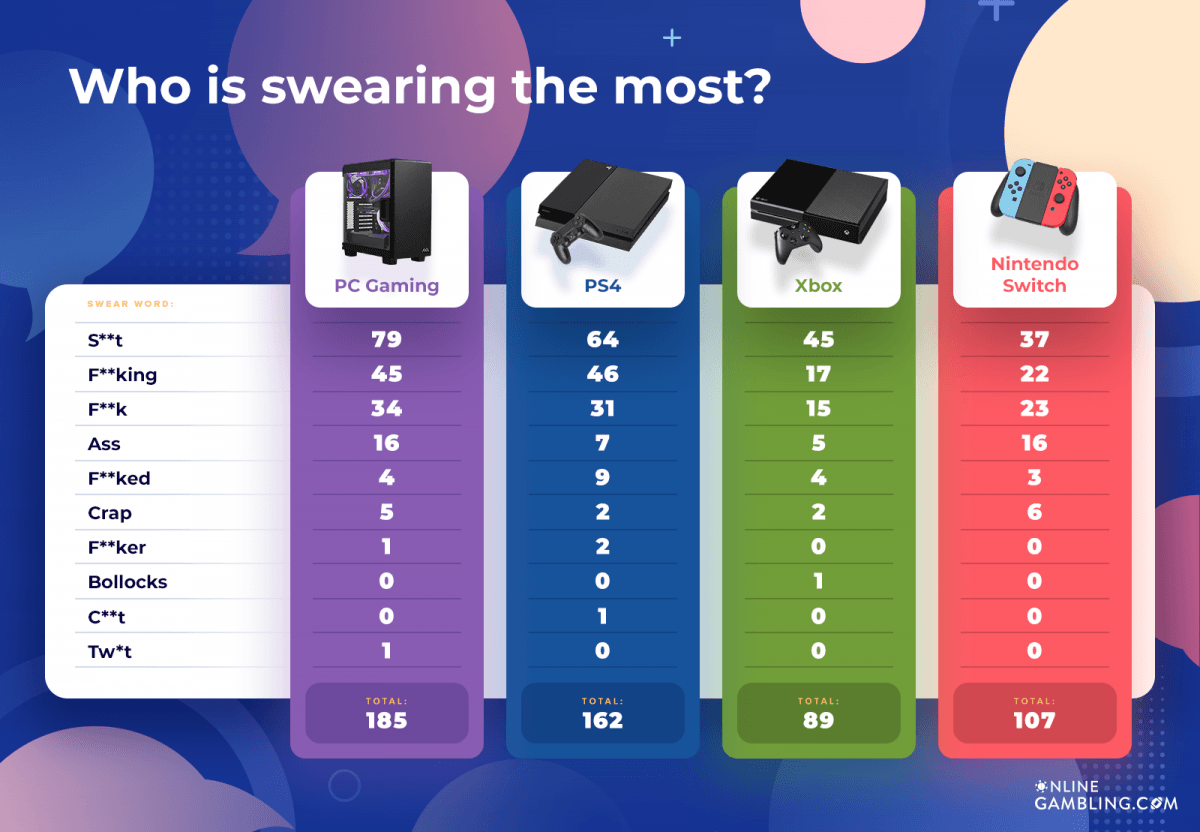 Overall, there were 543 swear words in total. As you can see, it's PC gamers who have the foulest mouths of all, uttering swear words 185 times. They were followed closely by those playing using a PS4.
Surprisingly, the Nintendo Switch – seen as the most child-friendly platform of all four – had more swearing than the Xbox subreddits, which could concern a few parents out there.
"S**t" was the most commonly used swear word for every platform. "F*k" and its many variations was also common. Surprisingly "c**t" – considered by many to be one of the more serious of all swear words – was only seen once, used by a single foul-mouthed PS4 player.
Community Cursing
We looked at 10 popular games from around the world:
Diablo
Diablo is the cleanest of all games surveyed.


Over 102 surveyed posts, we found just 25 uses of swear words, with no one swear word managing to reach double figures. "F**k", "f*****g" and "f****d" account for over half the profanities used.
Heroes of the Storm
Heroes don't swear … that much.


Heroes of the Storm subreddits were some of the least offensive we found, with only 60 swear words counted in 2,451 comments spread over 102 posts.
Fallout 4
Only Diablo had fewer swear words than Fallout 4.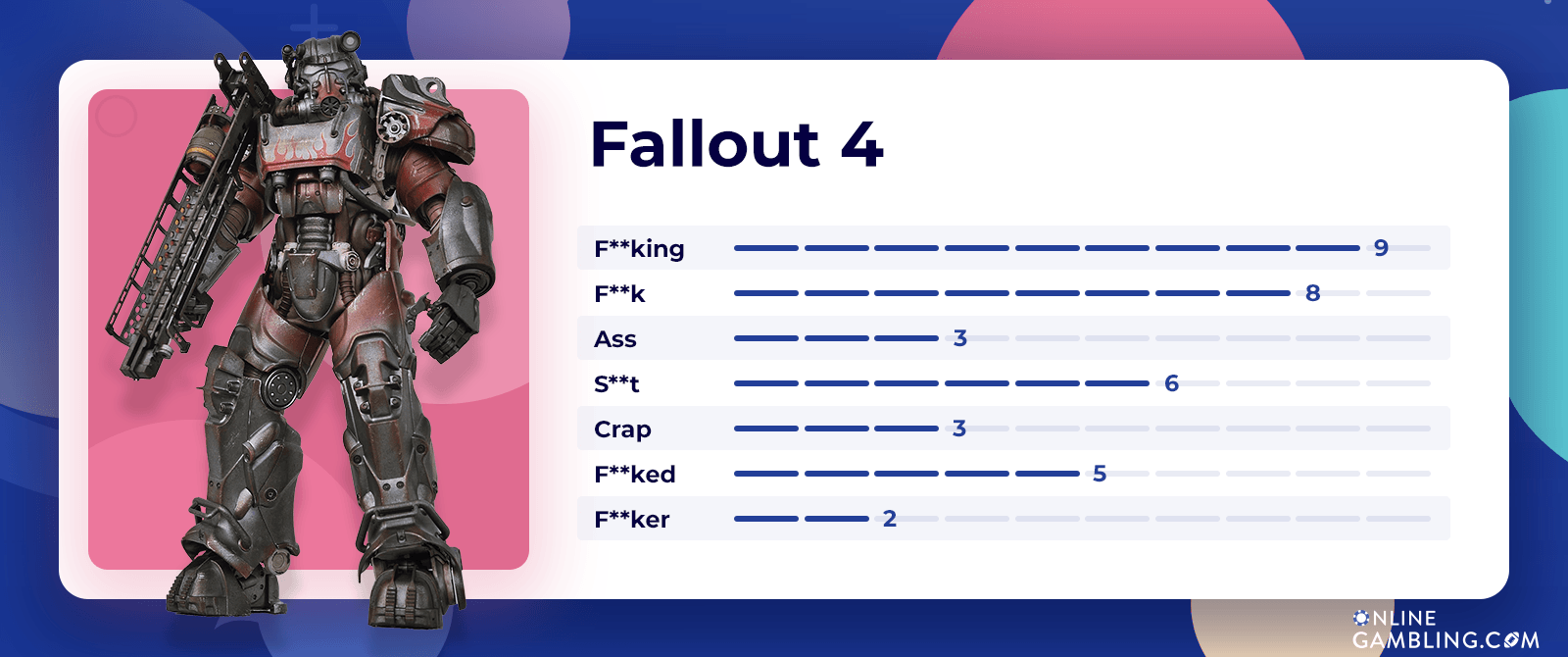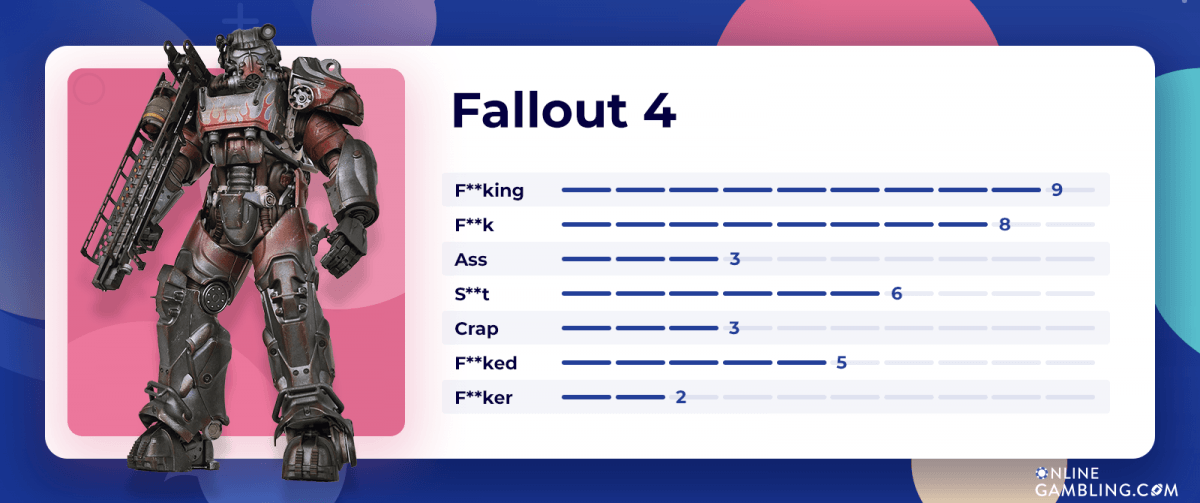 Fallout 4 offered up just 54 swear words in total, with all but five being "s**t" or versions of "f**k". All five other swear words were "a*s", which isn't too offensive to most.
Starcraft
Not much swearing in this intergalactic game.


While there was some swearing in Starcraft subreddits, it was certainly cleaner than most. "S**t" accounted for nearly half of all swear words used when talking about this game.
Global Offensive
Global Offensive certainly has an apt name.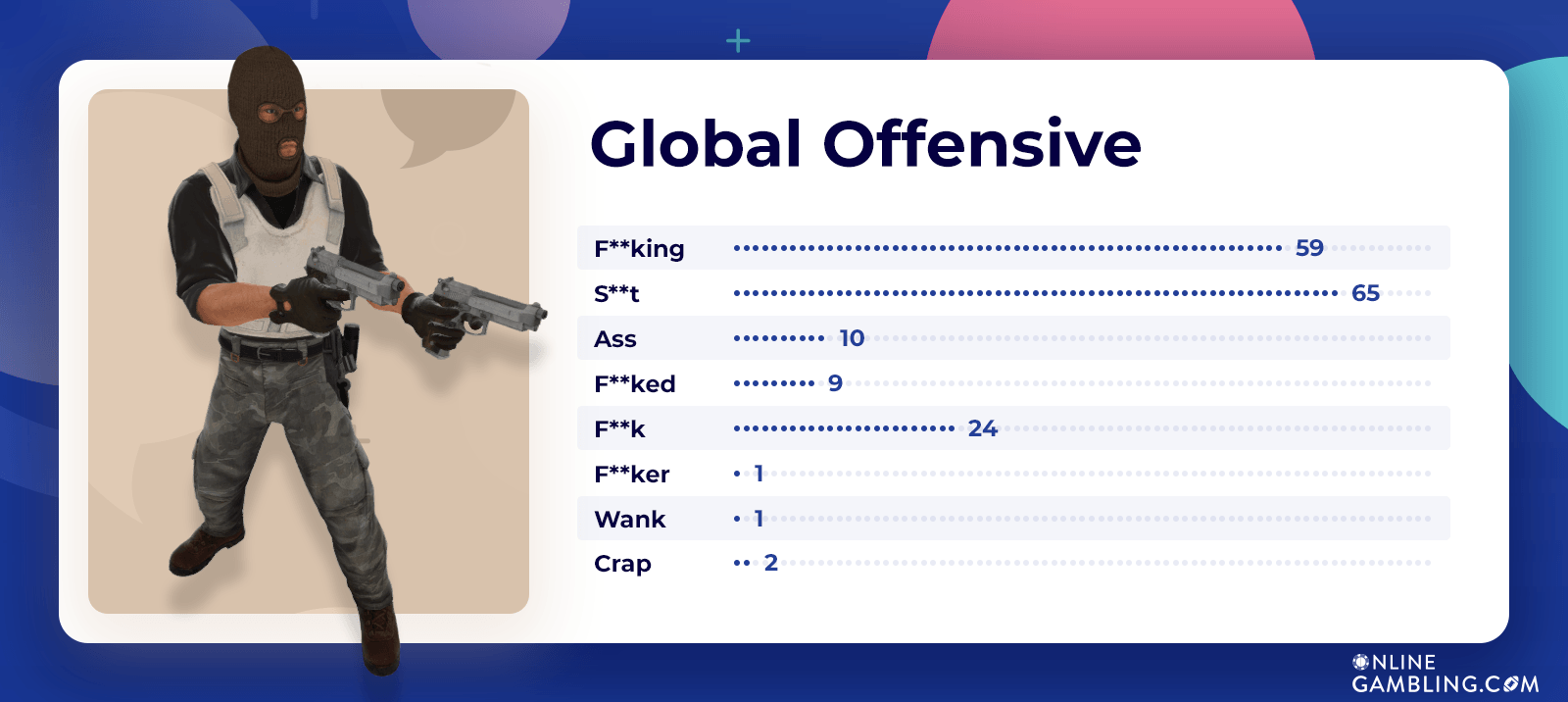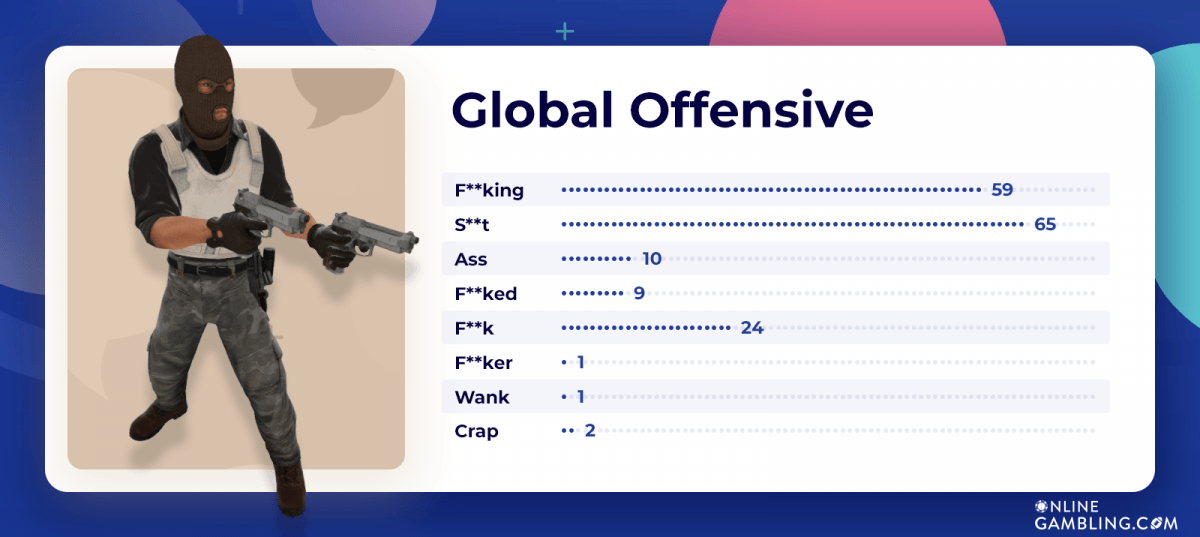 The amount of offensive language was lower than just Dota 2, with players typing swear words 171 times. Over a third of posts used "f**k" or similar, while "s**t" was also used freely.
Overwatch
Overwatch players really do give a f**k.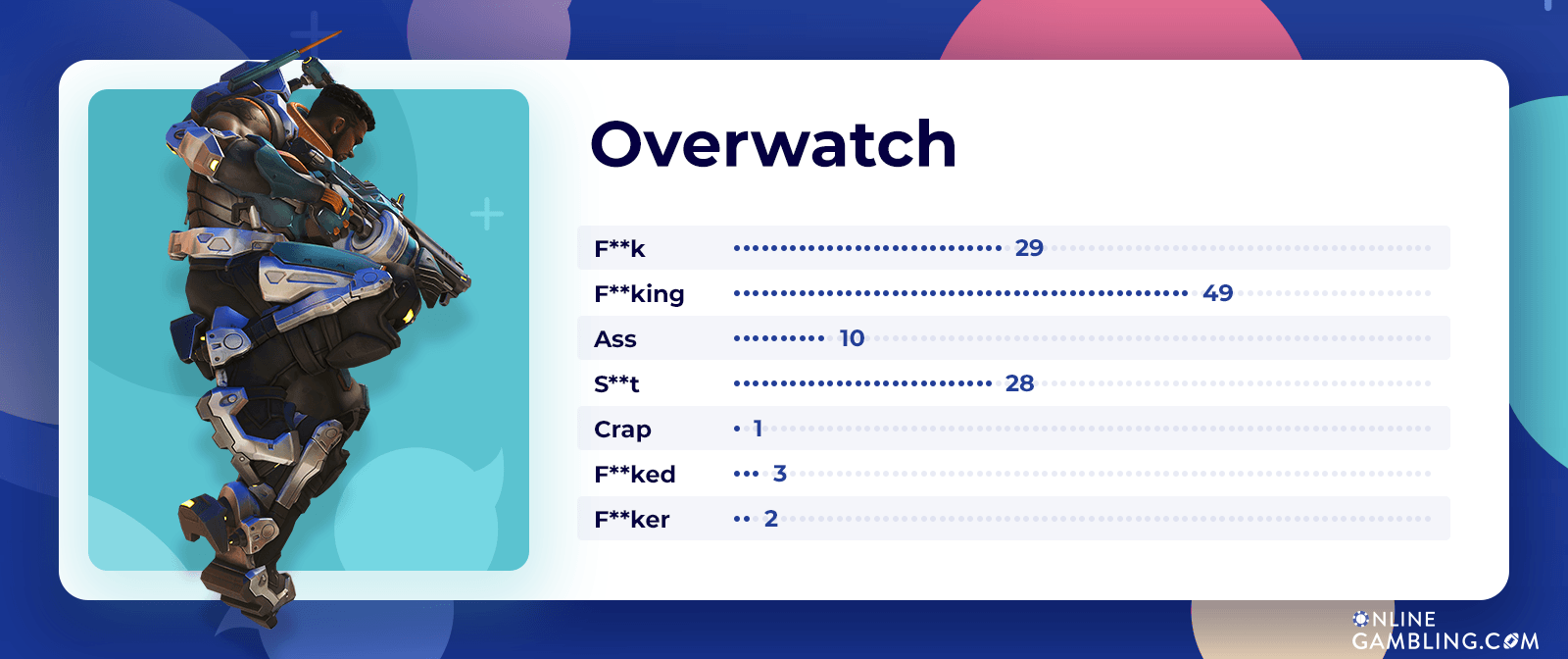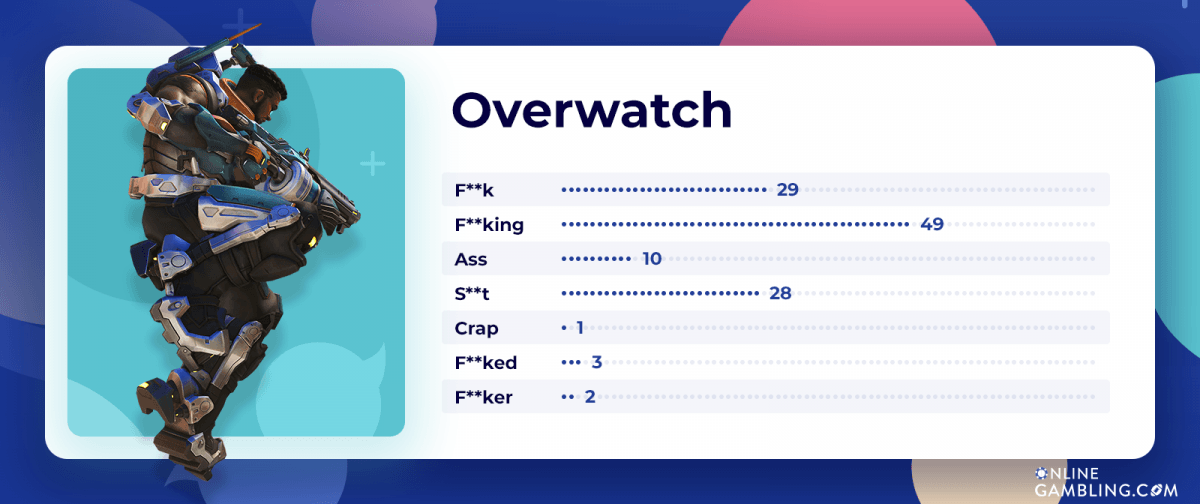 "F**k" and its many variations were used a lot by Overwatch players. In fact, the F-word accounted for over two-thirds of all swear words used at this game.
DotA 2
And the award for the top swearing gamers goes to … 


With 184 instances of swearing in 3,845 comments, Dota 2 players certainly aren't afraid to use profanities. "S**t", "f**k" and "f*****g" were all used liberally by users of this subreddit.
Call of Duty
Call of Duty discussions are surprisingly clean.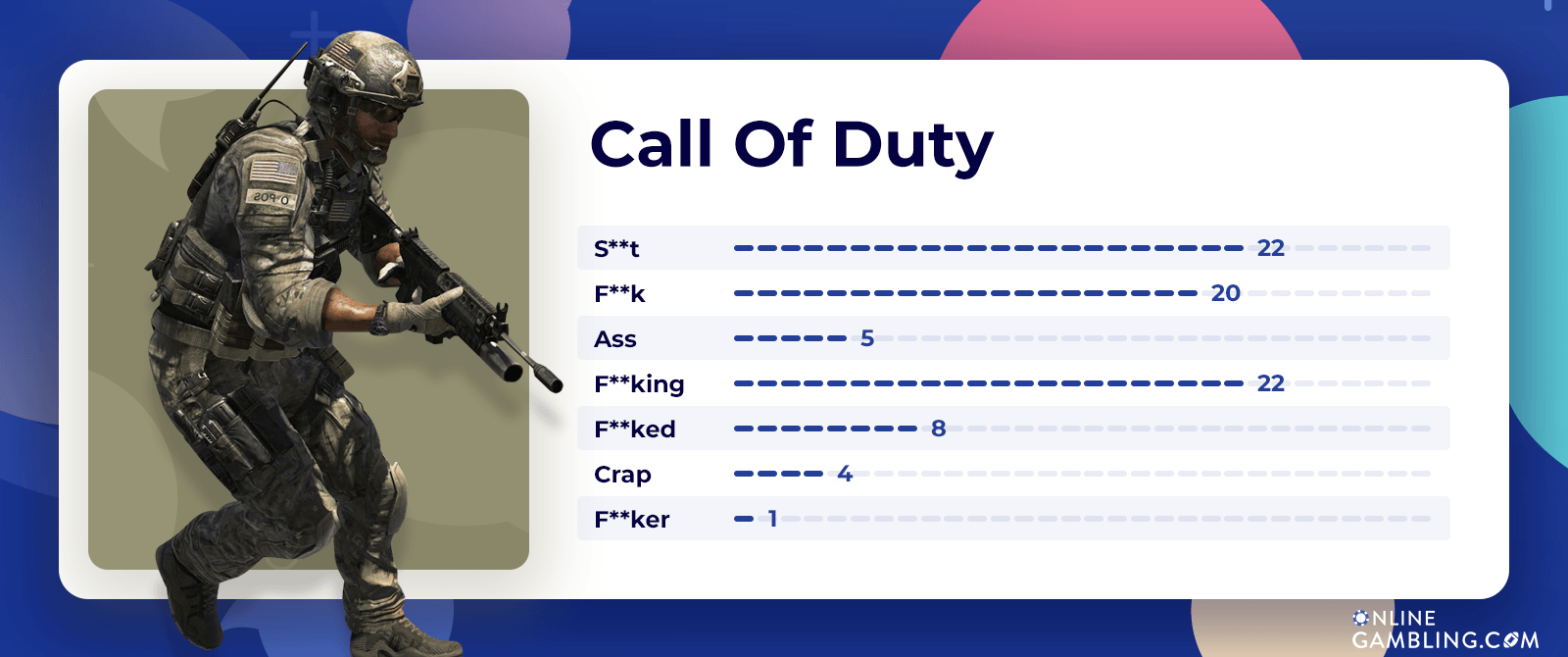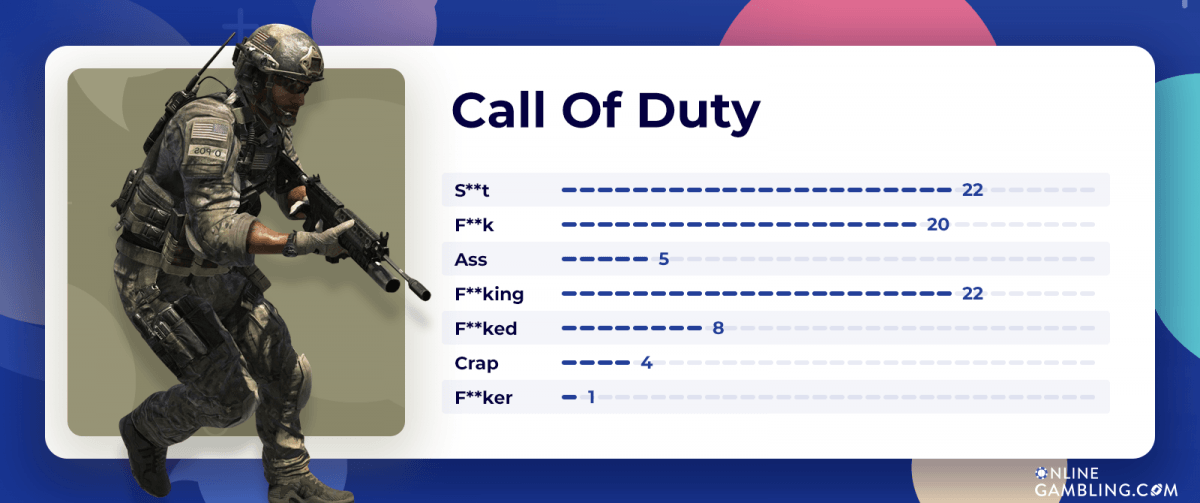 We were expecting COD to come out near the top, however, we found just 82 utterances of profanities in 102 posts. The F-word, along with variations, was used 53 times.
Minecraft
Luckily for parents, Minecraft subreddits are some of the cleanest.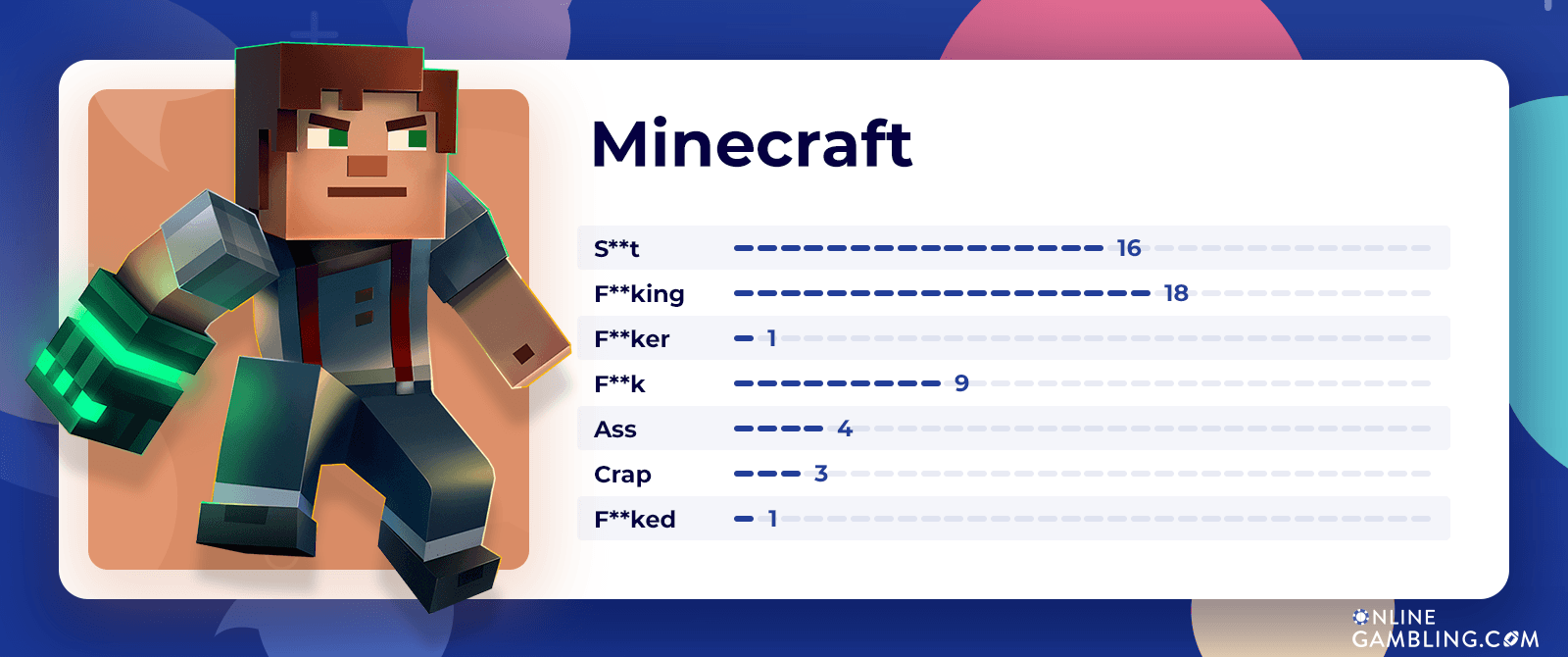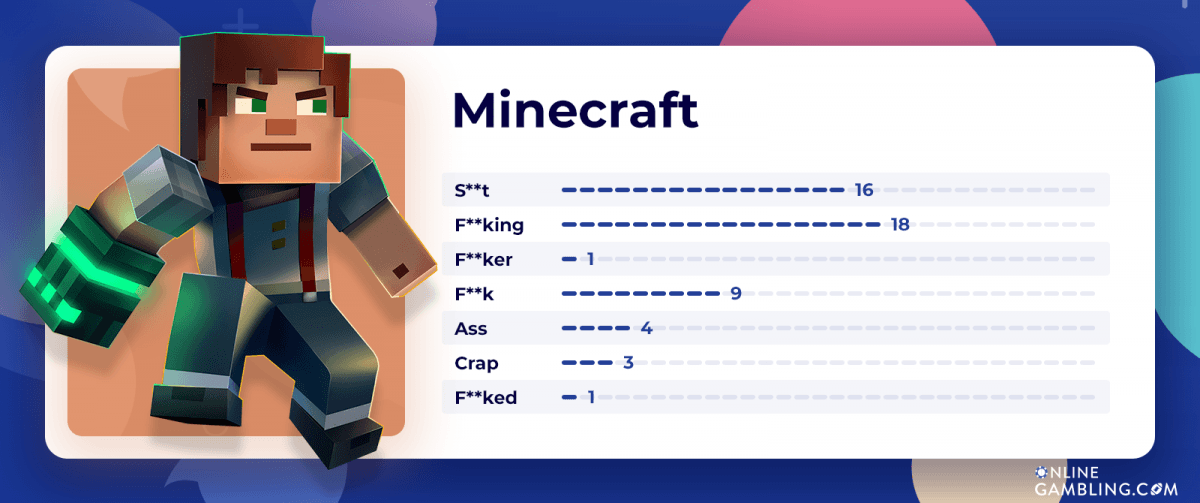 We only found 52 instances of swearing, which is the third-lowest of the games surveyed. Unusually, "f*****g" was the most popular profanity, not "s**t".
FIFA
Soccer fans live up to their global reputation.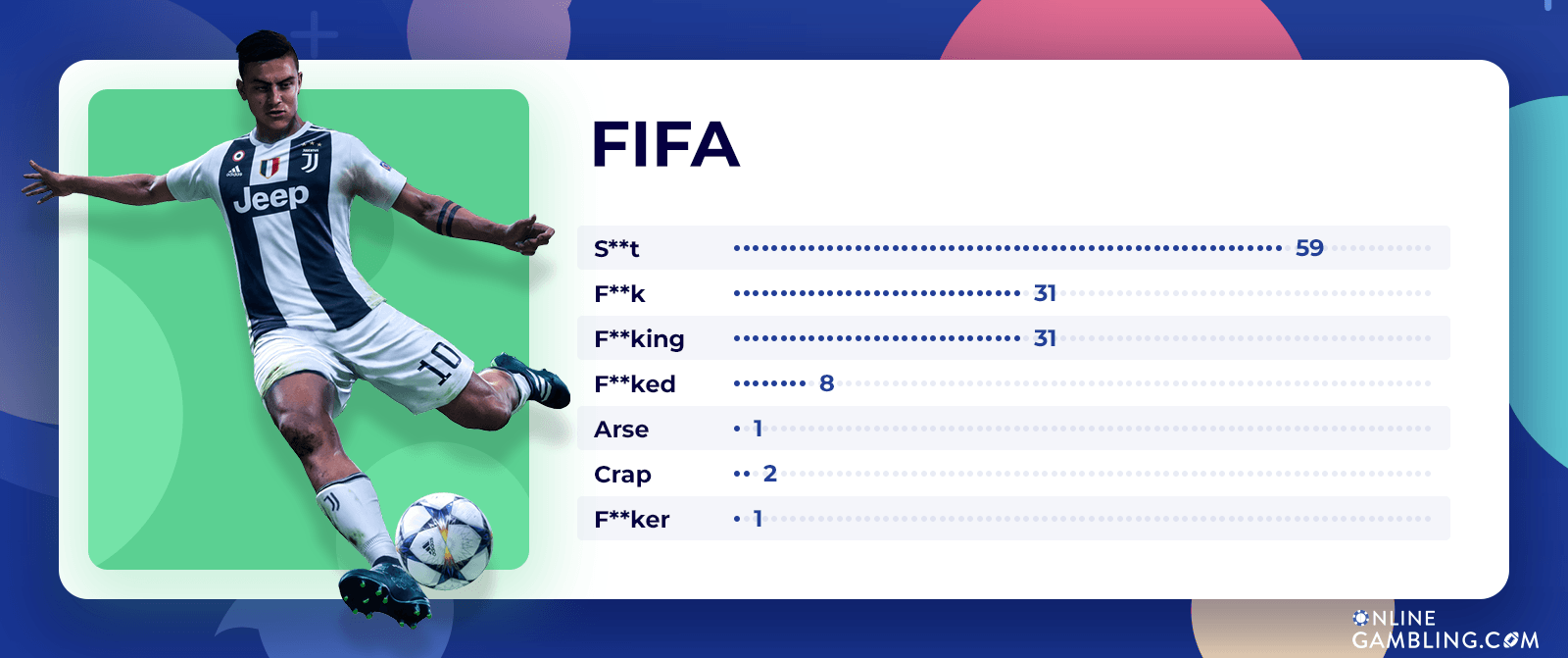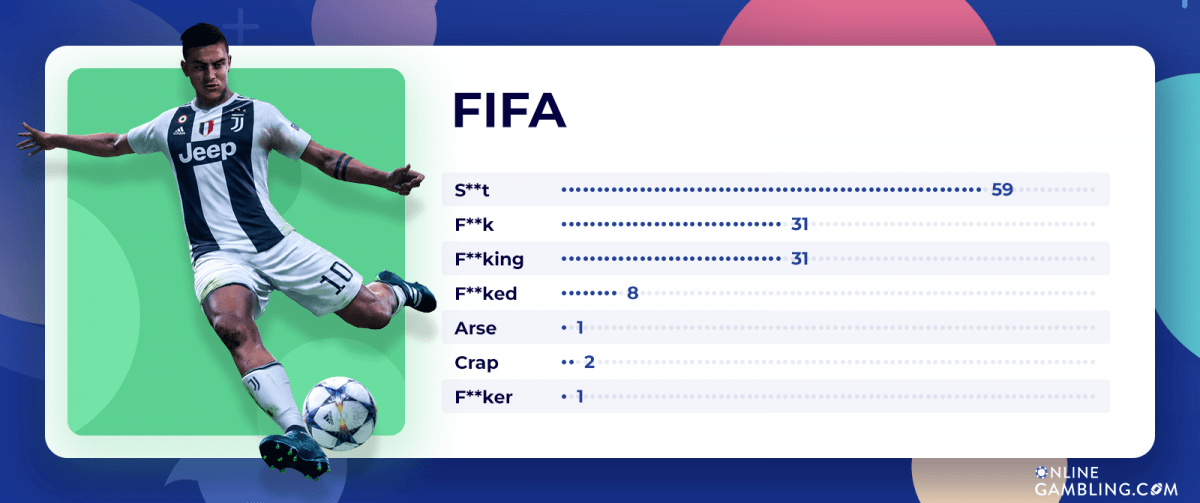 Soccer fans cursed 133 times over 102 posts. The beautiful game might not be less than elegant if Reddit discussions are any indication.