The first thought that comes to mind when you see Mandaloun, Midnight Bourbon and Hot Rod Charlie lined up as the three headliners for Saturday's Grade 1 Haskell Stakes is that deja-vu sense of familiarity. You've seen these three clash repeatedly, but there's something else about them that stands out.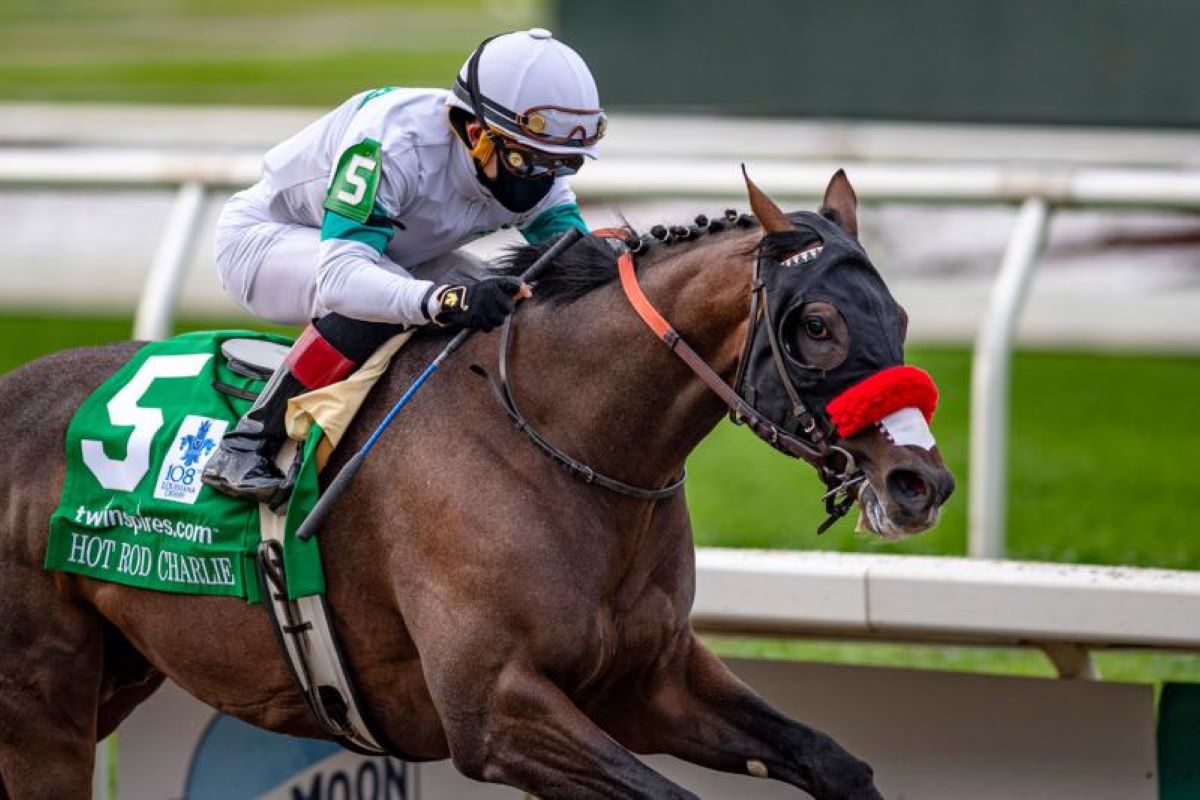 Yes. Yes, there is. The Haskell not only plays its familiar role of post-Triple Crown 3-year-old extravaganza, but this year, it does so with the three Triple Crown runners-up. Plus, in that but-wait/there's-more feature, the Haskell offers an intriguing wild-card to the proceedings.
First things first. The Haskell is the marquee event of Monmouth Park's summer meet. It anchors a 14-race, six-stakes Saturday card that takes some attention away from the glamour opening weekends at Saratoga and Del Mar. Along with the Aug. 28 Travers at Saratoga, the 1 1/8-mile race for sophomores is one of two summer destination events for the country's top 3-year-olds.
Mentioning past winners such as Holy Bull, Point Given, Big Brown, War Emblem, Serena's Song Rachel Alexandra and American Pharoah is merely piling on here. While the absent Essential Quality may have something to say about this, the last two Haskell winners earned Eclipse Awards as Champion 3-Year-Old: Maximum Security (2019) and Authentic last year.
Haskell marked one of Authentic's three 2020 Grade 1s
Authentic was one of five Haskell winners going on to Horse of the Year honors, joining Holy Bull, Point Given, Rachel Alexandra and American Pharoah.
Yes, the Haskell has legitimacy when it comes to establishing the post-Triple Crown 3-year-old pecking order. Oh, and it does offer the winner an all-expenses-paid spot in the Breeders' Cup Classic. So there's that on the $1 million Haskell table as well.
Setting this table means starting with the aforementioned Triple Crown runner-up trio. Mandaloun (2/1) finished second to Medina Spirit in the Kentucky Derby. Midnight Bourbon (9/2) placed behind Rombauer in the Preakness Stakes. And Hot Rod Charlie (the 6/5 favorite) ran the race of his career to-date, finishing just behind Essential Quality in the Belmont Stakes.
All three Triple Crown placers rested and ready
That May 15 Preakness was Midnight Bourbon's last race. That June 5 Belmont was Hot Rod Charlie's. Mandaloun skipped both those races, winning the Listed Pegasus Stakes the week after the Belmont.
So the rest factor for all three is there. Greg Helm, Hot Rod Charlie's majority owner, said his horse runs best with five to six weeks off between starts. He comes in with five weeks off and off three strong workouts the last three weeks: a June 25, five-furlong 59.8-second bullet, a July 2, six furlong 1:11.60 bullet and a July 9 six-furlong breeze in 1:00.2 that was eighth of 72 at that distance that day.
Hot Rod Charlie hasn't missed the board in his last six starts (2-2-2), which includes his Louisiana Derby victory – over both Midnight Bourbon and Mandaloun – and his third in the Derby. With sizzling rider Flavien Prat once again at the controls, expect the son of Oxbow to be at or near the front.
Midnight Bourbon could fall between the betting cracks
And expect Midnight Bourbon to be right with him. Another tenacious, near-the-front colt, Midnight Bourbon set the pace in the Preakness, only to have Rombauer reel him in over the final sixteenth. Midnight Bourbon hasn't won a race since scoring in the Grade 3 Lecomte at Fair Grounds in January and he has yet to clock a triple-digit Beyer Speed Figure. And he hasn't beaten Hot Rod Charlie yet.
That said, the Tiznow offspring hasn't run a bad race, even counting his sixth in the Derby. That marked the only time in nine career races Midnight Bourbon hasn't hit the board. Here, with Hot Rod Charlie, Mandaloun and Following Sea sucking up most of the money, Midnight Bourbon offers value. Especially with Monmouth Park's leading rider – the aggressive Paco Lopez – at the reins.
That brings us to the final member of our Triple Crown trio: Mandaloun. He was the only horse in this seven-horse field to run the traditional Haskell prep – the Pegasus. There, he beat a pesky Weyburn by a closer-than-it-should-have-been neck. But trainer Brad Cox had the Haskell as Mandaloun's post-Derby summer goal and the Pegasus was the logical step for that.
Can the no-whip rule factor into this Haskell?
There was nothing wrong with Mandaloun's 109 Equibase Speed Figure from that Pegasus. That marked his second triple-digit Equibase, following his 110 in the Derby. Nor was there anything wrong with how Florent Geroux navigated the no-whip rule. That's a not-insignificant factor at Monmouth, where using the crop for encouragement is forbidden under New Jersey Racing Commission rules.
Nor was there anything wrong with his last two workouts: a 59.3-second, five-furlong breeze at Churchill Downs that was first among 21 at that distance, and a 1:02 five-furlong breeze at Monmouth that was second among seven. Along with that, Mandaloun's stalking style could play perfectly off the early speed of Hot Rod Charlie, Midnight Bourbon and Following Sea.
Speaking of 3/1 Following Sea, say "hello" to the race's X-factor. To say this Runhappy colt is making a class leap underestimates the deep water he's in here. Following Sea comes into the Haskell off a 6 ½-length blitzing of a Belmont Park allowance field. The race before that, in an April Oaklawn Park maiden special weight, Following Sea won by 5 ¾ lengths.
Grade 1 Haskell Stakes/Monmouth Park
Morning Line (Jockey/Trainer)
Following Sea, 3/1 (Joel Rosario/Todd Pletcher)
Antigravity, 30/1 (David Cohen/Jerry Hollendorfer)
Mandaloun, 2/1 (Florent Geroux/Brad Cox)
Hot Rod Charlie, 6/5 (Flavien Prat/Doug O'Neill)
Pickin' Time, 20/1 (Nik Juarez/Kelly Breen)
Midnight Bourbon, 9/2 (Paco Lopez/Steve Asmussen)
Basso, 30/1 (Isaac Castillo/Gregg Sacco)
This means the one-time Bob Baffert/now-Todd Pletcher charge goes from an allowance to one of the hallmark Grade 1s for his age group. He does so going from 6 ½ furlongs to 1 1/8 miles. And he does so tackling two turns for the first time. Yet even with all that, Following Sea dives into this pool carrying a 100 Beyer and 105 Equibase from his last race.
The intrigue here is as deep as the pool Following Sea plunges into. He has the speed figures to contend here. But elementary math shows a Todd Pletcher horse running an Eastern race equals underlay. Following Sea went off at odds-on in all three of his races.
The pick: Hot Rod Charlie. As consistent as he's been, as fun as he is to watch, it's hard to comprehend that he still lacks a Grade 1 victory. What could be the difference here is Hot Rod Charlie's never-quit mentality is essential in a race where whips for encouragement are forbidden. By running the fastest opening quarter-mile in Belmont history, yet being a factor at the end, Hot Rod Charlie shows his speed travels well across all route distances. It travels very well here.