When you're Bob Baffert and you've got a murderer's row of 3-year-olds looking for marquee races to run in this coronavirus era, the Grade 1 Haskell Stakes almost seems like a gimme. And that's the scenario Baffert seeks with 4/5 favorite Authentic in Saturday's marquee race from Monmouth Park.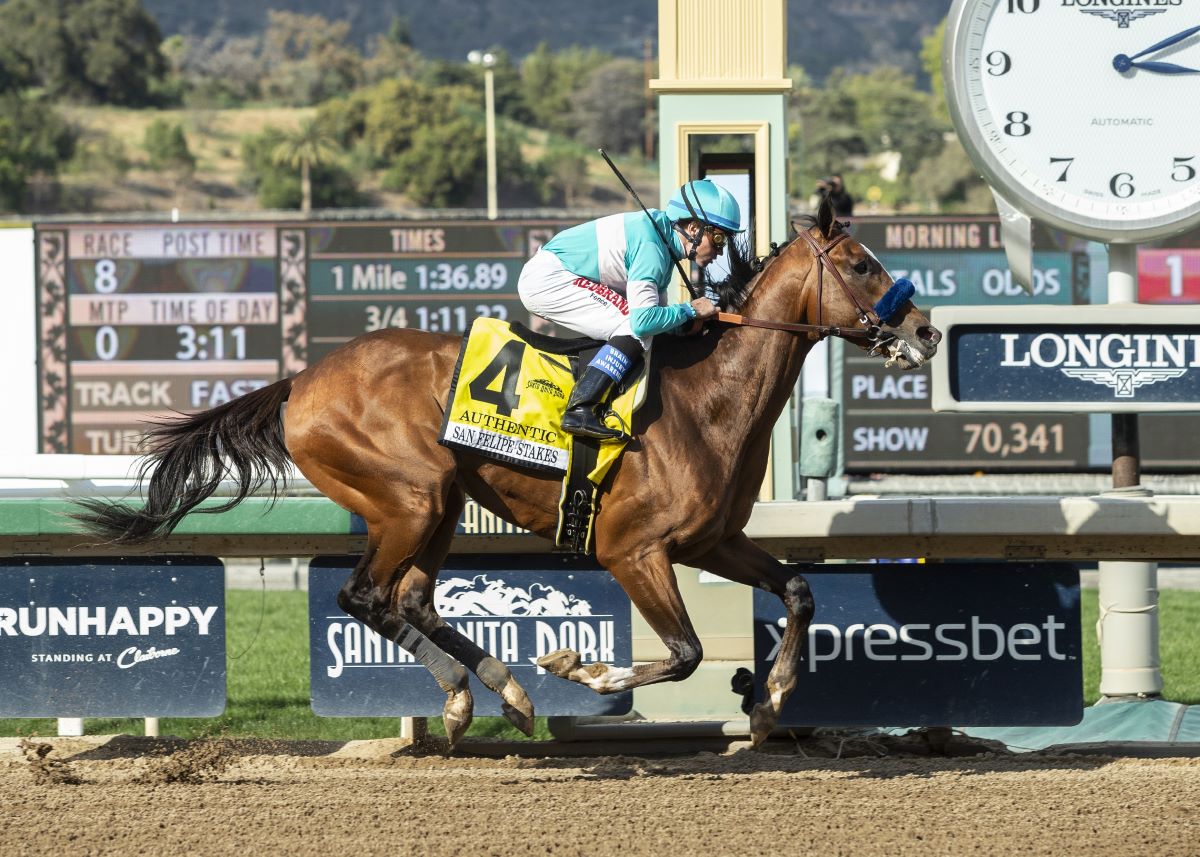 Yet, Baffert isn't viewing the Haskell as the impromptu Kentucky Derby points grab it is this year, offering 100-40-20-10 to the top four finishers of the 1 1/8-mile race. If he was, the Hall of Fame trainer wouldn't have shipped Authentic and his 100 Derby qualifying points 3,000 miles from California's shore to the Jersey shore. Then again, Baffert has Plans A through E here, and his original Haskell Plan A – Charlatan, bowed out with an ankle injury.
"That's what I really wanted to do, was to run Charlatan in the Haskell," said Baffert on a National Thoroughbred Racing Association conference call earlier this week. "But Authentic, he's a top horse and when he got beaten in the Santa Anita Derby, I was thinking the Haskell would be his prep anyway. So, I don't really look at it that way. I look at the Haskell as just a great race."
Of course he does. Baffert's won the Haskell a record eight times over the last 20 years, including five times in six years between 2010 (Lookin at Lucky) and 2015 (American Pharoah). He's enjoyed more success on the Jersey shore than Bruce Springsteen.
Haskell Stakes
Morning Line (Jockey)
Dr Post, 5/2 (Joe Bravo)
Authentic, 4/5 (Mike Smith)
Jesus' Team, 15/1 (Samy Camacho)
Ancient Warrior, 20/1 (Trevor McCarthy)
Fame to Famous, 30/1 (Carlos Hernandez)
Lebda, 30/1 (Alex Cintron)
Ny Traffic, 7/2 (Paco Lopez)
And that explains a big reason why Authentic migrated east. The standout Into Mischief colt rolled through his first three races barely breaking a sweat. That vaulted him firmly into the front row of Derby contenders. Then came June's Santa Anita Derby and Authentic's aura of invincibility surrendered to two factors: his penchant for early trouble and Honor A.P.
Authentic broke poorly from the gate, recovered, and used his pace-pressing speed to take the lead on Santa Anita's backstretch. Coming out of the final turn, Authentic hit a wall, and Honor A.P. breezed past him for the victory.
"He had sort of a rough trip. He didn't break well and he broke out, lost a couple of lanes and ended up getting caught," Baffert said. "I think he was a little bit fresh. I backed off of him (in training) because I didn't know when they were going to run the Santa Anita Derby. We like to make excuses for our horses because they're like our children, but he was a little bit fresh coming in there and he got tired."
Chalk Follows Authentic into the Haskell Starting Gate
Authentic enters the Haskell as the morning line favorite and the co-second Derby favorite on Circa Sports' Kentucky Derby Futures Board. He and his California rival, Honor A.P., both sit at +660. Should you fade Authentic on Circa's Yes/No Derby future wagers, you're laying -1,110.
Hard as it is to believe, given Authentic's low odds, lofty reputation, and three wins and a second in his four starts, but he's never won a Grade 1 race. None of the seven horses in the field has. Authentic's two stakes victories came in the Grade 3 Sham and the Grade 2 San Felipe.
So are Authentic's Haskell's numbers justified? Especially since they may drop deeper into odds-on territory? Monmouth Park favors early speed and front-runners like Authentic, so expect Mike Smith to send Authentic out and see who can keep up.
Authentic Challengers Do Exist Here
Leading the list of likely takers of that challenge is Ny Traffic (7/2), who doesn't have Authentic's speed, but who possesses a versatile running style that can press the pace enough to keep Authentic honest. Ny Traffic also possesses the need to be on your exotic tickets, because he's hit the board in every one of his four races this year. And his Equibase Speed Figures improved every time.
From a pace standpoint, this sets up perfectly for the other horse of note in the seven-horse field, Dr Post (5/2). The Todd Pletcher trainee brings a stalking/closer style that produced an off-the-pace victory in the Unbridled Stakes at Gulfstream, and a solid runner-up to Tiz the Law in the Belmont Stakes. In the Belmont, Dr Post carded his career-best 107 Equibase Speed Figure. That's the same neighborhood as Authentic's last three: 101, 105, and 113.
This brought Dr Post to +1,600 on Circa's Derby futures board and earned the Quality Road progeny a spot on Circa's Yes/No prop at -3,000 if you think he won't win the Derby. A Haskell victory would drop those numbers further and give Pletcher his fourth Haskell title. So, Dr Post needs to be prominent on your exotics.
A crazy speed duel could make that a gimme for Dr Post.
The pick: Authentic, chalk and all. Outside of his post neighbor, Dr Post, nobody else in this field has the speed to keep up with him. Ergo, the kamikaze speed duel Dr Post needs never materializes and he finishes a game second.