Mike Smith didn't earn the nickname "Big Money Mike" for his gambling acumen, although the 54-year-old jockey has earned owners nearly $330 million over his nearly 40-year riding career. He earned the name because Smith is one of the most clutch jockeys in the world, which is why he'll take the reins of Bob Baffert's Authentic when the Kentucky Derby contender rides next.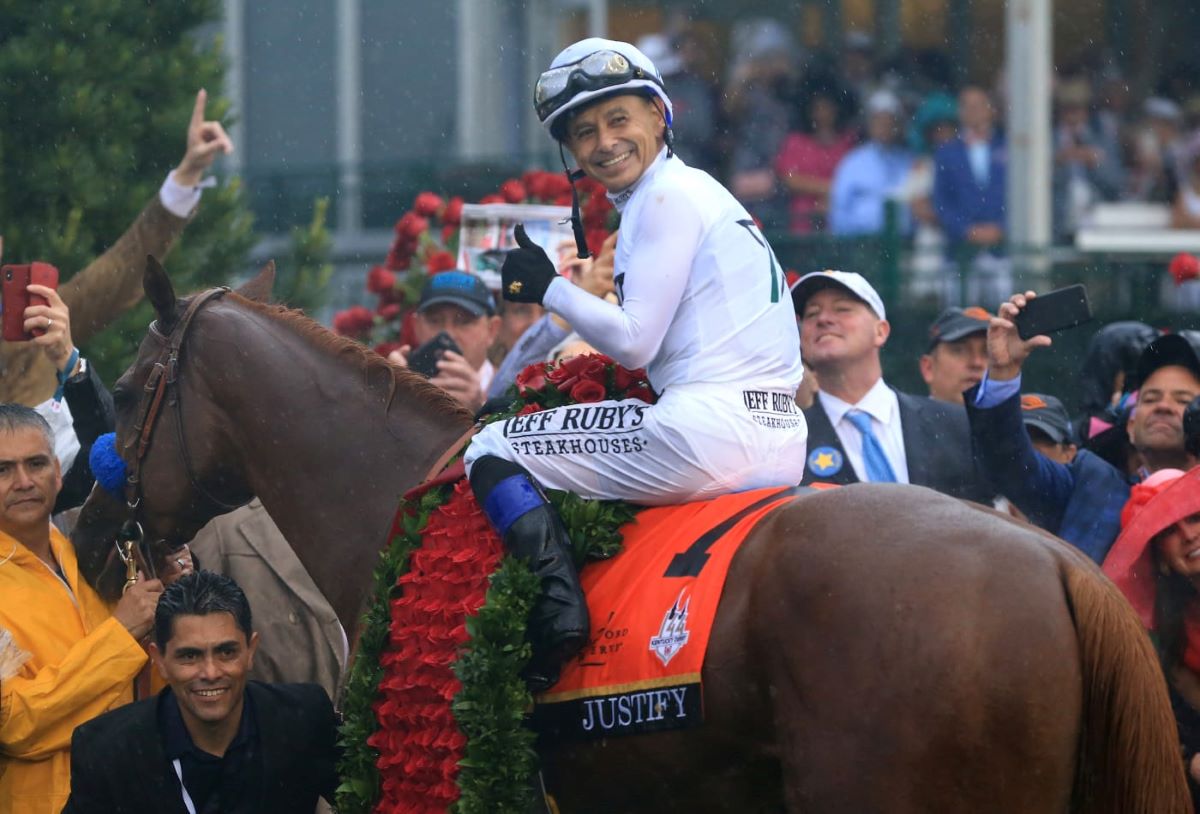 That will be July 18 at Monmouth Park for the Grade 1 Haskell Invitational. Baffert told the Daily Racing Form that's the next stop for his Derby hopeful. The 1 1/8-mile Haskell offers 100-40-20-10 Derby qualifying points, not that fourth-place Authentic and his 100 banked points need them.
And – in a case of what-have-you-done-for-me-lately — Smith will replace Authentic's previous rider, Drayden Van Dyke, in the irons. Van Dyke rode Authentic to three career-opening victories: a maiden special weight at Del Mar last November and two stakes wins earlier this year. Those came in the Grade 3 Sham Stakes and the Grade 2 San Felipe at Santa Anita Park.
But Van Dyke also rode Authentic when the Into Mischief progeny took his first career defeat two weeks ago at the Santa Anita Derby. His abrupt outside break from the gate wasn't the reason Honor A.P. reeled him in from the outside and blew past him down the stretch. And Van Dyke didn't pilot a bad race, though he may have turned Authentic's jets on too late for Baffert's liking.
Baffert Holds a Short Leash With Rider's Reins
With Authentic being the last of Baffert's once-heralded "Big 3" still running toward the Sept. 5 Kentucky Derby, the Hall of Fame trainer isn't in the mood to cut his jockeys slack. He is, however, in the mood to forgive and forget whatever issues existed between himself and Smith.
The two partnered to bring Justify a Triple Crown during the spring of 2018, but when Smith lost two races aboard McKinzie – the Met Mile and the Awesome Again Stakes – Baffert pulled Smith. That McKinzie, named for Baffert's late friend Brad McKinzie and winner of $1.6 million in career earnings, is one of the trainer's favorite horses, shortened Baffert's patience with his one-time star rider.
Baffert gave the reins to Joel Rosario, who piloted McKinzie to second in the Breeders' Cup Classic and an uncharacteristic 11th in the Saudi Cup earlier this year. Frustrated, Baffert summoned Smith, who rode back into Baffert's good graces by riding to his nickname.
Smith Beat Baffert Aboard Honor A.P.
The day after Smith rode Honor A.P. past Authentic, he guided McKinzie to victory in the Triple Bend Stakes. Last weekend, Baffert summoned him to ride 3-year-old filly Gingham in the Angels Flight Stakes. And once again, Big Money Mike brought home the big finish.
Smith got himself acclimated with Authentic on Monday, breezing a half-mile in 48.8 seconds on a fast Santa Anita track. It was his first workout since his first defeat nine days earlier.
While it's hard to argue with Baffert on anything horse-related, it's hard to find anything wrong with Smith when it comes to big races. He owns the Breeders' Cup record for career victories with 26. He's hit the board in 22 Triple Crown races, winning two Derbys, two Preaknesses, and three Belmonts. He entered the Hall of Fame in 2003, and owns two Eclipse Awards as the country's outstanding jockey (1993, 1994).
Of course, there's also his 5,575 wins and nearly $330 million in career earnings, which is big money under any name.