As horse races go, the San Felipe Stakes is as predictable as the second ring of a phone. Santa Anita horseplayers and Bob Baffertologists – those who follow the Hall-of-Fame trainer and his endless barn of 3-year-old Kentucky Derby contenders – lie in wait for this race every year.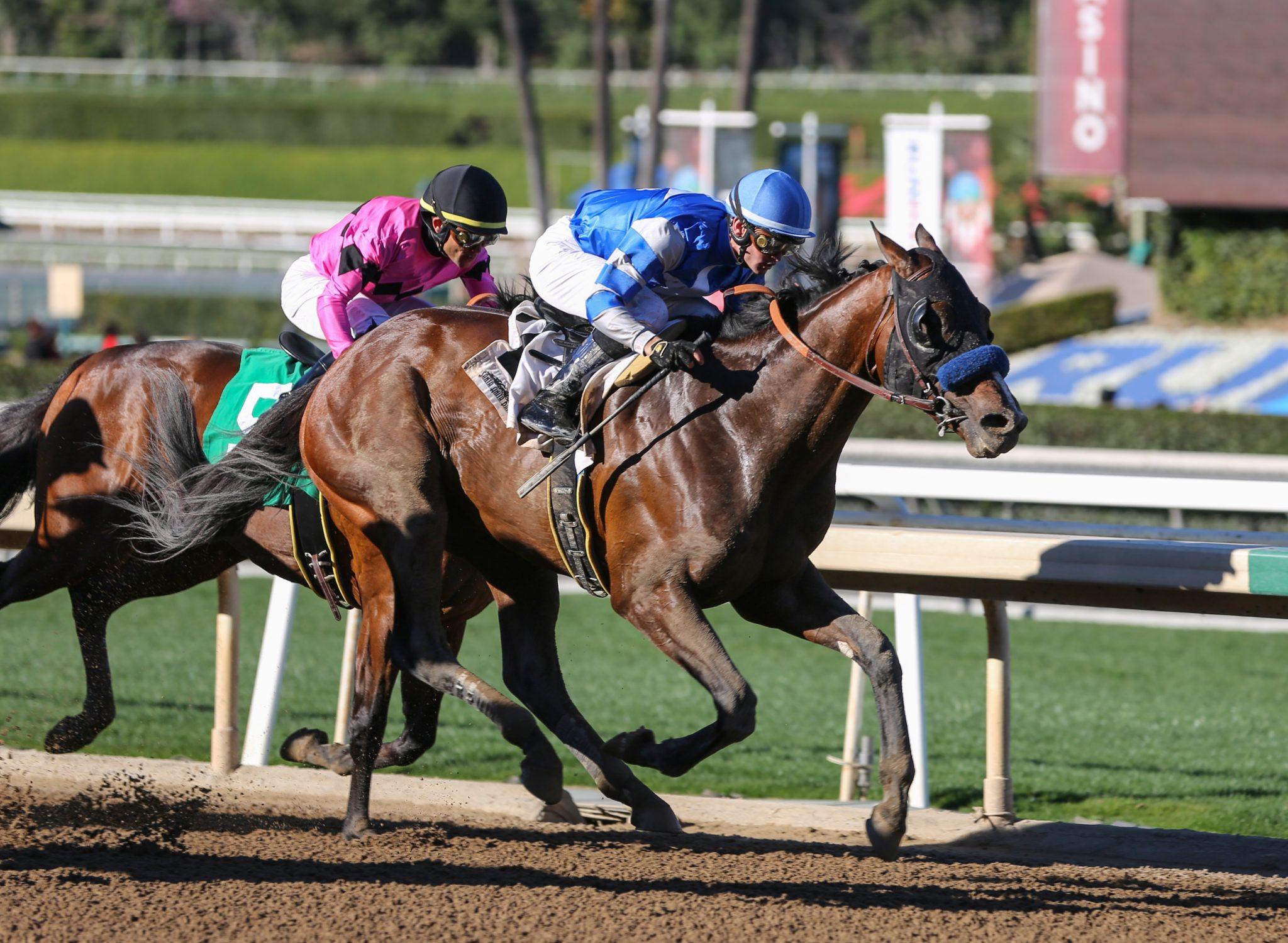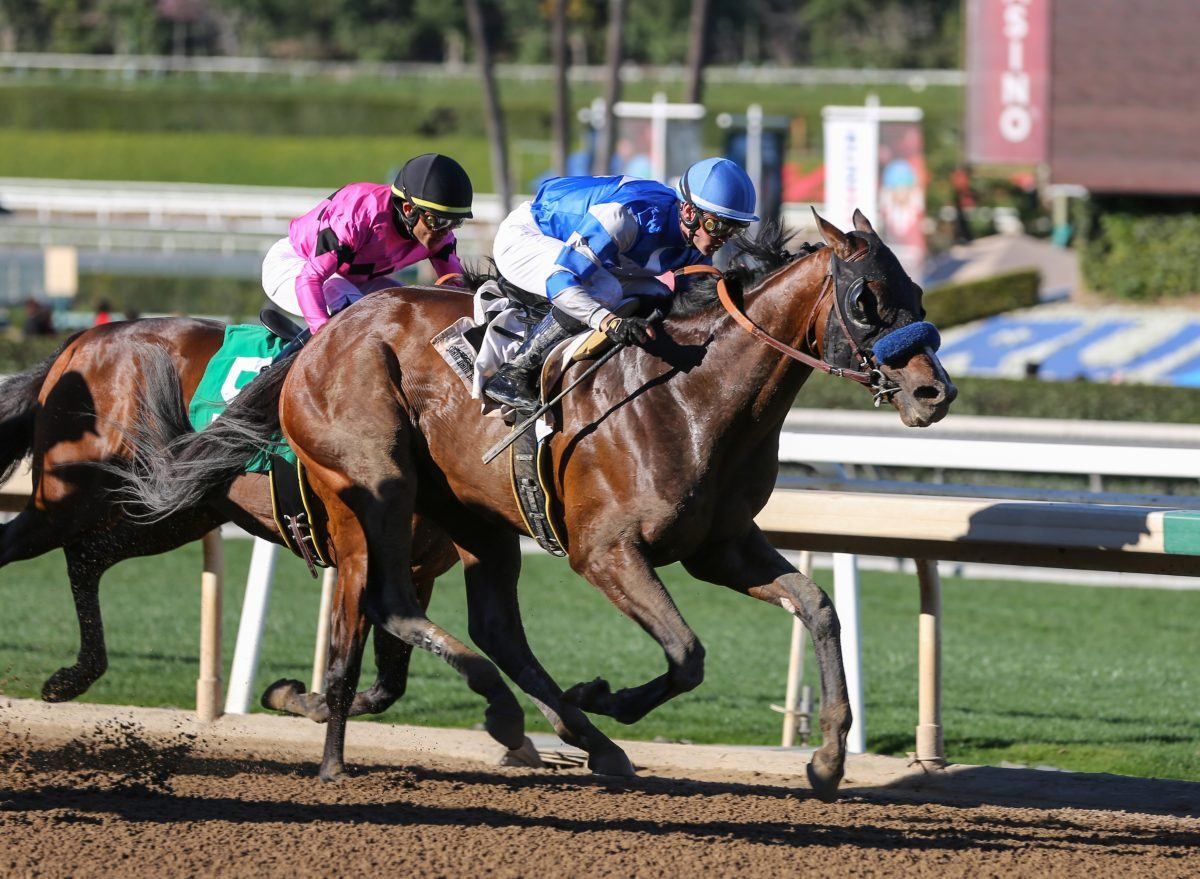 And not just because it's one of the top Grade 2 Derby prep races in the country. The San Felipe offers 50-20-15-5 Derby Qualifying points for the top-four finishers of its 1 1/16-mile, two-turn test.
The popular test offers small, but elite, fields; this year's edition has only seven horses. But where quantity falters, quality prevails.
The San Felipe also features a history of classic speed horses finding the winner's circle. The winners' roll includes the likes of California Chrome (2014), Point Given (2001), Fusaichi Pegasus (2000), Sunday Silence (1989) and Affirmed (1978).
Kentucky Derby-Winning Pedigree
Besides their obvious speed, what do these horses have in common? They were all draped in roses at Churchill Downs on the first Saturday in May.
Because of its typically small, but elite fields, the San Felipe is one of the best Derby prep races in its weight class. Along with the aforementioned five who have won both races, seven other San Felipe alums have won the Derby. The fields are typically so talented that you can find horses – good horses – who don't win the Derby to put underneath your Derby tickets.
Horses like Dortmund, who finished third in the 2015 Derby after winning the San Felipe.
Baffert Fields Both Favorites
So, what else should you look for? Start with Baffert. The five-time, Kentucky Derby-winning trainer has won six San Felipes, including three of the last 10 (Mastery, Dortmund, and Pioneer of the Nile). This doesn't include McKinzie, who was first across the finish line in 2018, but disqualified for interference.
Baffert has saddled the favorites in seven of the last eight San Felipes, and has finished first or second in every San Felipe in which he's fielded a horse. Of his 13 starters since 2009, nine of them have finished in the top two.
That brings us to this year's Baffert offerings. Authentic, the 8/5 morning line favorite, and Thousand Words (2/1). Both are undefeated, both have the tactical speed winners of this race have, and both are coming off impressive stakes victories: Authentic in the Grade 3 Sham Stakes at Santa Anita by 7 ¾ lengths in January and Thousand Words in the Grade 3 Robert B. Lewis at Santa Anita last month.
This is important because seven of the last 10 San Felipe winners entered the race coming off a victory, and seven of the last 10 had at least one graded stakes win on their resumes.
San Felipe Stakes Odds

Fort McHenry, 25/1
Honor AP, 4/1
Wrecking Crew, 12/1
Authentic, 8/5
Thousand Words, 2/1
Storm the Court, 6/1
Swagsational, 30/1
Storm the Court to Find Value
That said, Baffert is always a good place to start here, but not always a good place to finish. Six Baffert favorites have finished second since 2009 and, if you had put $2 on every one of Baffert's 13 starters, your $26 would have returned just $9.80. So if you want to go off the Baffert board to look for other options, Storm the Court (6/1) is the logical place to start.
The Peter Eurton trainee, Breeders' Cup Juvenile winner at 45/1, and Eclipse Award Champion 2-year-old Male, finished fourth in his last outing, the seven-furlong San Vicente. But back at two turns, Storm the Court pushes all the right buttons for a San Felipe winner: he's a graded-stakes winner at reasonable odds (long shots in this race need not apply), and is coming off a loss in a sprint race.
Three San Felipe winners (Hear the Ghost, Creative Cause, and Premier Pegasus) all lost in sprint races the start before the San Felipe. Since 2009, Premier Pegasus was the longest-shot winner at 7/1.
The lesson in playing the San Felipe? Bet Baffert in an exotic, don't get too cute and remember, predictability pays.