For Barclay Tagg, it's been 17 years since he and the ownership group he trains for has been in this position. For Bob Baffert, it's been a year. And for Linda Rice? Well, there's a first time for everything.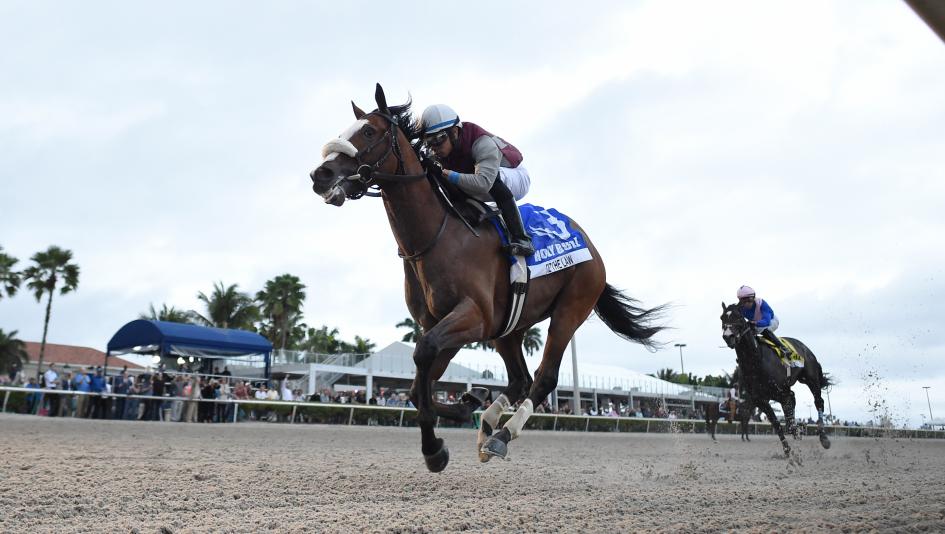 Your three winning trainers from Saturday's Grade 3 Kentucky Derby prep races are undoubtedly pleased with the way their charges ran. But they also know this Derby equation is one with a lot of variables that can change daily, if not hourly, between the first Saturday in February and the first Saturday in May.
Tagg, who trains Tiz the Law, watched the 6/5 favorite solve his Derby prep equation with an easy victory in the Holy Bull at Gulfstream Park. That said, while the Holy Bull has produced three Derby winners – including Tagg's Funny Cide in 2003 – only two Holy Bull starters have hit the board at Churchill Downs in the last 13 years (Mucho Macho Man in 2011 and Audible in 2018). Both finished third.
Bob Baffert's 3,000th Win
Baffert, no stranger to Derby preps of all sizes and grades, watched Thousand Words go off at 3/5 and beat the best field of Saturday's three Derby preps in the Robert B. Lewis at Santa Anita.
It was Baffert's 3,000th career victory and eighth in the Lewis, which has sent three horses in the last 34 years to the Churchill Downs winner's circle on the first Saturday in May. Most recently, I'll Have Another did it in 2012. But no horse in the last two years – including, notably, Baffert's Triple Crown-winning Justify in 2018 – has run the Lewis and made the Derby field.
As for Rice, she's swimming against one heck of a historical tide, and not just because she trains Max Power, who upset favored Shotski in the Withers at Aqueduct Park. That race has never produced a Derby winner, although it has sent a horse to the Churchill Downs gate every year but one since moving to the winter in 2012.
Each race bestowed Derby Qualifying Points to its top four finishers in 10-4-2-1 increments, so it's noteworthy that winning this race – while nice for the purse strings, ego, and confidence – isn't a guarantee of a Derby gate spot. Mucho Gusto, who won the 2019 Lewis, managed but 24 points from his preps – not enough to get him into the Derby.
(Instead, as a four-year-old, he settled for winning last week's $3 million Pegasus World Cup. Hardly a bad consolation prize, even if it's not rose-covered.)
Road to the Kentucky Derby

Points Totals – as of Feb. 3, 2020

Storm the Court 22
Tiz the Law 22
Thousand Words 20
Shotski 14
Enforceable 13
Anneau d'Or 12
Shoplifted 12
Silver Prospector 11
Maxfield 10
Eight Rings 10
Independence Hall 10
Dennis' Moment 10
Max Player 10
Gold Street 10
Authentic 10
Scabbard 6
Wrecking Crew 5
Ajaaweed 5
Finnick the Fierce 5
Green Light Go 4
Gouverneur Morris 4
Holy Bull Heroics
Your current William Hill Derby futures favorite, Tiz the Law (8/1), laid down the law in the Grade 3, 1 1/16 mile Holy Bull race. He broke clean, broke from traffic on the Gulfstream backstretch, and broke past Ete Indien just before the quarter pole.
"His race was perfect," Tagg said. "We told (jockey Manuel Franco) to stay off the rail no matter what you have to do. Lose the ground and go around them. It worked out perfectly."
The New York-bred Tiz the Law comes from the same ownership group (Sackatoga Stables) and connections as Funny Cide, who won the 2003 Derby and Preakness Stakes. Winning the Holy Bull brought déjà vu to Tagg and owner Jack Knowlton.
"We didn't get this done with Funny Cide. Seventeen years later, here we are, and thrilled to be here," Knowlton said, referring to Funny Cide's fifth-place finish in the Holy Bull. Knowlton added, Tiz the Law will probably follow Funny Cide's Derby path and run in the Louisiana Derby in late March.
Ete Indien finished second, three lengths back, with another 11 ½ lengths back to third-place Toledo. Relentless Dancer was fourth.
Thousand Words Stare
Thousand Words, was was 12/1 in the William Hill Derby futures book, won his third race in as many starts by holding off stablemate High Velocity in a stronger-than-expected field for the Robert B. Lewis stakes.
Validating his $1 million purchase price at the 2018 Keeneland September Yearling Sale, Thousand Words was three lengths off the lead, and fourth in the six-horse field when he split horses and took down High Velocity with a sixteenth of a mile to go.
"He's got that big long stride and the further the better with him," Baffert said. "You could tell about the last 50 yards he was really getting going. He came back (and) he wasn't even tired, so that is a pretty good sign. He is progressing with every race and to win three in a row like that, it is pretty impressive."
Baffert's other horse in the field, High Velocity, faded to third when 18/1 Royal Act reeled him in by a neck in deep stretch. It was Royal Act's first start on dirt.
Outside Shotski?
Shotski, who is 80/1 in the William Hill Derby futures book, was the only graded stakes winner entered in the 1 1/8-mile race at Saturday's $250,000 Withers (G3) at Aqueduct.
Yet the 9/5 favorite in the nine-furlong test for three-year-olds (offering 10-4-2-1 Derby points) was out-dueled at the finish by 5/1 choice Max Player, who made a quantum leap in class from the Parx Racing circuit on which he broke his maiden in December.
"[Max Player has] been becoming more professional all the time in his morning workouts and things," said Rice, who is angling toward running Max Player in the Wood Memorial in early April. "Anyone that watches the two races at Parx can see he's pretty green and ran pretty green in the dirt."
Saturday, however, Max Player showed some of that inexperienced green is gone. He sat mid-pack, letting Shotski, Vanzzy, and New Commission trade the lead before making his outside move near the top of the stretch and leaving the trio behind.
Shotski finished second, holding off a fast-closing Protos for third. Monday Morning Qb finished fourth.