The easiest way to look at Saturday's Saudi Cup is to go back to your old test days. Remember when your teacher told you to eliminate the wrong answers and, eventually, you'd arrive at the right one? Not only does this work for geometry and history, it also works for $20 million horse races.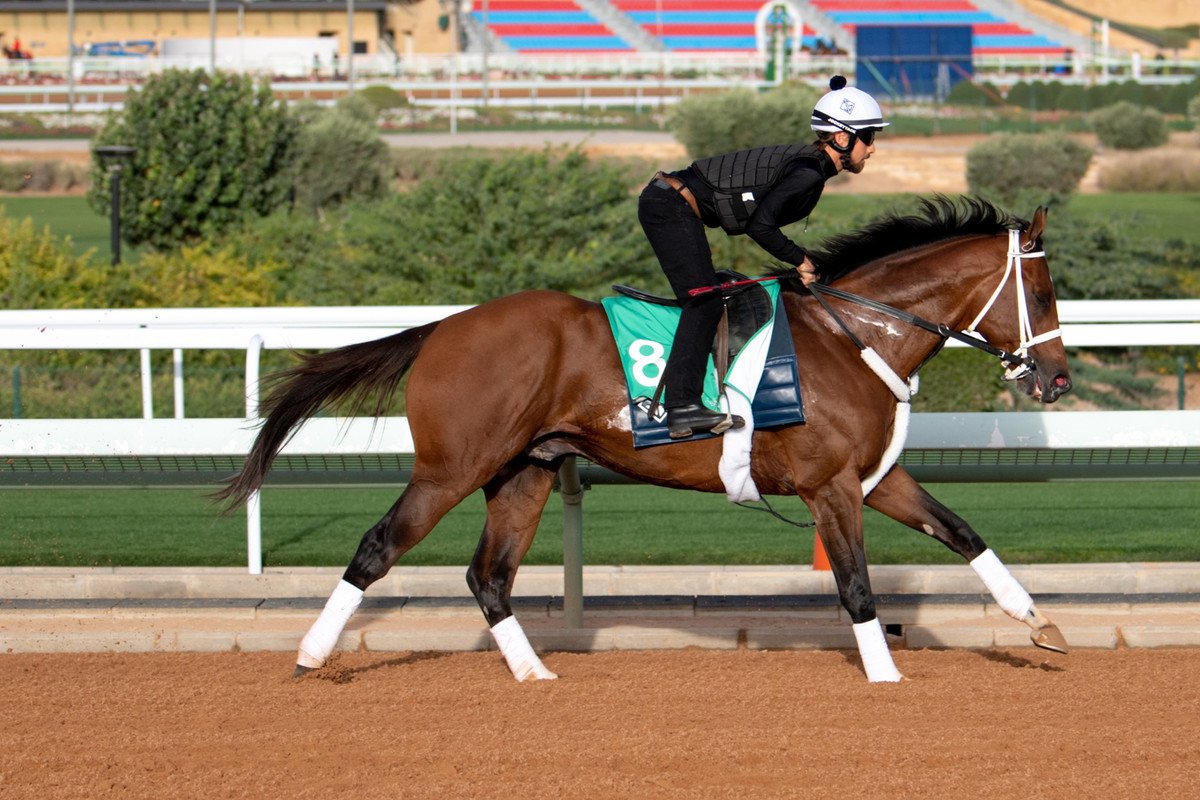 Saturday's inaugural Saudi Cup at King Abdulaziz Racetrack in Riyadh is the richest race in the world, a 1 1/8-mile, one-turn jaunt around a long track that, of the major United States tracks, best resembles Belmont Park. The winner receives $10 million, which – naturally – brings a worldwide list of ambitious owners and trainers to the Middle East.
The 14-horse field contains horses from Japan, Saudi Arabia, Ireland, Great Britain, and the United States. An interesting wild-card factor is that Lasix and Bute are not allowed to be administered in this race.
Given the resumes of the international entries compared to their US counterparts, the non-US horses are the wrong answers your teacher told you to eliminate.
We'll break them down from the worst answers to the best.
Easy Eliminations
Mijack (Post 14): A former European field-filler who, earlier this month, won a local Grade 1 for Saudi Arabian imports. Wonderful. Way, way over his hooves in this field.
Great Scot (Post 11): Purchased by Saudi interests to run in this event, this recently gelded horse is currently without a trainer. He is also without a chance here.
Gold Dream (Post 1): Along with Chrysoberyl, one of two Japanese imports here. Finished second to Chrysoberyl in the Grade 1 Champions Cup. This is not the Grade 1 Champions Cup, or any other Japanese race, for that matter.
North America (Post 4): This 8-year-old gelding is a typical Middle Eastern horse, meaning he will dominate weaker, domestic fields all day. We don't have one of those here. Throw in his pace-setting style, which runs against pace-setters, like Maximum Security, who run that style better and he's done early here.
Capezzano (Post 13): Speaking of pace-setters and dominating weak fields, Capezzano blew away the field by 6 1/2 lengths in the Grade 3 Firebreak Stakes at Meydan in Dubai. Now, a horse who doesn't like being off the pace gets to contend with Maximum Security, McKinzie, and Mucho Gusto, not to mention Tacitus and Midnight Bisou. That kind of speed was nowhere to be found at the Firebreak. Arrividerci.
Chrysoberyl (Post 10): Is unbeaten in six races. Those six races happen to be in Japan. The increase in class here will make that apparent rather quickly.
Magic Wand (Post 12): Is coming off a strong second at the Pegasus World Cup Turf Invitational last month. Along with Midnight Bisou, one of two mares in the field. Unlike Midnight Bisou, Magic Wand is a turf standout running on dirt for the first time. Props to trainer Aidan O'Brien for the effort here, but she should get back on the lawn.
Benbatl (Post 3): This Great Britain-bred colt is the best of the international horses, with 10 wins in 20 starts. Again, primarily a turf horse who dismantled weaker fields on dirt. Too deep a pool for this dirt novice.
Exotic Possibilities
Gronkowski (Post 5): Finished second to Justify at the 2018 Belmont with a spectacular finishing kick. Like his namesake and part-owner, the former New England Patriots tight end, this horse has a mercurial personality that is capable of anything. But even with recent losses in his new Dubai home, he's hit the board 10 times in 14 races. Use him underneath in exotics.
Tacitus (Gate 2): Coming off a five-month layoff after three runner-up finishes and two third places, the latter coming in the Kentucky Derby and Jockey Gold Cup. Here is a horse with speed, breeding, an excellent trainer in Bill Mott – everything but that killer instinct to finish. Exotics only.
Midnight Bisou (Gate 6): She is such a talented mare that if she ran in just about any other race on the Saudi Cup card, she'd be one of the favorites. After all, Midnight Bisou went 7-for-8 last year, all in graded stakes. She was up for retirement, but Jeff Bloom, one of the partners in the syndicate that owns her, told America's Best Racing, "There's a $20,000,000 ticket out there and let's go ahead and take that chance." She can hit the board, but a win running against the boys for the first time is a big ask.
Right Answer Here
Mucho Gusto (Gate 8): Along with McKinzie (below), one of two Bob Baffert entries here, you're getting a horse coming off a big win in the Pegasus World Cup and a lot of momentum. And you're getting Baffert, who knows how to win in the Middle East. The questions are what did that hard-won race take out of Mucho Gusto, and can he hang with his stablemate and Maximum Security?
McKinzie (Gate 9): Along with Baffert, all the elements are here for a consistent horse running his ideal distance. When last we saw McKinzie, he was finishing second to Vino Rosso at the Breeders' Cup Classic last November. That was his sixth runner-up finish in 14 races – to go with seven victories. If he's there with Maximum Security at the end, look out.
Maximum Security (Gate 7): He can set the pace, he can sit off other horses, he can finish, and only one horse has beaten him across the finish line in nine races. In his last race, Maximum Security breezed to victory against older horses in the one-turn Cigar Mile. He'll set the pace, weed out the field, then dare you to challenge him down the stretch. We'll see if anyone can here.