Justify showed why he was the 4/5 favorite on Saturday, winning the Belmont Stakes by 1-3/4 lengths and becoming the 13th horse in history to capture the Triple Crown.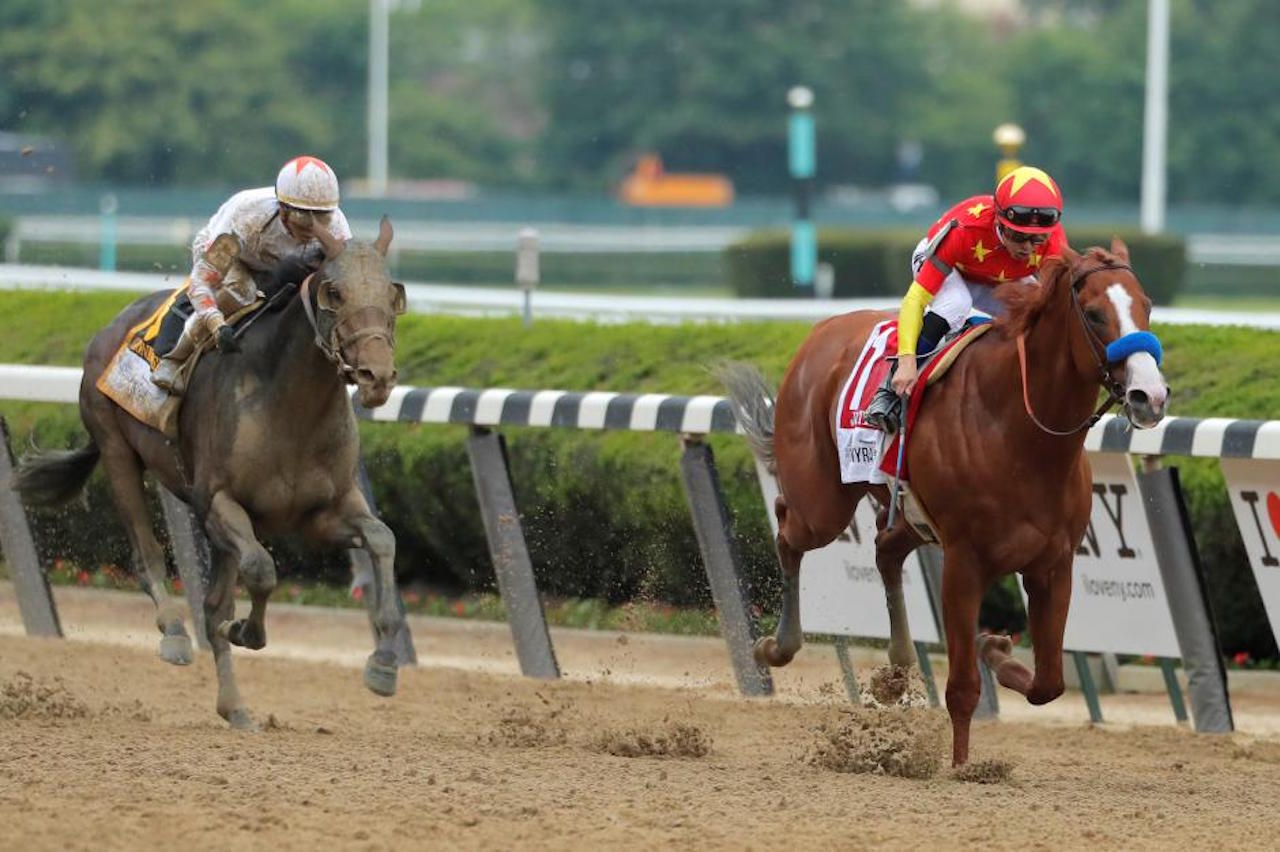 It was his sixth victory in as many starts. He was a +425 to win the Triple Crown after winning the Kentucky Derby, the first of three races that make up the Triple Crown, and those odds improved after he won the Preakness, the second leg in May.
For trainer Bob Baffert, Justify was his second horse to win the elusive Triple Crown. His thoroughbred American Pharoah performed the feat in 2015. Before that horse there hadn't been a Triple Crown winner in 37 years. Having seen before what it takes to win all three races, Baffert knew he had a special horse in Justify.
"The raw talent is there," Baffert said. "He just came on there and broke every curse there was. It was meant to be."
Wire-to-Wire History Maker
There were several jinxes and roadblocks the 3-year-old had to overcome in his journey to horse racing immortality. The first was the 136-year Apollo curse, named after the last horse not to race as a 2-year-old and win the Kentucky Derby. Some horse racing experts thought an unproven horse couldn't compete with other thoroughbreds.
Then some thought he would falter at the Preakness, and he almost did, barely winning by less than a length. But the Triple Crown hopes were still alive as he entered the Belmont.
When he got the No. 1 position, Baffert was concerned about him starting on the rail.
"I never do like to draw the rail, but my horses seem to live in it," Baffert said five days before the race. "We have it, we can't change it. We'll deal with it."
Turned out he didn't have to worry. Justify broke clean from the gate and bolted out to the lead. Unlike the Kentucky Derby and the Preakness, this track was dry and he took an immediate liking to it, leading wire to wire. The last horse to win the Triple Crown from the rail was Secretariat in 1973.
The victory brought comparisons to the greatest horse of all time. But Justify's time of 2 minutes, 28.18 seconds was more than four seconds off Secretariat's record-setting, 25-length victory 45 years earlier.
Running Defense?
One owner, however, questioned how Justify won the Belmont and alleged that Baffert's other horse, Restoring Hope, may have worked as a blocker to ensure Justify had a smooth ride.
Mike Repole, co-owner of fourth-place Vino Rosso and last-place Noble Indy made the claim on Sunday and said he hopes Belmont Park stewards will question jockey Florent Geroux about his handling of Restoring Hope, telling the New York Post it could have been an unfair strategy.
"I can see the stewards looking into this over the next couple of days," Repole said. "I probably expect them to look into reckless riding by Florent and bring him in to question him about what he was thinking and what his tactics were. It definitely seemed to me (Restoring Hope) was more of an offensive lineman than a racehorse trying to win the Belmont, and Justify was a running back trying to run for a touchdown."