Last year, the Pegasus Stakes ran as the final stop on the Kentucky Derby trail. As such, it enjoyed a large field, serious betting interest and more than casual interest from racing fans.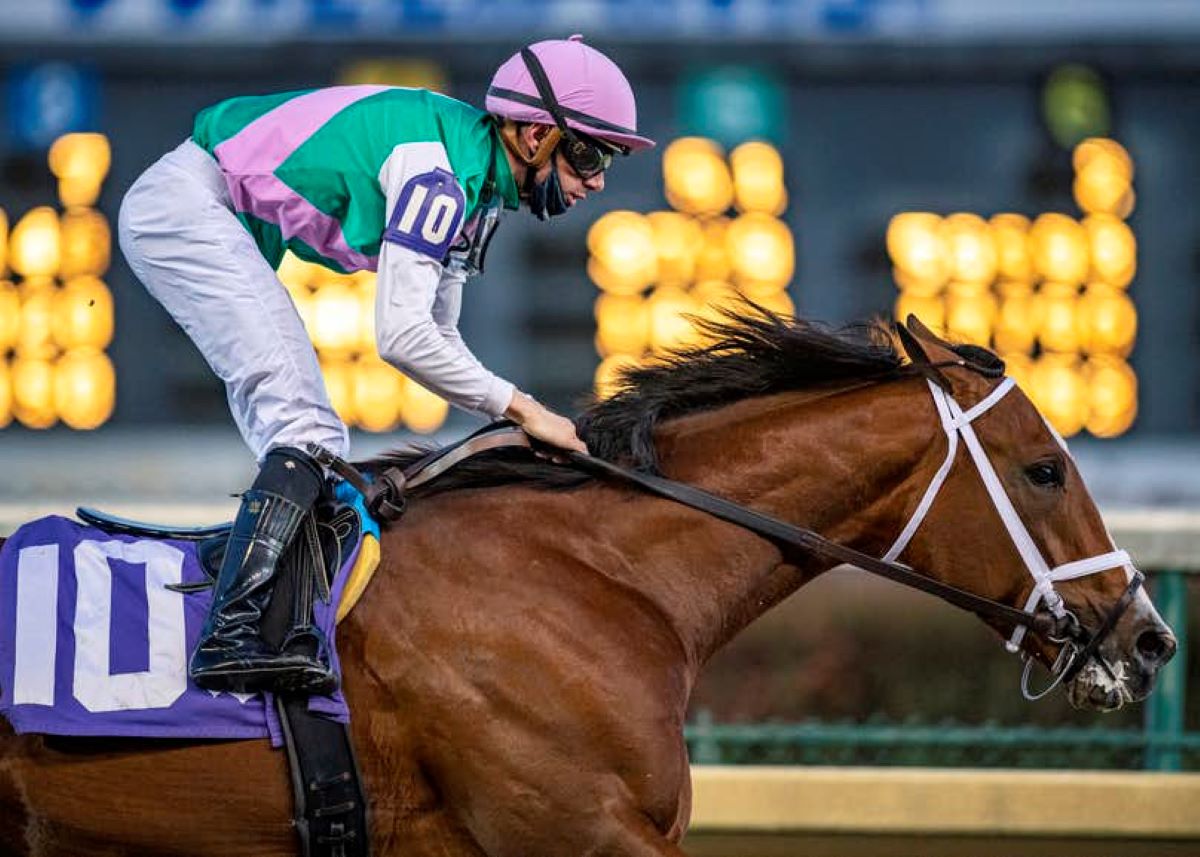 This is a different Pegasus Stakes. Yes, it takes its five candidates – only five, mind you – the 1 1/16 mile-trip around Monmouth Park. Yes, it features a handful – only a handful this year, mind you – of 3-year-olds you may or may not have a passing knowledge of. And yes, it's a Listed Stakes race.
But this year's Pegasus reverts to its role as the prep for the Grade 1 Haskell Stakes, Monmouth Park's flagship race. The winner of Sunday's race receives a starting gate berth and all entry fees paid to the July 17 Haskell. Along with the Aug. 28 Travers Stakes at Saratoga, the Haskell serves as one of the two top-shelf summer events for 3-year-olds.
And unlike last year's eight-horse field, this year's Pegasus offers only five contenders for that Haskell free-roll. That includes a horse you probably have a passing familiarity with – 3/5 favorite Mandaloun. Making his first start since finishing second by a half-length to Medina Spirit in the Kentucky Derby, Mandaloun serves as the 800-pound gorilla in the gate.
Triple Crowns second, third jewels never an option
Trainer Brad Cox pointed the Into Mischief colt toward this race from nearly the moment after he trotted off the Churchill Downs dirt. Cox said his stalking style makes him a natural for this and the Haskell, which was his prime, post-Derby destination. Expect him to be somewhere at or near the front of this field and it wouldn't be surprising to see Florent Geroux try wiring the field.
A placing puts Mandaloun north of $1 million in career earnings. He sits at a tick over $961,000, garnered via three wins, a second and a third in six races. He also sits as a likely reason only four other contenders await him in the starting gate.
But before we get to those contenders, and before you usher Mandaloun to the winner's circle, a little history lesson. Two years ago, Maximum Security went off as the 1/20 Pegasus favorite – the closest pari-mutuel thing there is to a mortal lock. He somehow lost to the ironically named King for a Day, proving there is no such thing as a pari-mutuel mortal lock.
Can Weyburn spring a Pegasus Stakes upset?
That brings back Weyburn (4/1) to the discussion. The Pioneerof the Nile colt hasn't run since a faltering fourth by three lengths in the Wood Memorial April 3. Beating him down the stretch was the less-than-distinguished triumvirate of Bourbonic, Dynamic One and Crowded Trade, none of whom distinguished themselves since.
Weyburn has two wins in five races, most notably the Grade 3 Gotham at Aqueduct in early March. He's clocked bullet workouts in his last two works, including a 59.18-second five-furlong outing that was the best of 27 at that distance that day. If Mandaloun isn't quite 100% in form, Weyburn could win this race with another Gotham-esque effort. That's what it would take.
The other recognizable name is Brooklyn Strong (8/1). We last saw the Wicked Strong gelding finish 15th in the Kentucky Derby. That, after we saw him finish fifth in that weak Wood Memorial. To be fair, that Derby trip was a rough one, where Brooklyn Strong bumped Sainthood coming out of the gate and got swallowed up in the Derby traffic.
Brooklyn Strong needs to soar in this Pegasus
But it's been a rough 3-year-old year for Brooklyn Strong. He went 3-for-4 as a juvenile, winning the Sleepy Hollow Stakes for New York-breds, followed by the Remsen. But various issues kept Brooklyn Strong on the shelf until that Wood Memorial. He needs a good race, never mind a good placing, to prove he didn't peak at 2.
The other intriguing name didn't hit the Derby trail: Dr Jack (3/1). This Pioneerof the Nile colt didn't open his career until April at Gulfstream Park. That produced a 1 ¼-length maiden special weight victory. He parlayed that into a two-turn, three-length victory over 1 1/16 miles at Pimlico May 14.
Listed Pegasus Stakes/Monmouth Park
Morning Line (Jockey/Trainer)
Brooklyn Strong, 8/1 (Abner Adano/Daniel Velazquez)
Mandaloun, 3/5 (Florent Geroux/Brad Cox)
Dr Jack 3/1 (Paco Lopez/Todd Pletcher)
Weyburn, 4/1 (Dylan Davis/Jimmy Jerkens)
Lugamo, 20/1 (Angel Cruz/Antonio Sano)
The Pegasus Stakes may not be Dr Jack's next conquest, but the Todd Pletcher trainee is one to watch going forward. He possesses plenty of upside as a late-blooming router.
The pick: Mandaloun. We say this from a racing standpoint, because there is zero value in a Brad Cox 3-year-old throwing his considerable speedy weight around in this field. Especially in a glorified warmup for richer pastures ahead. Again, if you want to try beating this favorite, Dr Jack and an at-a-price Weyburn offer value. Dr Jack comes in with form and not off a lengthy layoff.