Vacation time is over for Kentucky Derby runner-up Mandaloun, who comes back from his six-week hiatus into favored status for Sunday's Listed Pegasus Stakes at Monmouth Park.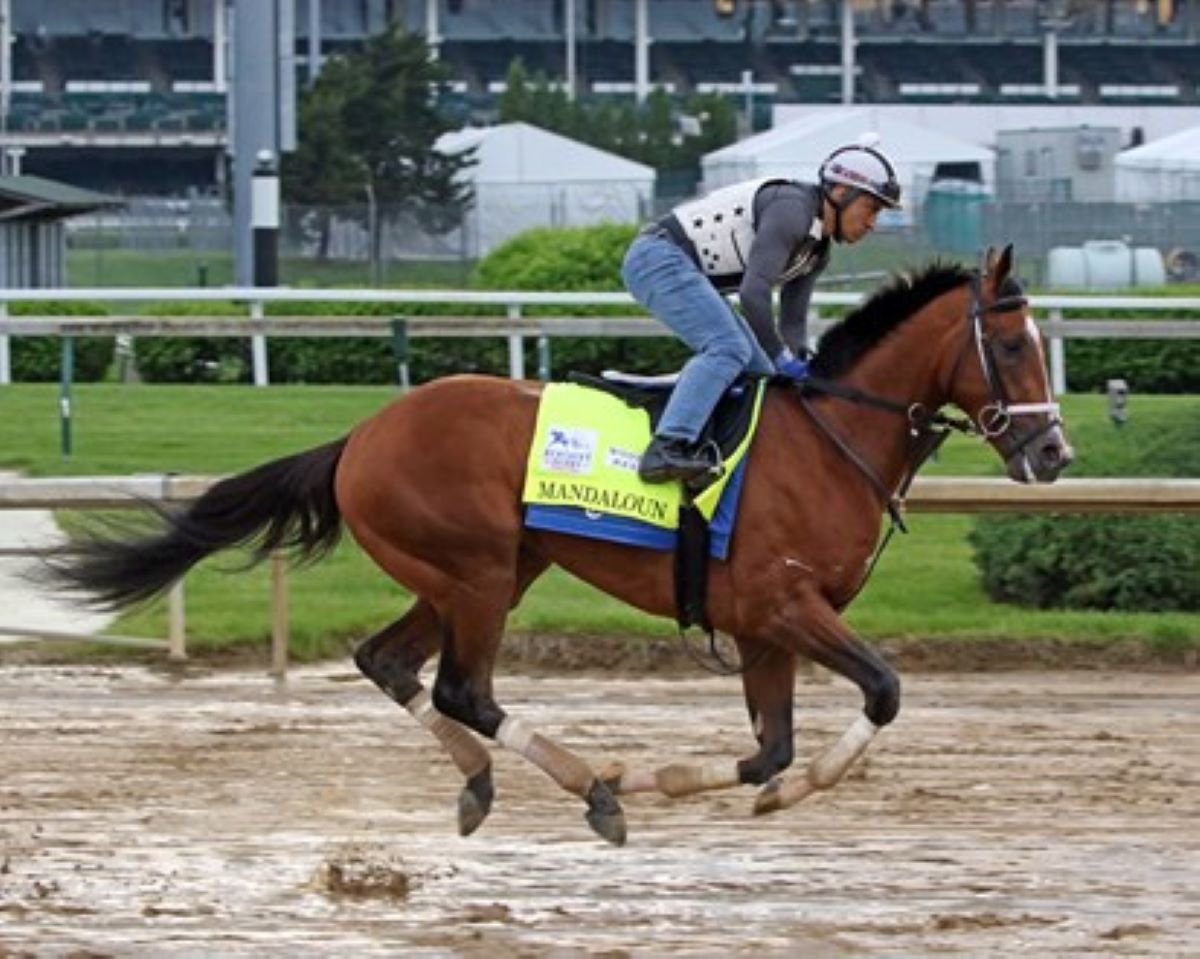 The reason for Mandaloun's return to action doesn't have to do with beating his four rivals in the 1 1/16-mile jaunt around Monmouth Park. Sure, trainer Brad Cox won't be disappointed with a victory, but he's after bigger game than the Pegasus. "I want to get him some experience at Monmouth and I'm looking to use the race as a fitness tool, as a prep for the Haskell (Stakes)," Cox told Monmouth Park's Tom Luicci. "I didn't want to go 11 weeks without a race. This was the race we thought made the most sense on the calendar."
The Grade 1 Haskell Stakes is Monmouth Park's marquee event. But the $1 million race isn't until July 17. As Cox pointed out, that's quite the hiatus for a horse coming back into form.
Mandaloun regained his respect from the Derby
Mandaloun illustrated in that Derby that he can again be a 3-year-old player. His half-length Derby loss to Medina Spirit was the best race of his six-race career. Put aside the three victories, including his score in the Grade 2 Risen Star at Fair Grounds in February. Instead, look at the career-best 101 Beyer Speed Figure, the career-best 110 Equibase Speed Figure, and the way he stubbornly stuck to Medina Spirit all the way around the track.
Mandaloun actually caught Medina Spirit with a quarter-mile to go, but he couldn't muster the finishing kick that would have put him ahead. He finished a half-length back, with third-place Hot Rod Charlie a half-length behind him. That was a form flip from the last time those two dueled: March's Louisiana Derby.
There, Mandaloun finished a dismal and head-scratching sixth as the 6/5 favorite. That 11 ¾-length deficit to winner Hot Rod Charlie sent Cox and the rest of Mandaloun's connections into trying to explain the inexplicable. It also sent Mandaloun's Derby odds up to 26/1 by the time the gate opened. That was the first time in six races the son of Into Mischief wasn't a race favorite.
Cox saved Mandaloun for just this spot
From there, Cox decided to keep Mandaloun out of the Preakness Stakes and the Belmont Stakes. Instead, he eyed the Haskell as the next, big-game test for the colt. And with that, comes the Pegasus, which serves as the Haskell's prep.
"He's doing great. Obviously, we wouldn't be coming if he wasn't doing well," Cox said. "He ships today (Thursday) and hopefully, he will get settled in quickly and be ready for Sunday."
What you'll see from Mandaloun on Sunday is likely what you've seen from him in most of his races: a pressing style that keeps him forward and Velcroed to the pace-setter. "He is usually forwardly placed," Cox said. "Any time you have speed like he does, it's a big advantage. I'm not saying he is going to be on the lead in this race, but he will be near the lead I'm sure. Any time you have his running style, it normally puts you in a good position."
He doesn't need the lead, just being lead-adjacent
Mandaloun was no worse than fourth at any Derby call. After breaking in fifth at the Risen Star, he was no worse than third after the quarter-mile post. He was no worse than fourth in his third-place Lecomte Stakes finish in January, and no worse than fourth in his allowance win last November.
In his maiden special weight debut at Keeneland last October, Mandaloun got caught in traffic, bumped by a rival, and was ninth after a half-mile. But once Florent Geroux righted the ship and found space, Mandaloun did the rest. He was third entering the stretch, en route to a half-length win.
Mandaloun is 3-for-6, with that Derby runner-up and Lecomte third. This could change any day if Medina Spirit is disqualified from the Derby for testing positive for an anti-inflammatory. That could mean by the Haskell, we're talking about the Derby champion entering Monmouth Park's starting gate for its flagship race.