This is it – the end of the trail. Monmouth Park's Pegasus Stakes is your last stop for Kentucky Derby points before the "Closed" sign goes up. Monmouth Park's finish line for Saturday's Pegasus Stakes doubles as the Kentucky Derby Trail's finish line.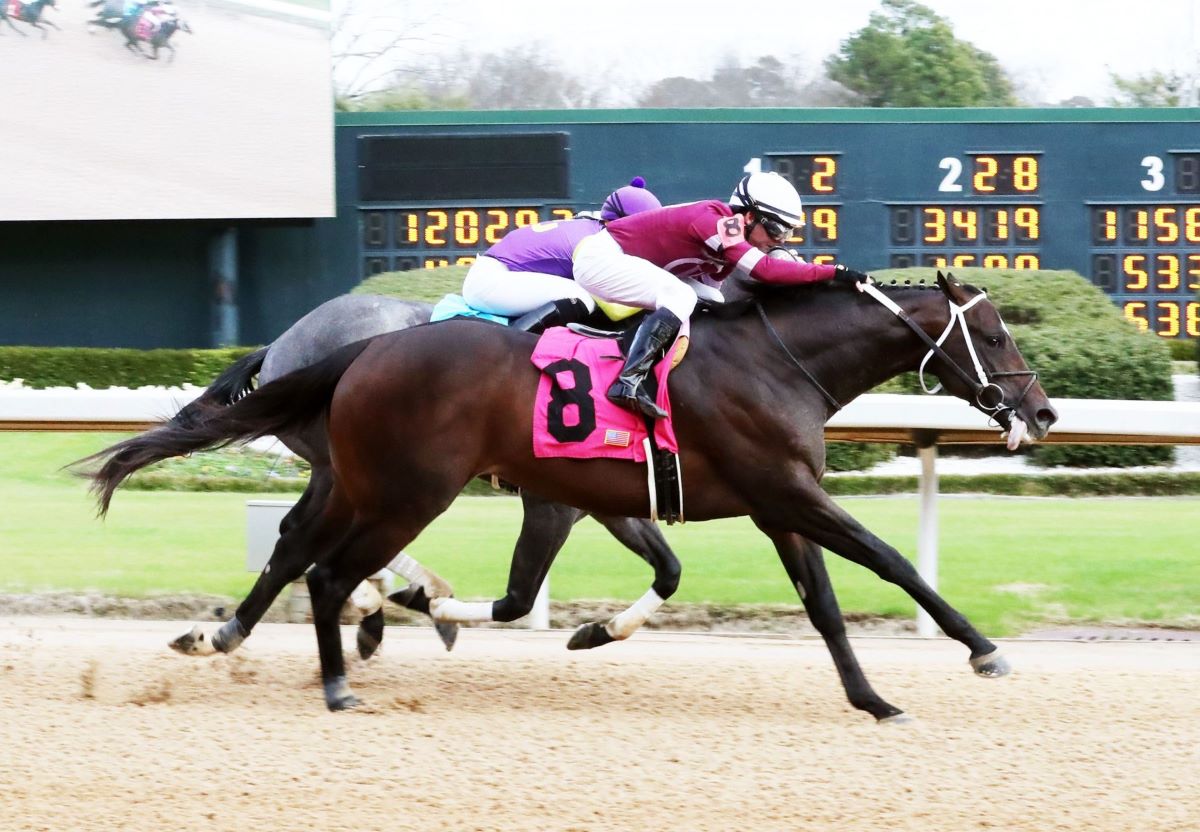 Get your points here – and there are 20 available to the winner of the 1 1/16-mile race – or bide your time and effort for other racing pastures. That's what's at stake in the two-turn Pegasus, which normally serves as a prep for the Grade 1 Haskell. But in this COVID-19 era, both races became Derby Trail stops.
In the Pegasus' case, one offering the minimum of 20-8-4-2 qualifying points to the top four finishers. This puts a sense of urgency on this particular group of hopefuls, only one of whom currently has enough points to get into the Churchill Downs starting gate for the Sept. 5 race.
"This is it in terms of Kentucky Derby preps," Monmouth Park racing secretary John Heims said in a release. "It's a strong field and this is the reason we moved it to this spot on the calendar, so that it could be in this position."
Pneumatic Drilling for Points
The most enviable position among the field comes from your race favorite, 5/2 Pneumatic. His 25 points put the Steve Asmussen charge 19th on the points ladder. The Kentucky Derby limits its field to 20 and there are already 16 firm commitments in place.
Pneumatic's last appearance was at Belmont Park nearly two months ago for the Belmont Stakes. The lightly raced Uncle Mo progeny completed the superfecta, finishing a decent – but well-beaten – fourth behind Tiz the Law. Pneumatic's Grade 1 debut was only his second stakes race and fourth overall. In May, he finished third in the Grade 3 Matt Winn, only two lengths behind winner Maxfield.
---
Pegasus Stakes
Morning Line (Jockey)
Skyscanner, 10/1 (Rajiv Maragh)
Big City Bob, 8/1 (Nik Juarez)
Wartime Hero, 30/1 (TBD)
Super John, 6/1 (Jorge Vargas Jr.)
Pneumatic, 5/2 (Joe Bravo)
Arkaan, 9/2 (Jose Ferrer)
As Seen On Tv, 7/2 (Hector Rafael Diaz Jr.)
Jesus' Team, 3/1 (Paco Lopez)
---
"He's a talented 3-year-old and off the Belmont Stakes, Steve felt this was the right spot for him," Scott Blasi, Asmussen's assistant, told Monmouth Park. "We'd like to see him run a good race off being fourth in the Belmont Stakes."
Someone Old, Someone New, Someone Back
Pneumatic is arguably the class of this field, based on those two stakes finishes to two top-level 3-year-olds. That doesn't mean he won't be pushed by old, new, and returning faces.
The old face is Jesus' Team (3/1), last seen finishing fourth at the Haskell and picking up 10 Derby points for his efforts. Before that, Jesus' Team ran second behind Sole Volante in that loaded Gulfstream Park allowance race 10 days before the Belmont.
The new face to watch is Arkaan (9/2), who makes his stakes debut after breezing to victory in an allowance at Delaware Park last month and breaking his maiden at Parx in June. Even with the jump in class here, his local ties will attract money and attention from those looking to beat Pneumatic.
The returner is As Seen On Tv (7/2), last seen in late March finishing a miserable eighth in the Florida Derby. Before that, however, the son of Lookin At Lucky ran second at the Jan 4. Mucho Macho Man Stakes, and third in the Grade 2 Fountain of Youth Stakes. Outside of that woeful eighth, As Seen On Tv hit the board in all five of his other starts.
The pick: Pneumatic. He hasn't done anything wrong against the Tiz the Laws and Maxfields of his class. I can't see him doing anything wrong against this gang.