The primary lesson coming out of the 2021 Kentucky Derby is as simple as it is frustrating for everyone not named Bob Baffert. Even when Baffert brings his third-string horse to Churchill Downs, he wins Derbies.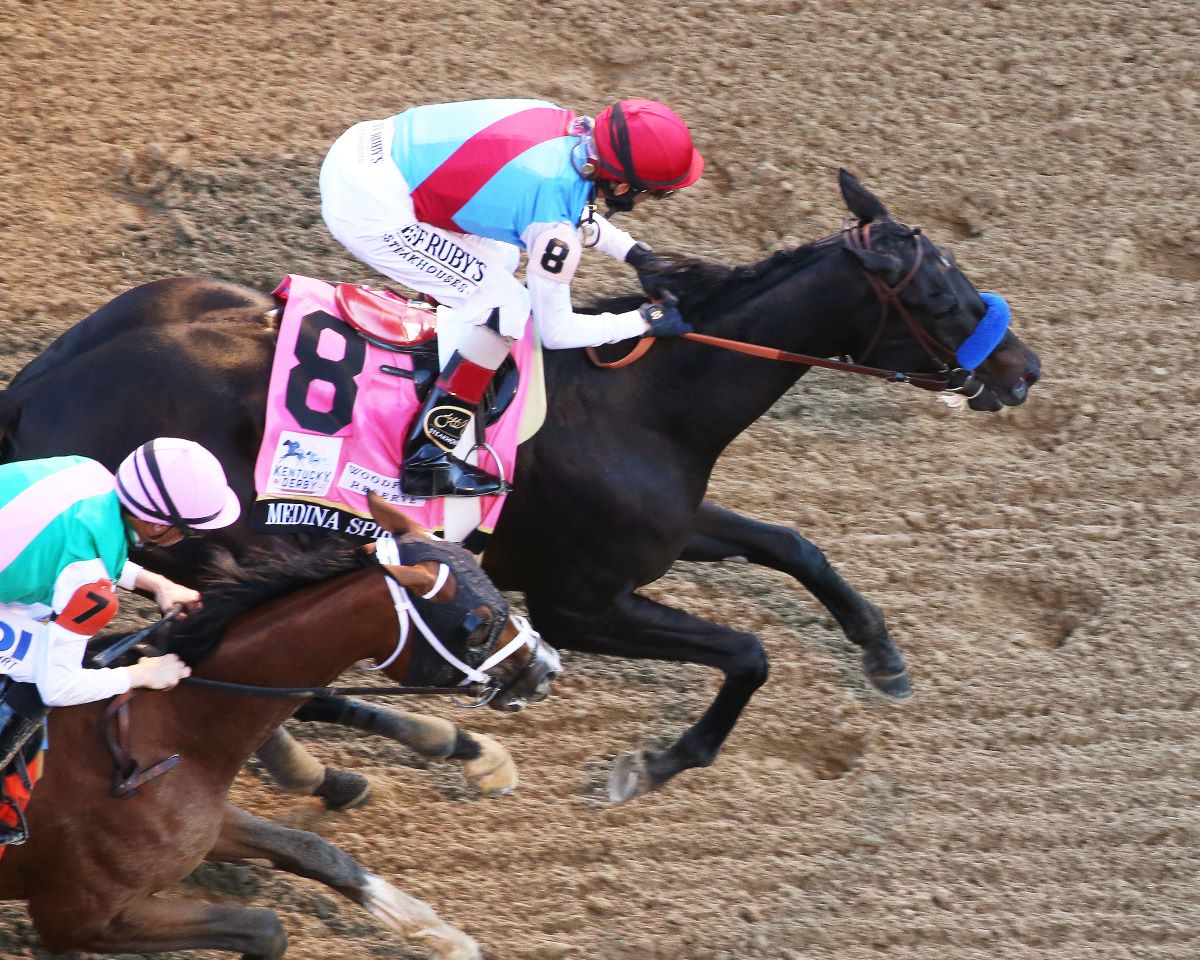 That would be Medina Spirit, who gave Baffert his seventh Derby victory Saturday, passing Ben Jones for most Derby wins by a trainer.
The other lesson coming out of the 2021 Derby concerns handle. Like Daylight Savings Time, handle springs ahead when America's most prominent race runs the first Saturday of May. It falls back when it runs the first Saturday of September, the time last year's pandemic Derby ran.
Churchill Downs reported that all-sources wagering on Saturday's Derby card came in at $233 million. That's up 85% from last fall's $126 million. It remains 7.2% below 2019's mark of $250.9 million, the last time we had a May Derby. As for the Derby itself, bettors plunked down $155.4 million. That nearly doubled last year's $79.4 million all-sources handle.
We had a crowd back for the 2021 Derby
And there were fans in the stands. Not the customary 160,000 that usually turn Churchill Downs into America's biggest party. The announced attendance for the 2021 Derby was 51,838, as Churchill Downs officials limited attendance due to state COVID-19 requirements.
What those fans saw was off virtually everyone's Derby radar. Baffert's Medina Spirit, his third-string Derby contender behind Life Is Good and Concert Tour, came into Louisville as the Hall of Fame trainer's sole Derby horse. He also came in as a 15/1 morning-line afterthought, barely drawing any attention despite two wins and three seconds in as many starts.
This tends to happen with $35,000 purchases. That's what Medina Spirit went for at the 2020 Ocala Breeders Sale of 2-Year-Olds in Training. Before then, you could have had Medina Spirit for $1,000. That's what he cost as a yearling at the 2019 Ocala Breeders Sale Winter Mixed Sale.
Another example of pedigree sometimes being overrated
Unlike many of his rivals, Medina Spirit didn't come from an A-list sire like Into Mischief, Curlin or Tapit. He is the son of Protonico, who enjoyed a fine racing career, winning seven times and just shy of $1 million in 16 career starts. But Medina Spirit was by far Protonico's best progeny.
When the gate opened, it hardly mattered. Medina Spirit surged to the lead, taking advantage of a collision between favorites Essential Quality and Rock Your World coming out of the gate. That took two of Medina Spirit's prime pace rivals out of their games at the outset. Rock Your World, the 9/2 second favorite, never recovered. He finished a miserable 17th.
"We got squeezed at the start and we were done. No chance," Rock Your World's trainer John Sadler said.
Essential Quality, Hot Rod Charlie, Mandaloun pushed
Favorite Essential Quality, who went off at 5/2 despite Houston furniture magnate Jim "Mattress Mack" McIngvale dumping $2.4 million on him to win, was far from done. Mandaloun, the "other Brad Cox" horse, was far from done. And Hot Rod Charlie was far from done. Along with Soup and Sandwich, they pressed Medina Spirit the whole way through fractions of 23.09 (quarter-mile), 46.7 (half-mile) and 1:11.21 (three-quarters).
At the three-quarters post, Soup and Sandwich pushed his plate away. He was done, eventually finishing 19th and last. Coming into the far turn, Hot Rod Charlie advanced inside and Essential Quality outside. Mandaloun, meanwhile, stayed right on Medina Spirit's heels.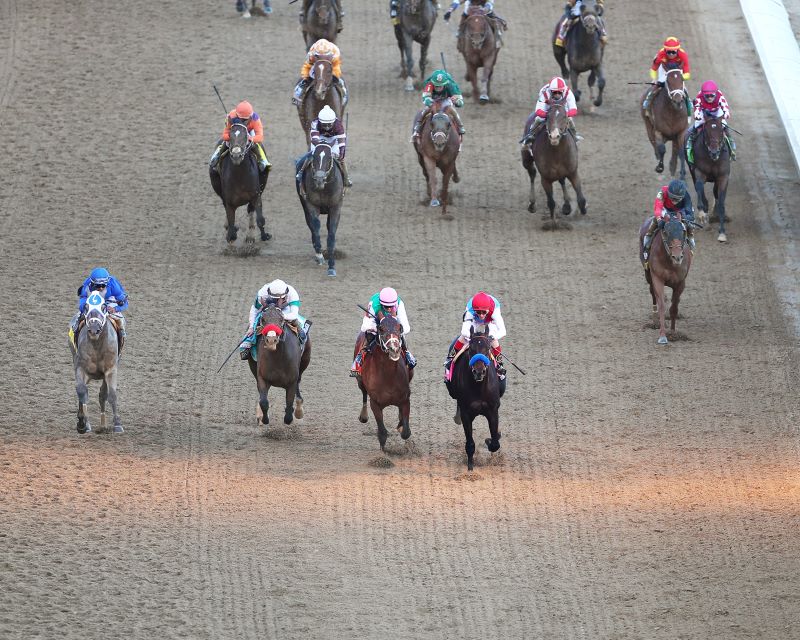 That foursome took everyone home. Flavien Prat steered Hot Rod Charlie into the three-path. Luis Saez had Essential Quality just outside him. And after Mandaloun poked his head briefly in front midstretch, John Velazquez put Medina Spirit right back ahead. Like he did in January's Robert B. Lewis Stakes, when Medina Spirit refused to let Roman Centurian and Hot Rod Charlie by, he held off Mandaloun by a half-length.
'He kept fighting'
"I was so proud of him, because we got to the 1/16 pole and he kept putting the ears down and kept fighting," Velazquez said. "I think I was more tired than him because I kept riding much harder than he was doing. Like I said, I was not afraid. He was fighting."
Hot Rod Charlie finished a head behind Mandaloun in third. Essential Quality, hampered by that opening bump with Rock Your World and a wide trip around the track, finished a head behind Hot Rod Charlie in fourth.
"This little horse coming in here, he's always shown he's an overachiever," Baffert said in his post-race press conference. "His heart is bigger than his body. When he turned for home, something just told me. He reminded me of Silver Charm (Baffert's first Derby winner). He doesn't know how much he cost. He wouldn't let anyone pass him."
Velazquez goes back-to-back
Much of the credit for that goes to Velazquez, who won his fourth Derby since 2011 and second in as many years. He piloted Authentic to the 2020 title. Along the way, Velazquez became the eighth rider to win the Kentucky Oaks and Derby in the same year. Friday, he rode Malathaat to the Oaks winner's circle.
He's the first jockey winning back-to-back Derbies since Victor Espinoza took California Chrome (2014) and American Pharoah (2015) to Derby titles.
"We talked about this. I liked this little horse. I know he's all heart," Velazquez said after the race. "Strategy was very simple – break out there and try to put him in the lead. If somebody wanted to go faster than me, let him have it. I know we were quick. And the more I looked at the race, the more I studied the race, I knew he was faster than the rest of the horses. And especially the way he breaks out of the gate."
Yes, we have another four-figure Derby trifecta payout
Bettors holding 12/1 Medina Spirit tickets broke to the windows or their apps, cashing tickets paying $26.20, $12 and $7.60. At 26/1, Mandaloun returned $23 and $13.40. Hot Rod Charlie (5/1) paid $5.20 to show.
As you'd expect with two double-digit horses atop the toteboard, the exotic payouts were healthy. The $2 exacta paid $503.60, the $1 trifecta returned $1,696.90 and the $1 superfecta $9,456.40.
Meanwhile, Baffert broke another record earlier in the day. This, courtesy of Gamine, who joined the millionaire's club with her 1 ½-length victory over Sconsin in the Grade 1 Derby City Distaff on the Derby undercard. That gave Baffert his 220th Grade 1 win, breaking D. Wayne Lukas' record for most Grade 1 wins by a trainer.
The Derby would be No. 221.
"I didn't know I was that close to the record until a month ago," Baffert said.