There was a thin sense of normalcy to the 2020 Kentucky Derby. Hall of Fame trainer Bob Baffert won his record-tying sixth Derby, this time with Authentic. And unheralded Mr Big News played this year's designated long shot, blowing up many tickets – in good ways and bad – by finishing third at 46/1.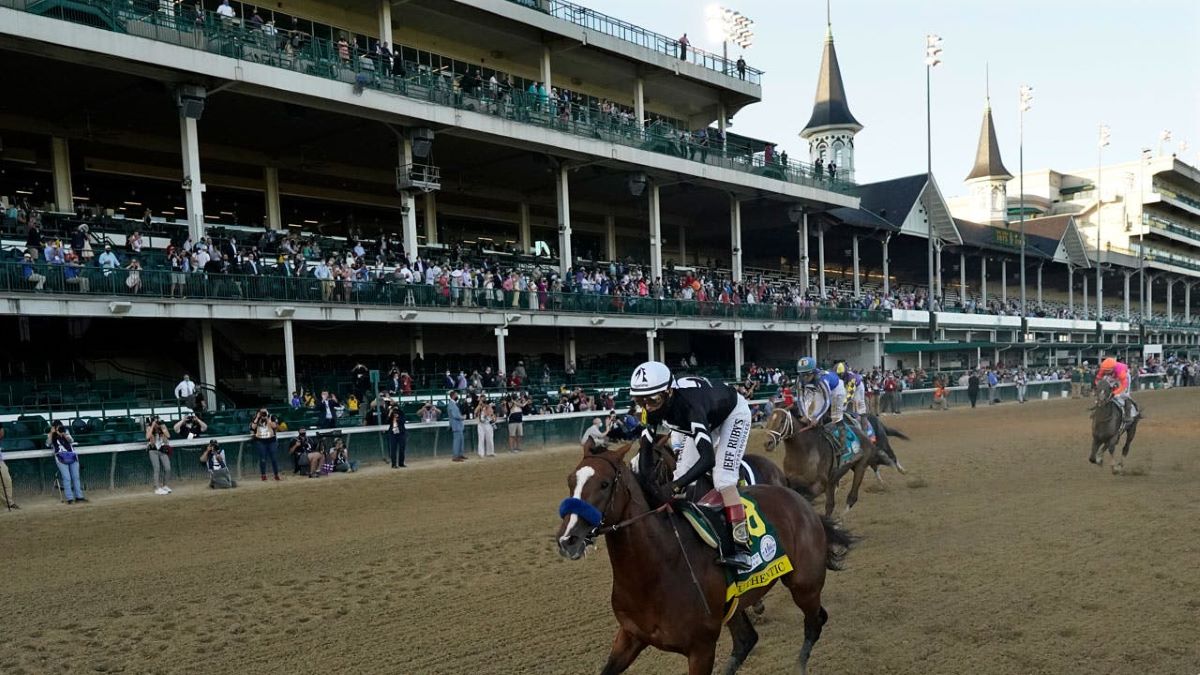 And that summed up the normal elements surrounding a wild, unpredictable end to a wild, unpredictable Kentucky Derby Trail.
You could blame the COVID-19 pandemic for pushing the Derby back four months from May to September. You could blame the pandemic for halving the all-sources wagering totals on both the Derby and the Derby Day program. All-sources wagering on Saturday's card came in at $126 million, down from $250.9 million in 2019. All-sources wagering on the Derby proper checked in at $79.4 million – a 52% drop from 2019.
You could blame the lack of on-track wagering for that – the Derby went off without the customary 160,000-plus spectators at Churchill Downs. A 15-horse field, the smallest in 15 years, played a part. So did the presence of a dominant favorite, which can dampen betting.
Ah, that dominant favorite – 3/5 Tiz the Law. We'll get to him in a moment.
2020 Kentucky Derby Day Dramatics
All of those factors watered-down the spectacle of this year's Derby. As for Derby Day itself? There was little normalcy to that, starting with what happened to Baffert's other horse – Thousand Words. The Shared Belief Stakes winner reared up and flipped over in the paddock, injuring Baffert's chief lieutenant, Jimmy Barnes. He broke his wrist and watched the Derby on his phone riding in an ambulance to a local hospital.
Thousand Words, meanwhile, was fine. Two vets examined him and scratched him from the race. Baffert, who said "he didn't have a scratch on him," said he's headed to next month's Preakness.
"Jimmy is going to need surgery. I think he'll need eight screws in his wrist," Baffert told Churchill Downs. "He's a trooper. I was so emotional yesterday because I wanted (Barnes) to be there. To me, that was the most emotional Derby I've ever been involved in because of what happened during that little time frame. It was the most crazy 30 minutes I have ever had in racing."
Authentic Led at Every Post
Baffert's emotional roller coaster peaked 30 minutes later. Sent off at 8/1 from the far outside post, Authentic promptly overcame Storm the Court and Ny Traffic – his expected speed counterparts. He continued unchallenged through the first quarter-mile in 22.92 seconds and the first half-mile in 46.41.
Meanwhile, Tiz the Law found his accustomed stalking spot in fourth with clear track ahead of him. Jockey Manny Franco pulled alongside on the far turn and gave Authentic company at the top of the stretch.
Again, just as the favorite's playbook illustrated. Only this time, Tiz the Law's opponent didn't go away. Right after Tiz the Law stuck his nose in front, John Velazquez asked Authentic for more. And the horse who everyone doubted had 1 ¼ miles in the tank, responded. He pulled away in deep stretch for a 1 ¼-length win. Mr Big News finished two lengths behind Tiz the Law and Honor A.P., who had a sluggish start, completed the superfecta.
"Bob kept telling me to make sure I saved that last eighth of a mile. I want that last eighth of a mile," said Velazquez, who won his third Derby and 200th career Grade 1 race. "He said I want you to hit left-handed and he responded. It worked out the way we had planned it."
Authentic's Antics Continue Even in Victory
Baffert's wild day wasn't done yet. In the winner's circle, Authentic got spooked when a long ribbon on the traditional rose garland kept brushing his leg. He wheeled around and knocked Baffert to the ground.
"He was like a bowling ball. He just bowled us all down," Baffert said. "He got me. Actually, I was lucky. The turf course is pretty soft here, so it wasn't too bad. I was probably more embarrassed than anything when I hit the ground."
Horseplayers taking Authentic weren't too embarrassed cashing tickets paying $18.80, $6, and $5. Tiz the Law returned $3.40 and $3.20. Mr Big News paid $16.80 to show. The $2 exacta paid $41. Courtesy of Mr Big News, the $1 trifecta paid $1,311.80 and the $1 superfecta $7,925.80.
Last 2020 Horse Standing Gives Baffert Derby No. 6
Authentic, meanwhile, bumped his record to five wins and a second in six races. He's headed to the Preakness with career earnings north of $2.8 million. That Authentic captured the Derby as Baffert's last Derby horse standing illustrated the 2020 Derby and its elongated and unpredictable trail perfectly. Almost as perfectly as Barnes summed it up.
"You can be on the floor, and then be up in the sky soaring," he said.
When the calendar flipped to May, Baffert had two of the top Derby contenders in Nadal and Charlatan – along with Authentic. By the time the calendar flipped to June, Nadal and Charlatan were off the trail with injuries. Thousand Words was off form, and none of his other prospects – Uncle Chuck and the heralded Cezanne – panned out.
"Before May, I was looking so strong and then everything just went wrong," Baffert said. "And to pull it off like that was really exciting. Winning the Kentucky Derby is the biggest moment in a trainer's life. When you win it, it erases everything that has gone bad."