The fact nobody has ever won the Kentucky Derby from post 17 didn't dissuade Churchill Downs morning line oddsmaker, Mike Battaglia, from making Tiz the Law a 3/5 favorite for Saturday's 146th Kentucky Derby.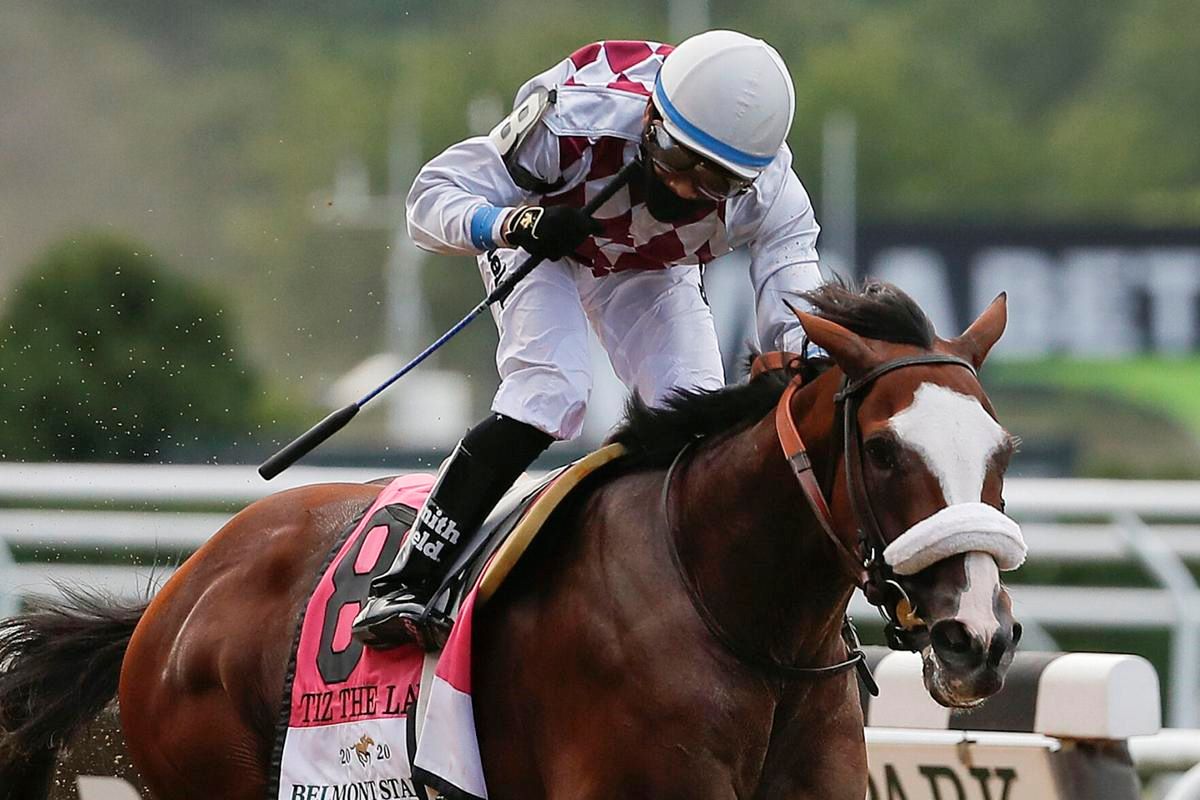 The Belmont Stakes and Travers Stakes champion drew post 17 in the 18-horse field, the smallest field since 2003. While no horse starting from that position has found Churchill Downs' winner's circle, Tiz the Law's trainer, Barclay Tagg, was as blasé about the post as Battaglia was about posting rock-bottom odds.
"I just put those kind of things out of my mind," he told Churchill Downs. "There are a lot of horses who didn't win the Derby, so frankly, I'm not that worried about it."
With only Authentic (8/1) outside of him, Tiz the Law goes off as the lowest-priced morning-line favorite since the entry of Easy Goer and Awe Inspiring checked in at 3/5 in 1989. Easy Goer finished second to Sunday Silence in a memorable duel. Tiz the Law becomes the first odds-on choice since 9/10 Arazi in 1992.
To give you an idea of the rarefied air that Tiz the Law breathes here, Honest Pleasure (1976) and Spectacular Bid (1979) were both 3/5, and both won their respective Derbies. Battaglia made Seattle Slew a 1/2 favorite in 1977 and watched him win the Derby en route to the Triple Crown.
"I like being on the outside, I didn't particularly want to be outside that far, but he seems to handle everything that's thrown at him, so we'll just have to leave it up to him," Tagg said.
---
146th Kentucky Derby
Post Positions and Morning Line (Jockey)
Finnick the Fierce, 50/1, (Martin Garcia)
Max Player, 30/1 (Ricardo Santana Jr.)
Enforceable, 30/1 (Adam Beschizza)
Storm the Court, 50/1 (Julien Leparoux)
Major Fed, 50/1 (James Graham)
King Guillermo, 20/1 (Samy Camacho)
Money Moves, 30/1 (Javier Castellano)
South Bend, 50/1, (Tyler Gaffalione)
Mr Big News, 50/1 (Gabriel Saez)
Thousand Words, 15/1, (Florent Geroux)
Necker Island, 50/1 (Miguel Mena)
Sole Volante, 30/1 (Luca Panici)
Attachment Rate, 50/1 (Joe Talamo)
Winning Impression, 50/1 (Joe Rocco Jr.)
Ny Traffic, 20/1 (Paco Lopez)
Honor A.P., 5/1 (Mike Smith)
Tiz the Law, 3/5 (Manny Franco)
Authentic, 8/1 (John Velazquez)
---
Expected second choice, Art Collector, scratched early Tuesday morning with a hoof problem. That made Honor A.P. the 5/1 second choice. The John Shirreffs-trained ridgling starts right inside Tiz the Law in post 16.
"I just talked to (jockey) Mike (Smith) and he's happy with it. I think it's OK," Shirreffs said. "There's a long run to the first turn and I don't have to worry about getting pushed down on the outside."
Baffert Pragmatic About Authentic's Post
With third favorite and pace-setter Authentic starting on the far outside, and a mortal lock to break inside the moment the gate opens, trainer Bob Baffert took a matter-of-fact approach.
"Not ideal for Authentic, but I'm OK with it," he said via text to Churchill Downs. "He's out of harm's way. Just glad to be in the gate."
Baffert's other Derby entry, Thousand Words, got a better draw. He'll start from post 10, which should allow his early speed to keep him from getting hung out wide.
Plenty of Prices Await Value-Hungry Bettors
Tiz the Law, Honor A.P., and Authentic are the only three horses opening in single digits on the tote board. Then, you find Thousand Words (15/1), who beat Honor A.P. in the Shared Belief Stakes a month ago. King Guillermo and Ny Traffic, two contenders to hit the board somewhere, are both 20/1. And the connections for both horses like their post positions.
King Guillermo, who hasn't run since finishing second to Nadal in the Arkansas Derby's second division four months ago, starts in post 6. Ny Traffic, last seen finishing second by an eyelash to Authentic in July's Haskell Stakes, starts inside Honor A.P. in Post 14.
"It's a good post. Hopefully, he will break clean and (jockey) Paco (Lopez) can get him into a forward position without rushing him," said Ny Traffic trainer Saffie Joseph Jr., making his Derby debut.
The One-Eyed Gelding Gets the Dreaded Rail
Speaking of rushed, there's Finnick the Fierce. He's one of eight horses Battaglia put 50/1 morning line prices on. Unlike the other seven long shots, however, Finnick the Fierce drew the dreaded rail – post 1. As if that wasn't bad enough, Finnick the Fierce lost his right eye as a yearling due to a congenital cataract, so he can't see the other 17 horses to his right.
His connections, however, took probably the best view any Derby rail contender owned in recent memory. No horse has won the Derby from the rail since Ferdinand in 1986.
"You know, looking back, the best races he has been running came from the one position," co-owner/trainer Rey Hernandez said. "He ran third in the Arkansas Derby from the one, and especially going a mile and a quarter and how he comes from off the pace, I don't think there is any issue."