With the Arkansas Derby's split divisions, here runs the talent. The Arkansas Derby's second division features your graded-stakes winners, your low-odds Kentucky Derby futures picks and the horses owning Derby prep victories.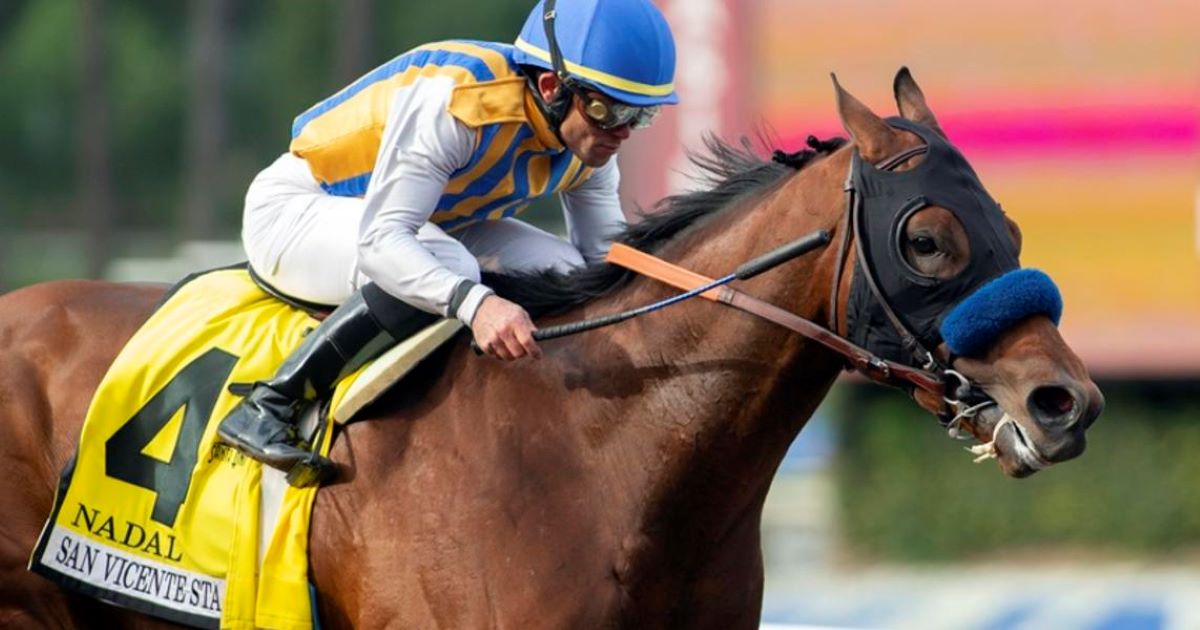 Here is the Arkansas Derby's varsity division – the second division.
This is where you find your Louisiana Derby winner, Wells Bayou. Here is where you find Tampa Bay Derby upset winner King Guillermo, although you won't find him at 49/1 this time.  And lookie there: that's the second half of trainer Bob Baffert's Arkansas Derby duo: San Vicente and Rebel Stakes winner Nadal.
Look further and you see Champion 2-year-old, Storm the Court, along with Southwest Stakes winner Silver Prospector. And should the pace collapse – very possible, given the five front-runners in the field – there's Farmington Road to pick up the pieces.
Same Stakes, Tougher Road Claiming in Arkansas Derby-Second Division
The second division of the final scheduled Derby prep as of now offers the same 100-40-20-10 Derby qualifying points — along with its $500,000 purse – as its first division counterpart. But outside of Baffert's Charlatan and perhaps Gouverneur Morris, all the talent is in this division.
Post Positions and Morning Line (jockey)

Finnick the Fierce, 15/1 (Martin Garcia)
Storm the Court, 6/1 (Flavien Prat)
King Guillermo, 3/1 (Samy Camacho)
Nadal, 5/2 (Joel Rosario)
Code Runner, 50/1 (Stewart Elliott)
Silver Prospector, 10/1 (Ricardo Santana Jr.)
Taishan, 15/1 (David Cohen)
Farmington Road, 12/1 (Javier Castellano)
Wells Bayou, 7/2 (Florent Geroux)
Talent starting with your 5/2 favorite: Nadal, who has something to prove. Despite Nadal's strong victory in March's Rebel Stakes at Oaklawn, his 3-for-3 record and $753,000 in earnings, the Arkansas Derby buzz is on his stablemate and first division favorite: Charlatan. That, despite Nadal's edge in stakes wins (2-0) and staggering edge in earnings ($753,000-$67,200).
"They're both doing fantastic. I think Nadal, for some reason, he doesn't get the respect that he should be getting. He's a really top horse," Baffert told Oaklawn's Jennifer Hoyt. "We're just fortunate and just grateful that they split it and we get to run them there and keep them separated. I really did not want to run them together."
The question for Nadal concerns whether he can handle the sizzling pace this race promises. In the 1 1/16-mile Rebel, he held off an armada of challengers as the 4/5 favorite. But in the Arkansas Derby, Nadal stretches to nine furlongs against at least four other pacesetters: Wells Bayou, King Guillermo, Storm the Court and Taishan. This doesn't factor a stalker like Silver Prospector (10/1) or a closer, such as Farmington Road (12/1).
Wells Bayou Needs A Quick Escape
Of that pacesetting/pressing quartet, Wells Bayou (7/2) could be the most problematic to Nadal, provided he doesn't expend too much energy taking the lead from the outside post. His running style is more dependent on taking the lead than Nadal's, which puts pressure on Florent Geroux to get him inside early. Trainer Brad Cox said duplicating his perfect Louisiana Derby trip is unlikely.
"I would have probably preferred to have drawn down to the inside with this horse," Cox told Hoyt. "It's weird, this horse always draws down toward the inside, so this is going to be something different for him. I don't think he's going to be fast enough to break and clear."
This is why King Guillermo (3/1) basks in his sudden attention as a legitimate Arkansas Derby threat. He showed the entire arsenal in his 4 ¾-length Tampa Bay Derby victory: stalking, tactical speed and more-than-enough speed to finish what he starts. King Guillermo's only poor race came in his debut at 5 ½ furlongs – since then, he has two wins and a third — and his pace-pressing style behind Nadal and Wells Bayou could pay off.
Storm the Court Stalks New Proving Ground
That brings us to Storm the Court (6/1), who seeks his first victory since nipping Anneau d'Or in the Breeders' Cup Juvenile last fall at 45/1. Since then, he finished fourth behind Nadal in the San Vicente and third behind another unbeaten Baffert prodigy – Authentic – in the San Felipe. This is Storm the Court's first race outside California and he may have as much to prove as any horse in this loaded field.
"He's got natural speed and he doesn't have to be on the lead, which I don't think he's going to be," trainer Peter Eurton said. "But he generally breaks pretty good and we'll let him run out of there and see how it unfolds."