Juvenile champion Storm the Court will storm a non-California track for the first time at next week's $750,000 Grade 1 Arkansas Derby, trainer Peter Eurton announced this week.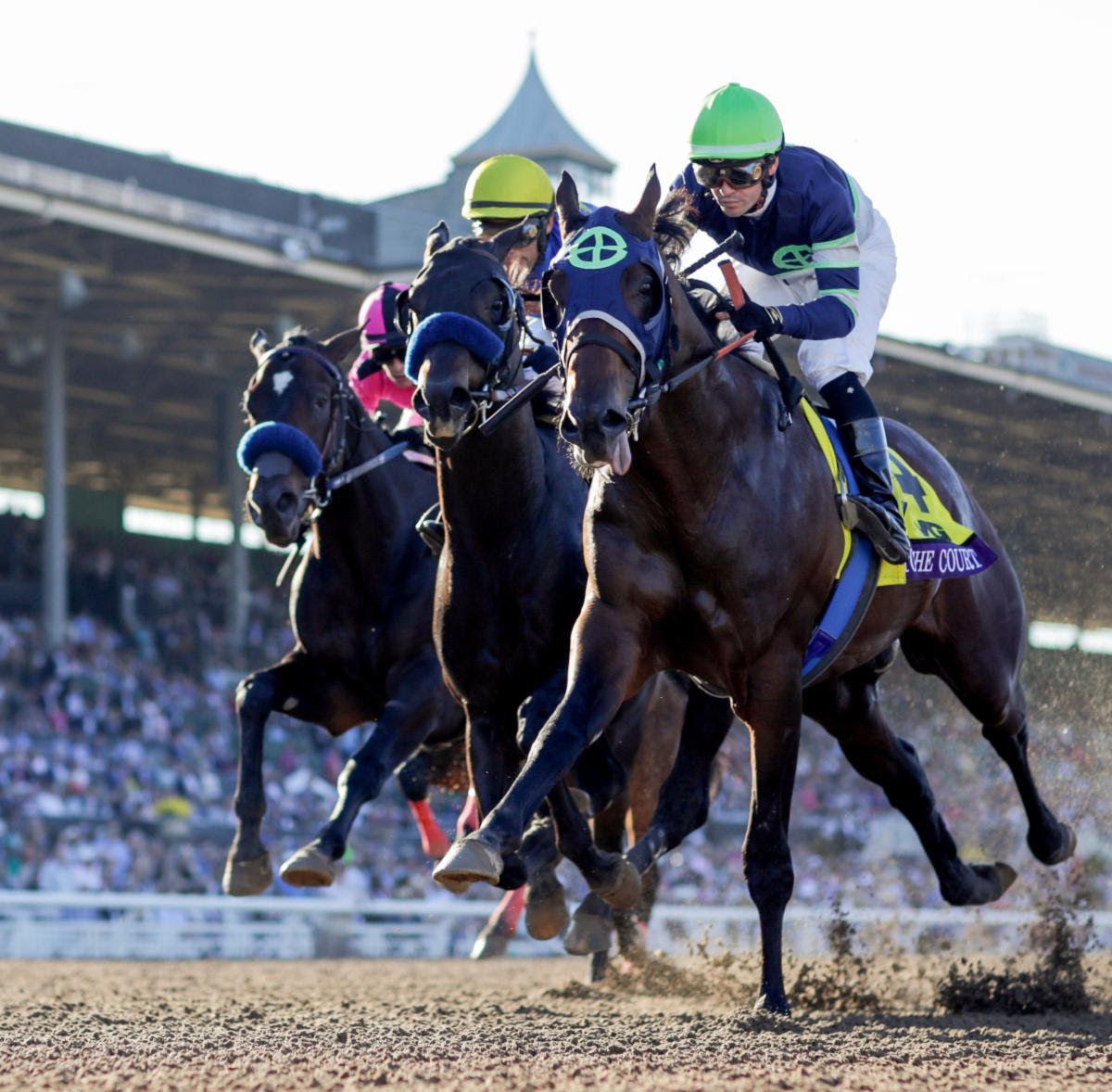 The 1 1/8-mile race at Oaklawn Park remains the only official Kentucky Derby prep currently on the schedule, which explains its popularity. The race received 99 nominations and Oaklawn officials haven't decided if they will split the field into different divisions with different Derby Qualifying points.
None of that troubles Storm the Court. Spots go to horses based on earnings, and with $1,232,951 in prize money to his name, the Court Vision progeny is the only millionaire in the field. He'll know what post he's running from on Sunday when Oaklawn draws post positions.
The Santa Anita-based Eurton also plans on entering Shooters Shoot, who is familiar with Oaklawn. He won a first-level allowance race there April 11.
"Very pleased with his work," Eurton told Oaklawn's Jennifer Hoyt about Storm the Court. "Very pleased with Shooters Shoot. I know it's going to be tough on both ends with Bob's two horses, but we're willing and game."
Two Baffert Bruisers Lie in Wait
Eurton's "Bob" reference is to Hall-of-Fame trainer Bob Baffert. His two horses are the undefeated Nadal and undefeated Charlatan. Eurton is quite familiar with Nadal after watching him beat Storm the Court in February's Grade 2 San Vicente at Santa Anita. Nadal followed that with a strong victory in the Grade 2 Rebel Stakes in his last start on March 14.
Charlatan hasn't run in a stakes race, but in his two races, Charlatan ran his opponents off the track. He won by a combined 16 ½ lengths.
Storm the Court Third In His Last Start
Storm the Court was a well-beaten fourth in the San Vicente. In his last start, the Grade 2 San Felipe at Santa Anita, Storm the Court finished third to two other Derby Trail mainstays — Baffert-trained Authentic and Honor A.P.
Storm the Court owns a 2-0-2 record in his six starts. His marquee win came when he captured last fall's Breeders' Cup Juvenile at 45/1. That, in turn, brought him the Eclipse Award as Champion 2-year-old Male.
Eurton contemplated leaving Storm the Court home for the Santa Anita Derby, but said he had the Arkansas Derby "in the back of his mind." With the Santa Anita Derby, Wood Memorial, Blue Grass Stakes, and other front-line Derby preps scuttled by the coronavirus pandemic, Eurton's choice became easy.
"We didn't have many other choices, to be honest with you," Eurton told Hoyt. "We had so many different options that we were going to go with, but unfortunately, they're all gone the other direction."
Originally scheduled for April 11, the Arkansas Derby usually wraps up the Derby Trail. But when the Kentucky Derby moved to September because of the coronavirus, the Arkansas Derby took its original May 2 date.
Gaining Weight, Running Solo Seen as Positives
Storm the Court worked six furlongs in 1:13.60 at Santa Anita last Monday. He ships to Arkansas next Tuesday. Eurton, meanwhile, sees nothing but positives out of his Arkansas audible.
"It kind of worked out good for me," Eurton told Hoyt. "It got the needed weight I wanted to get back on him. He's trained by himself the whole time and that really helped because he's so competitive. It keeps his metabolism a little bit lower. His weight looks really good. Is he good enough? Hey, we're going to find out. He's got the style. I think he'll like the racetrack, I really do. Seems like a speed-favoring racetrack, so (I'm) looking forward to it."