Perhaps it was the unfamiliarity of being outside his Florida home for the first time. Perhaps it was nerves at realizing he'd reached the big time. Or perhaps this was King Guillermo's way of announcing his arrival at Oaklawn Park for Saturday's Arkansas Derby.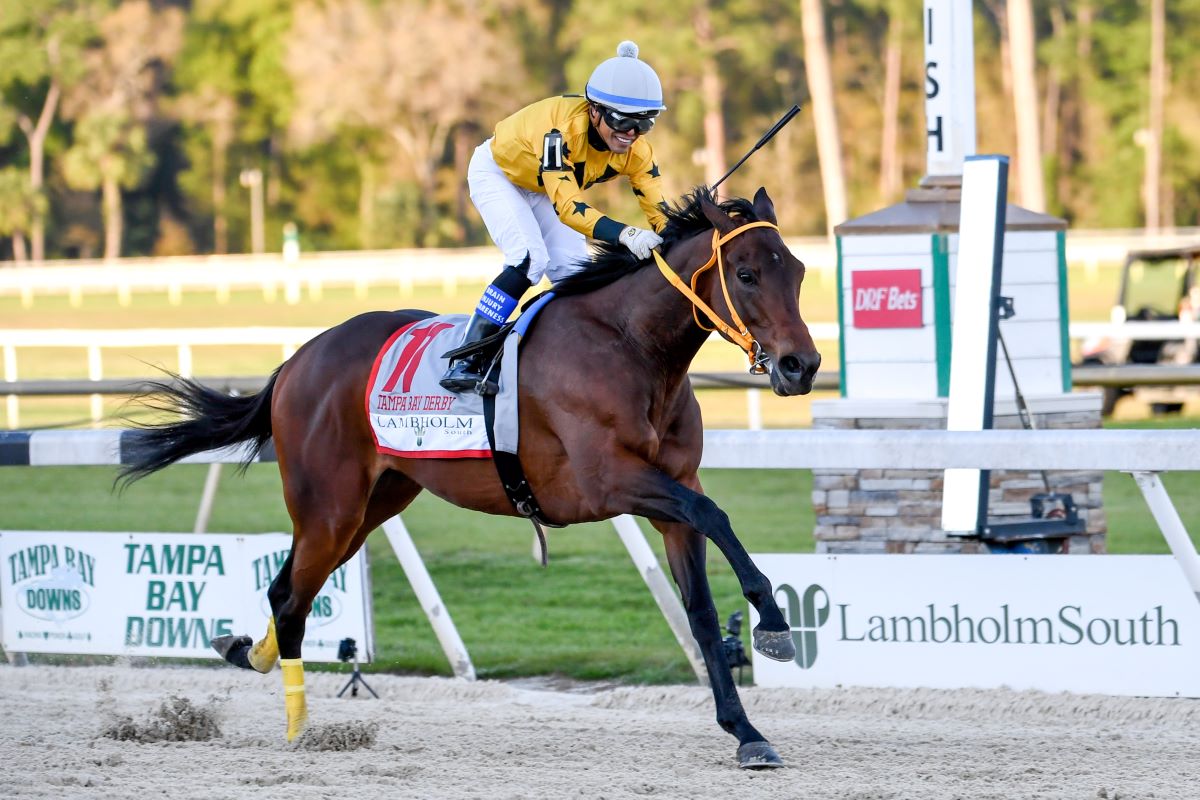 Whatever the reason, King Guillermo announced his arrival last Saturday by jogging the wrong way in his first Arkansas Derby workout.
Tempting as they may be, put the "Planes, Trains and Automobiles" references aside for the moment and concentrate on the journey this son of renowned sire Uncle Mo is on. Owned by five-time major-league All-Star Victor Martinez, King Guillermo went from novelty to prodigy two months ago when he captured the Tampa Bay Derby.
He claimed the title by 4 ¾ lengths and, at 49/1, he held the second-highest odds by a Tampa Bay Derby winner in the race's 40-year history. The 50 Kentucky Derby qualifying points put King Guillermo into the Derby, and trainer Juan Carlos Avila targeted Churchill Downs as his prize charge's next race. But when the Derby moved to September due to the coronavirus, Avila shifted gears.
Happiest $6,000 an Owner Ever Spent
That these happenings surprised everyone was an understatement. Even Martinez, who – while he believed in the horse named after his late father — found himself dipping into his pockets to pay the $6,000 late registration fee. That made King Guillermo eligible for the Triple Crown races.
To that point, King Guillermo had a win and a third in three starts, both on turf. He broke his maiden on turf by more than six lengths, then finished third to Sole Volante on turf in the 1-mile Pulpit Stakes at Gulfstream Park last November. Everyone told Martinez he had a turf horse. Nobody gave him a chance on dirt in a Grade 2 Derby prep like the Tampa Bay Derby.
"I still had it in the back of my head that in every workout he was doing five furlongs in 58, 59 (seconds and they were telling me he was doing it effortlessly," Martinez told the Paulick Report. "I talked with Juan Carlos and I said 'Listen, man. I was an athlete once and I always believe in second chances. You give people a chance.' Everything that I am getting to know about horse racing is with him because I don't know anything about horse racing."
One More Chance on Dirt Paid Off
Martinez said he believed King Guillermo deserved another shot to prove his worth on dirt, but said that if he was going to touch the dirt, "it should be in a race that gives points for the Kentucky Derby."
You could say King Guillermo touched the Tampa Bay Downs dirt, but barely. His 1:42.63 time over the 1 1/16 miles earned him a 110 Equibase Speed Figure along with the third-fastest time in race history.
All of this came at Martinez faster than a Justin Verlander two-seam fastball. He grew up watching horse racing in his native Venezuela. He always said he planned to buy a farm, then dip his toe into the sport when he retired. When he closed the books on a 16-year career after the 2018 season, Martinez set aside his 246 career home runs, 1,195 RBI and .295 batting average, and picked up pedigree charts and breeders' names.
Pedigree Matters More Than in Baseball
His agent, Wil Polidor, introduced Martinez to fellow Venezuelan Avila, who came to the United States in March 2018 after winning more than 3,000 races in Venezuela. Avila began teaching Martinez the sport's intricacies. Things you don't learn watching races in Venezuela. But Martinez knew one thing. He wanted to buy a 2-year-old and start from the beginning.
The two bought King Guillermo for $150,000 at the Ocala Breeders' Spring Sale of 2-Year-Olds in Training. With $240,350 in earnings, he's already made that back with interest.
And more interest should be forthcoming. King Guillermo is in the deep end of the Arkansas Derby pool, running in the much-tougher second division. The difference is, he's now mentioned with Rebel Stakes winner Nadal, Louisiana Derby winner Wells Bayou, and Champion 2-year-old Storm the Court as a legitimate threat.
"The perspiration, the aerobic, it's very nice. He seems like he can run two miles," Avila told Oaklawn's Jennifer Hoyt. "It's excellent. It's amazing, this horse. I've only been in the United States three years. I worked for 30 years in Venezuela. I've never seen one horse like this. … This is an amazing horse."
Along with his 3/1 morning line – a far cry from 49/1 – one thing is clear. King Guillermo is headed in the right direction.