He's back and he's back as the even-money – for now — favorite. And lest you think Tiz the Law can't handle the 1 ¼-mile distance he faces for the first time in Saturday's Grade 1 Travers Stakes at Saratoga, trainer Barclay Tagg is here to disabuse you of that notion.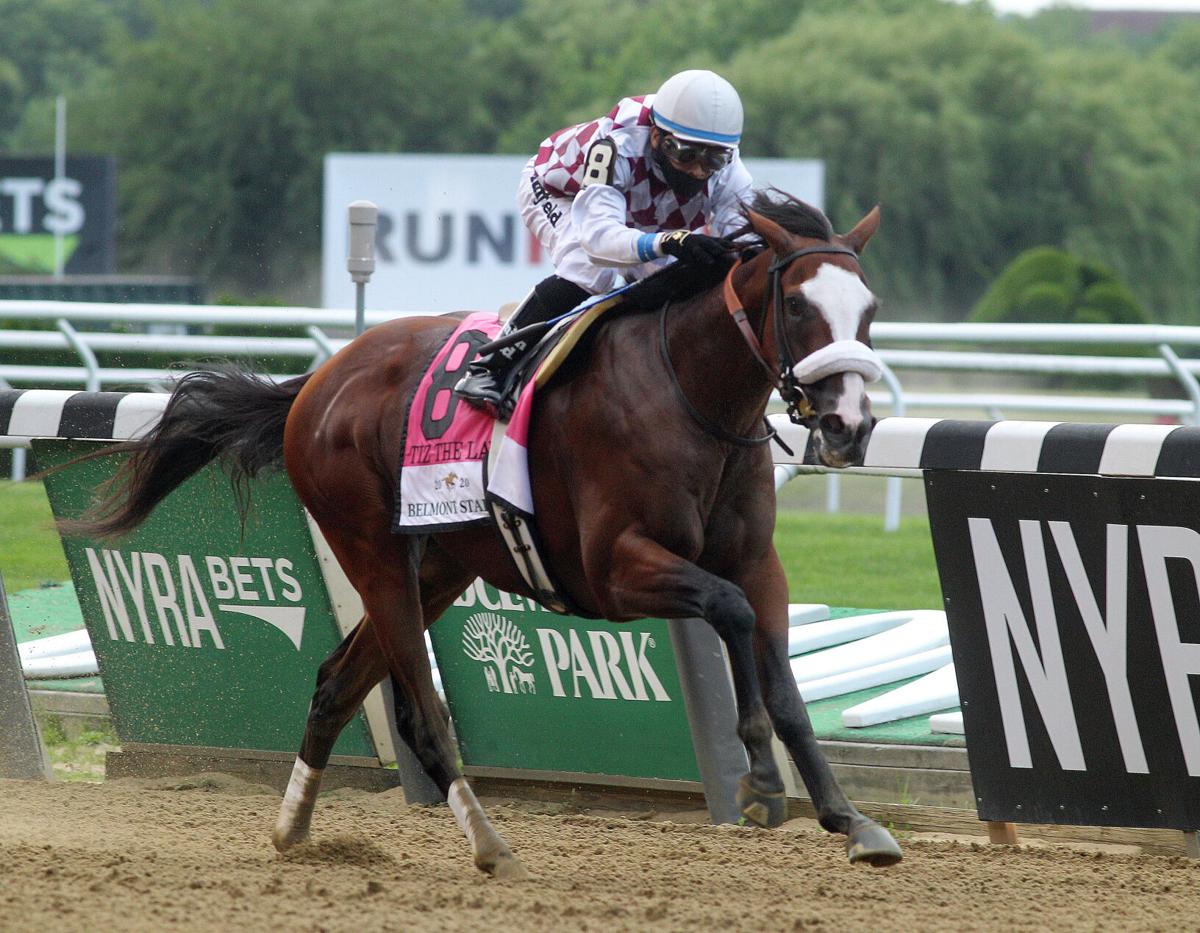 "I don't think any distance makes a difference for this horse. From what I've seen, I just don't have any feeling that he can't handle it," the 82-year-old conditioner told the New York Racing Association after Wednesday's Travers post-position draw. "I've never seen him take a deep breath. I've never had him out of breath after a workout. I've never had him way out of breath after a race."
Last seen dominating the Belmont Stakes by 4 ¼ lengths eight weeks ago, Tiz the Law enters a mid-summer classic run closer to mid-summer than its usual late August date. The $1 million Travers is always a key stop for the country's best 3-year-olds, but because of the coronavirus this year, it comes with Kentucky Derby implications. The race offers 100-40-20-10 Derby qualifying points to its top four finishers.
Not that Tiz the Law and his ladder-leading 272 points need them. The Belmont Stakes champion also holds the top spot on every Derby futures board, from Circa Sports (+235) to Churchill Downs, which made Tiz the Law a 9/5 favorite in its seventh and final Derby futures pool. The Kentucky Derby Future Wagering (KDFW) pool begins Friday and runs through Sunday.
Unbeaten in 2020
Meanwhile, Tiz the Law starts from Post 6 in Saturday's Travers, seeking his sixth victory in seven races, and fourth of 2020. He does so facing a 10-furlong length that neither he, nor the other seven horses in the Travers field, have seen. But Jack Knowlton, managing partner of Sackatoga Stables, the small, upstate New York group that owns Tiz the Law, echoed his trainer's confidence.
"I think two things: that one, (jockey) Manny (Franco) hasn't really had to dig deep with him, but secondly, every indication that we have from him, from his breeding, from his works, from his races, is that he'll relish a mile and a quarter," Knowlton said on a National Thoroughbred Racing Association conference call.
Knowlton said that he had no qualms about Tiz the Law running 1 ¼ miles, then turning around and doing it again in the Sept. 5 Kentucky Derby. While not rare, 10 furlongs isn't a common distance for North American Thoroughbreds, especially in a compressed time window. But Tiz the Law turned in a 59.4-second, five-furlong effort in his last workout Saturday, illustrating he's ready to run.
Managing Schedule Tougher than Managing the Horse
"We think he is well-suited for that," Knowlton said. "He's obviously well-rested. The schedule, with the pandemic this year, has been one where there have been many weeks between races – actually probably more weeks – certainly into the Belmont (Stakes). So we feel we have a fresh horse. He's only run three times and we're ready to go."
Hall of Fame trainer Bob Baffert, who brings Tiz the Law's main competition, Uncle Chuck (5/2), to the Travers fray said on the same NTRA call that Knowlton and Tagg managed Tiz the Law masterfully in the pandemic era. As Baffert would be the first to tell you, having lost front-row Derby contenders Nadal and Charlatan to injuries, getting top Derby prospects to the gate in September is harder than it looks.
"They've kept him out of trouble and that's the thing: Keep these good horses out of trouble," Baffert said. "I think he's progressed perfectly. He's definitely the best 3-year-old in the country right now."