Illustrating the fragile nature of today's Thoroughbred horses, Kentucky Derby favorite Nadal broke a bone in his left front leg during a Thursday morning workout. His owner, George Bolton, said Nadal has been immediately retired.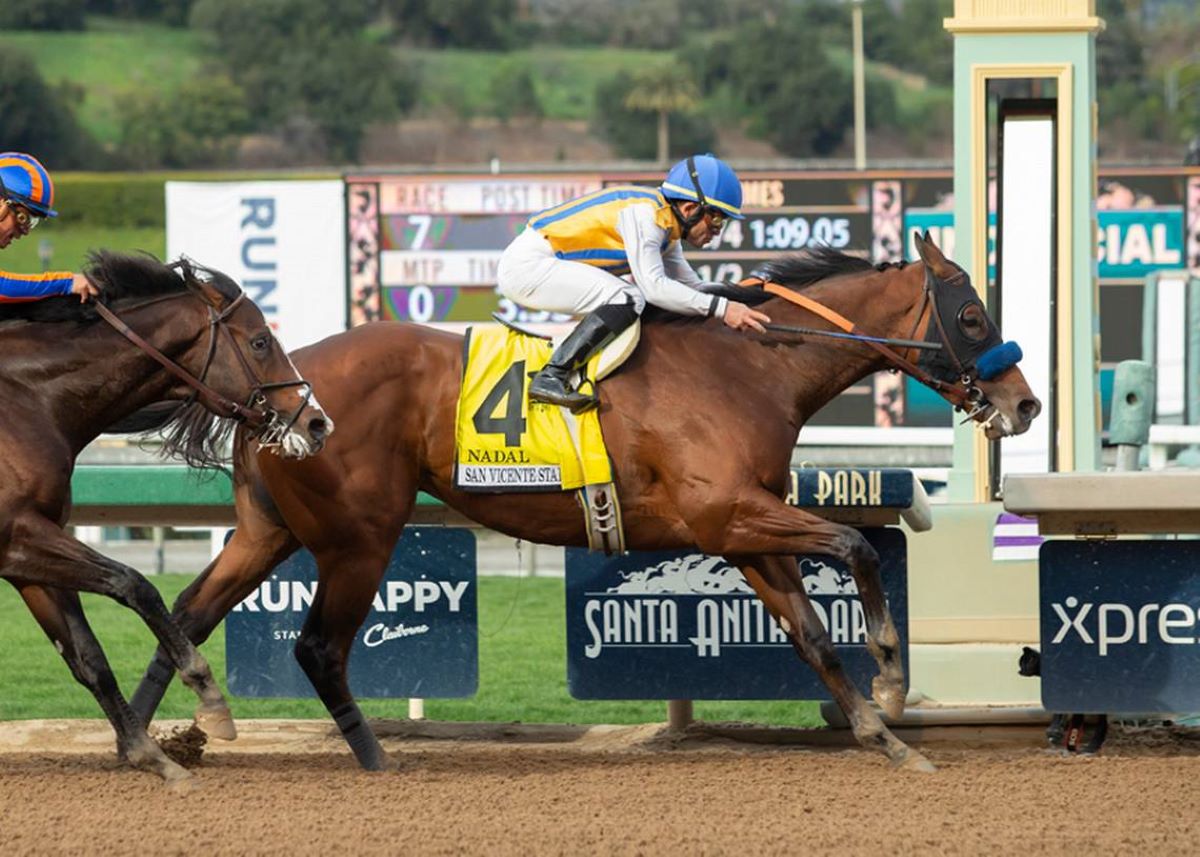 One of Hall of Fame trainer Bob Baffert's standout 3-year-olds, Nadal worked a half-mile at Santa Anita Park Thursday morning, turning out a 48.8-second workout. After the workout, he was diagnosed with a condylar fracture to his left front leg and taken immediately to surgery at Santa Anita's equine hospital.
"It requires two screws," Bolton told Bloodhorse. "He is now going to be a stallion. It's very sad, obviously. I just got the call this morning. It's a call you never want to get in horse racing."
Condylar fractures are fairly common in horse racing. Dr. Robert Brusie, a surgeon at Palm Beach Equine Clinic in Florida, told the website JumpMedia that he repairs between 30 and 50 condylar fractures a year. The fracture typically results from repetitive strain during high-speed exercise when the force of a 1,300-pound horse going upwards of 40 mph puts too much pressure on the cannon bone at the top of a horse's leg.
Doctor Calls Fracture 'A Disease of Speed'
"A condylar fracture is a disease of speed," Brusie told JumpMedia.
Speed – and size – were elements Nadal possessed in abundance. One of the biggest colts every time he walked on the track, Nadal retires undefeated in four races — three of those graded stakes victories. He won the Grade 2 San Vicente at Santa Anita in February, the Grade 2 Rebel Stakes at Oaklawn Park in March, and the tougher second division of the Grade 1 Arkansas Derby May 2.
This explains how Nadal ran to the top of the Kentucky Derby points standings with 150 points. He earned favorite status on many Kentucky Derby future boards, bet down from +595 to +325 on Circa Sports. That Las Vegas book has temporarily suspended Derby future betting. Bovada, meanwhile, immediately took Nadal off its futures board, leaving Tiz the Law (+400) your favorite.
Nadal's next scheduled race was the June 20 Belmont Stakes.
Nadal Retires a Millionaire
Nadal earned $1,053,000 in his four races, a nice return on investment for Bolton, Arthur Hoyeau, Barry Lipman, and Mart Mathiesen, who paid $700,000 for him at Fasig-Tipton's Florida Select 2-year-olds In Training sale. That consortium now looks to sell Nadal's breeding rights to one of the Kentucky farms. Bolton told Bloodhorse that Spendthrift Farm near Lexington is "obviously in the pole position."
Should Nadal wind up at Spendthrift, he'll join a stallion roster that includes Into Mischief – the sire of his now-former Baffert stablemate Authentic – Vino Rosso, Omaha Beach, and Mitole.
"He retires undefeated. He retires, thank God, on a soon-to-be recovery," Bolton said. "He gave us four great races."