Even with Tiz the Law passing the "Test of a Champion" with flying colors, the all-sources handle for the 152nd Belmont Stakes and its stakes-packed undercard declined by 33.7% — yet another byproduct of the COVID-19 pandemic.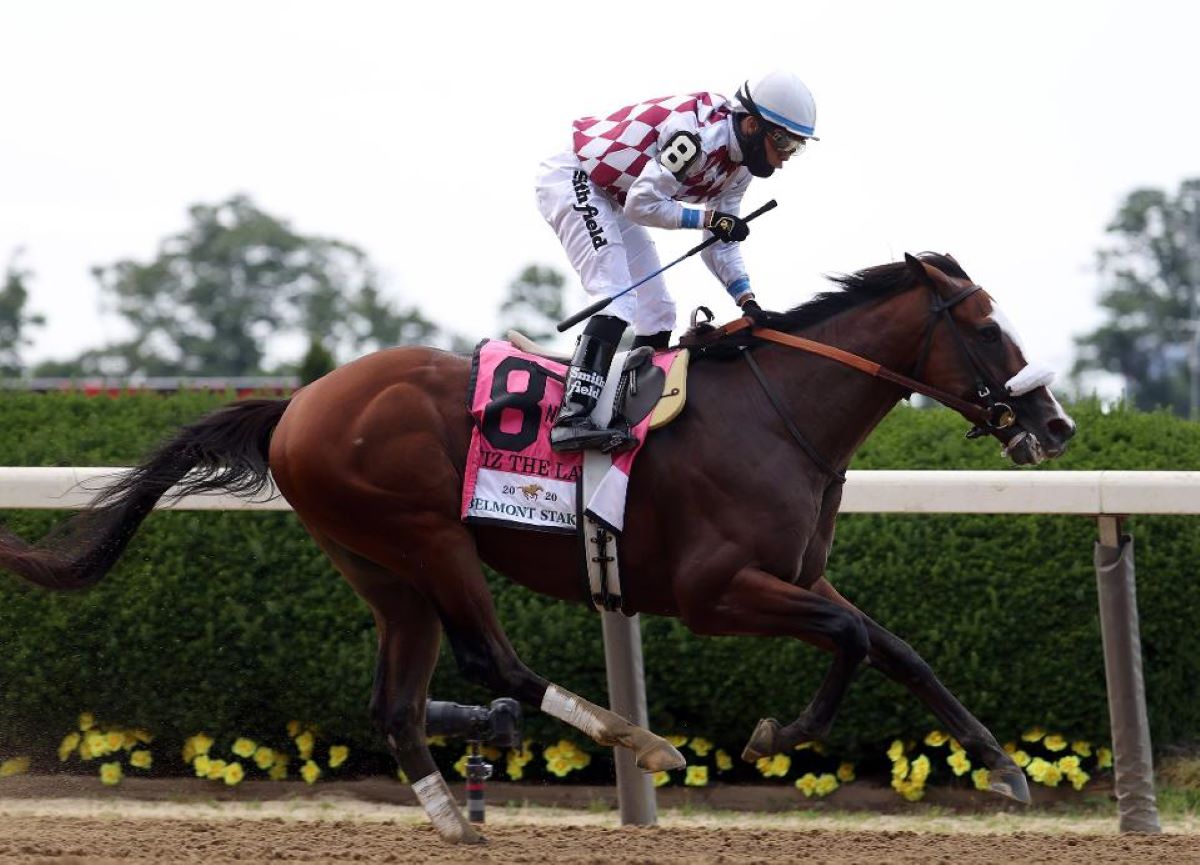 Belmont Park normally welcomes nearly 100,000 people for Belmont Saturday, usually the first Saturday in June. But a spectator-free mandate implemented by state officials to curb the coronavirus spread in the state most impacted by the pandemic turned Big Sandy into Big Empty. Belmont Park's massive grandstands were conspicuous by their emptiness and only 100 or so attended: race officials, jockeys, media and staff. Everyone but the horses wore masks.
Along with that, the Belmont Stakes opened the Triple Crown season for the first time in history and shortened its distance from 1 ½ miles to 1 1/8 miles. The New York Racing Association (NYRA) also cut a third out of its flagship event's purse, reducing it from $1.5 million to $1 million.
This all combined to carve a third out of Belmont Park's all-sources handle, which totaled $67,753,336. That 33.7% plunge came a year after NYRA pulled in $102,163,280 on Belmont Saturday. That represented a record for a non-Triple Crown-deciding year. Bettors wagered $34,088,475 on the Belmont Stakes alone.
Bettors Found Ways to Back Tiz the Law
Those bettors drove Tiz the Law's favored price from 6/5 on the morning line down to its eventual 4/5 settling point. This didn't faze the Holy Bull and Florida Derby winner, who validated bettors' confidence with his typical stalk-then-pounce race. When he breezed past and overtook Tap It To Win on the race's lone turn, matters were essentially decided.
After Tiz the Law put the bow on his four-length victory over Dr Post, he paid $3.60 on a $2 win bet. Trying to make history as the first woman to train a Triple Crown race winner, Linda Rice's Max Player rallied for third. Pneumatic completed the superfecta. Tiz the Law also became the first New York-bred horse to win the Belmont Stakes since Forester – in 1882.
His 150 Kentucky Derby qualifying points bring him to 272. Meanwhile, his small-town Saratoga ownership group – Sackatoga Stables – has its first Triple Crown threat since Funny Cide won the Derby and Preakness in 2003. The out-of-nowhere gelding finished third in the Belmont that year.
"I'm just glad I lived long enough that I got another horse like this," Tiz the Law's 82-year-old trainer, Barclay Tagg told reporters.
Gamine Puts on a Secretariat-like Show
Tiz the Law feasted on a weakened field hampered by injuries to Bob Baffert's Nadal and Charlatan, along with schedule-related defections by Baffert's Authentic and Santa Anita Derby winner Honor A.P. While he didn't have a horse in the Belmont, Baffert made his considerable presence felt on the Belmont undercard. His 3-year-old filly Gamine went gate-to-wire and won the Grade 1 Acorn Stakes by 18 ¾ lengths. Her 1:32.55 clocking for the mile was the fastest in the Acorn's 90-year history and just missed Najran's 2003 track record of 1:32.24.
Elsewhere on the undercard, No Parole shook off his Rebel Stakes disaster – when he finished 49 lengths behind Nadal – to win the seven-furlong Grade 1 Woody Stephens. And as the only filly in the Grade 1 Jaipur Stakes, Oleksandra rallied down the stretch for a neck victory.