Despite the Preakness Stakes providing Brad Cox's entrée into the Triple Crown's rarefied air, the trainer announced on Thursday that Mandaloun and Caddo River will bypass the May 15 race.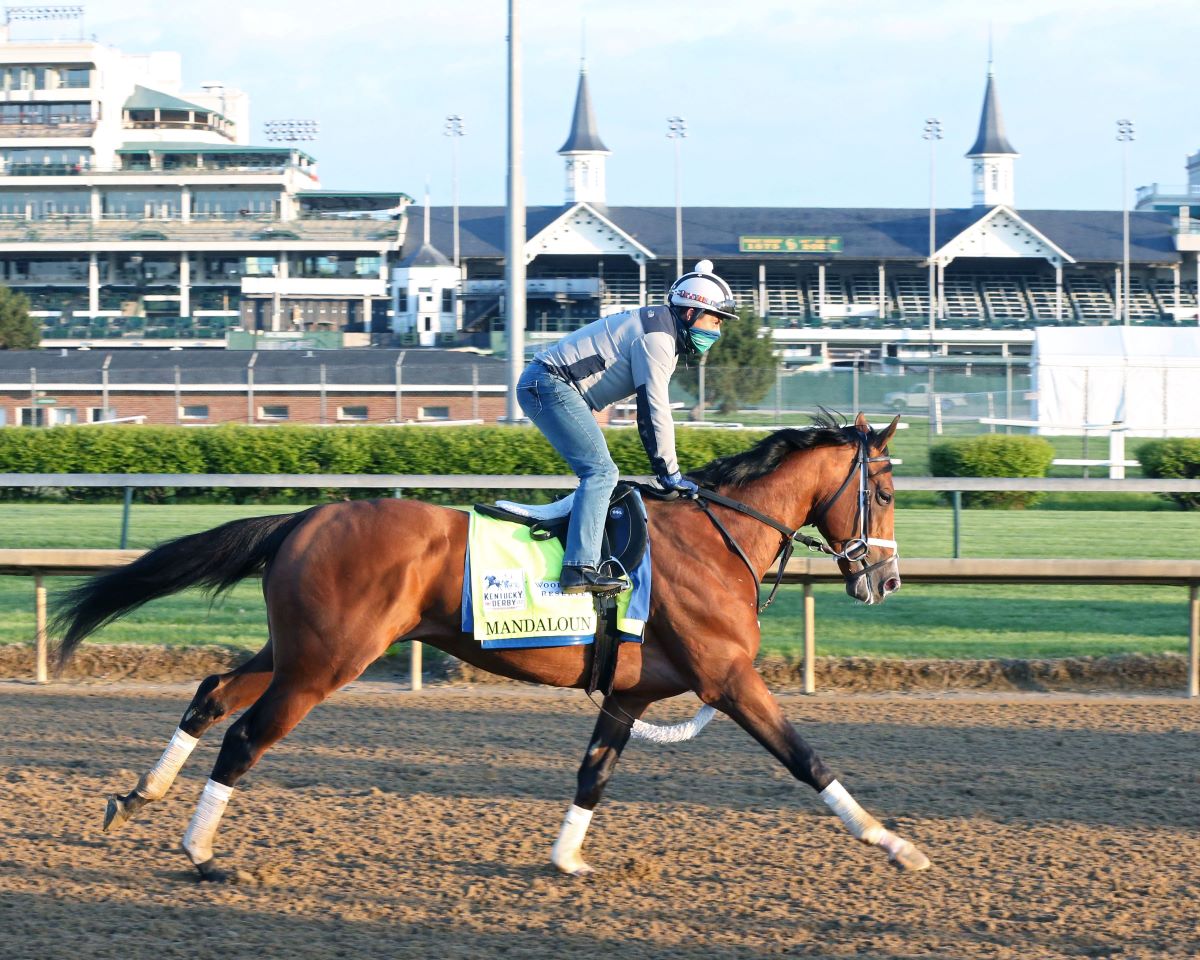 The pair join stablemate Essential Quality on the sidelines for the 1 3/16-mile second jewel of the Triple Crown. Cox announced earlier this week that Essential Quality, who finished fourth as the 5/2 Kentucky Derby favorite, would pass the Preakness.
At 26/1, Mandaloun finished a game second to Medina Spirit, pushing Bob Baffert's lone Derby horse all the way to the wire. Cox said that half-length loss — complete with career-best 110 Equibase Speed Figure — was the reason Mandaloun won't turn around two weeks later for the Preakness.
"He ran extremely well and hard, and we just feel we would like to give him some time and not run him back in two weeks," Cox told reporters on a National Thoroughbred Racing Association call.
Cox taking long-term, Grade 1 view with both horses
Like Essential Quality, Cox's goal for Mandaloun is to win Grade 1s later in the summer. And like his stablemate, Mandaloun's ultimate target is the Grade 1 Travers Stakes at Saratoga on Aug. 28.
"The goal is to get him to the Travers in the best shape we can," he said.
Cox said the two-week gap between the Derby and the Preakness doesn't fit his training MO. This, despite the race giving Cox his Triple Crown baptism two years ago, with Owendale and Warrior's Charge. They completed the bottom half of that year's Preakness superfecta, finishing third and fourth.
"I am just not a big fan of running back in two weeks unless you win the Derby and your horse comes out of it well," he said. "But without there being an opportunity at a Triple Crown, I just feel like it's best for the horse to target some other races later on in the year."
Caddo River not ready to flow
As for Caddo River, Cox said the pace-setting colt simply isn't ready to run at Pimlico. He hasn't run since finishing second to Super Stock at the April 10 Arkansas Derby. Cox scratched him Derby week after he ran a fever. He clocked a 48.8-second half-mile workout on a wet Churchill Downs track Monday.
"We just haven't done enough with him – or feel like we've done enough — to pursue the Preakness," Cox said. "And we're going to target the (Grade 3) Matt Winn at Churchill on May 29."
Caddo River's absence further boosts the stock of Baffert's Medina Spirit and Concert Tour, who is reentering the Triple Crown picture. Caddo River was expected to set the pace for Baffert's pressing pair to chase. With him – and stalker Mandaloun – out of the picture, the projected pace further sets up for the pair.
Nothing to deter Medina Spirit from Preakness
As for Baffert, he said on the same NTRA call that both of his horses are on pace for Pimlico. Baffert said he hasn't seen or heard anything untoward from assistant trainer Jimmy Barnes for Medina Spirit. The Derby winner returned to the Churchill Downs track for a jog on Wednesday and Thursday.
Barnes is playing his customary role as Baffert's eyes on the road. He oversees the Hall of Fame trainer's charges when they're racing outside of Southern California.
"He's feeling great. He's a happy horse and we're a happy barn," Barnes told Churchill Downs.