For reasons ranging from handicapping to running style to history, the Arkansas Derby is the perfect last stop on the Kentucky Derby Trail. You could dial up a better finishing prep race. But you'd second-guess yourself mid-thought and wind up back at Oaklawn Park.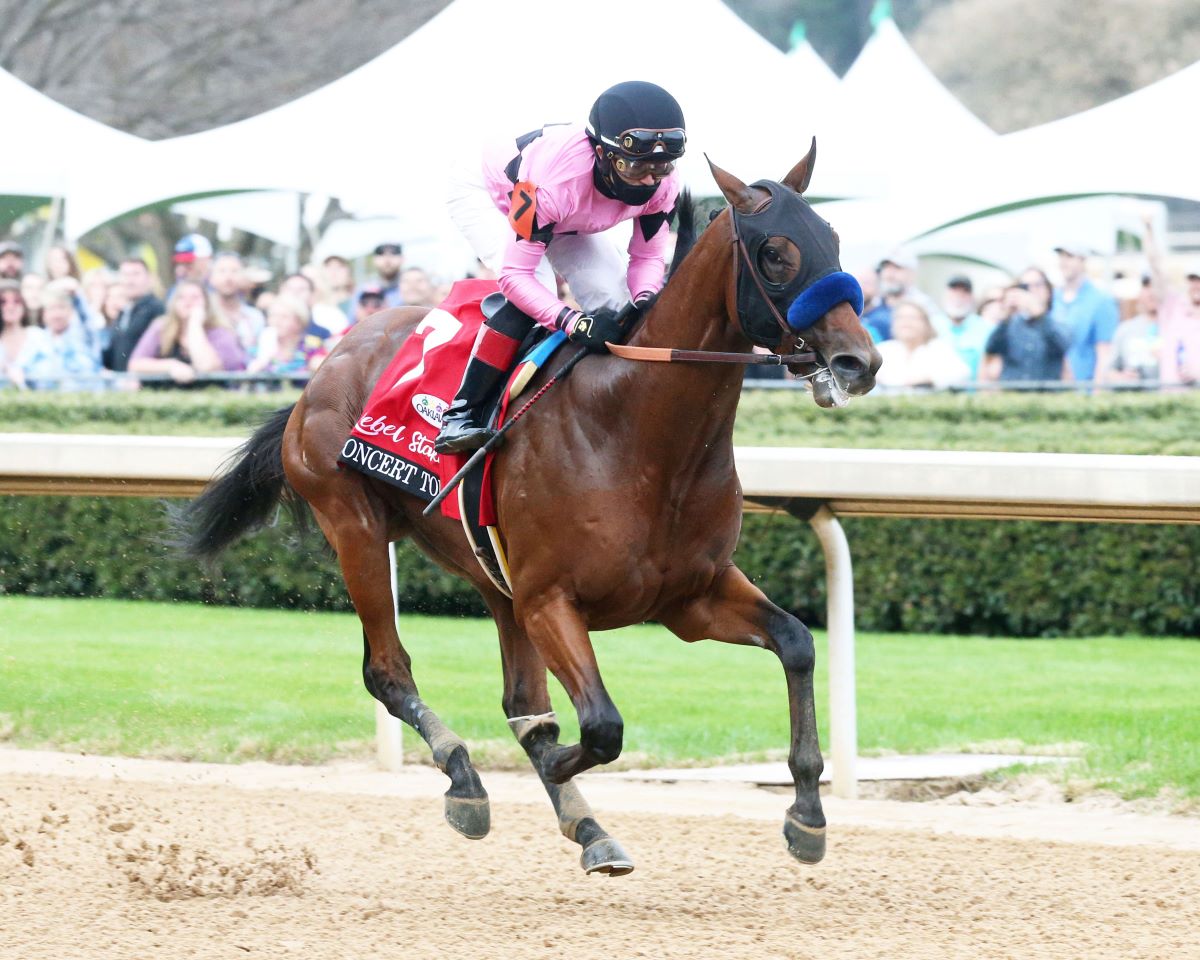 Yes, Saturday's 1 1/8-mile Arkansas Derby is one of three Grade 1 Derby preps. That explains why even though its only produced three Derby champions since Sunny's Halo in 1983, it's a legitimate barometer for Triple Crown race prospects.
Did someone mention "Triple Crown?" The first winner of one of those in 37 years came out of this race – American Pharoah in 2015. He, Sunny's Halo and Smarty Jones (2004) comprise the Arkansas Derby/Derby trifecta.
But the Arkansas Derby rolled out seven Preakness Stakes champions, including home-bred Pine Bluff (1992), Smarty Jones (2004), the incomparable Curlin (2007) and, of course, American Pharoah. Four Belmont Stakes champions came out of the Arkansas Derby, starting with Temperance Hill in 1980, seguing to Victory Gallop in 1998, American Pharoah (2015), and ending with Creator in 2016.
Follow the blueprint of successful Arkansas Derby traits
The 100-40-20-10 Derby qualifying points put the winner and likely the runner up into the Derby starting gate May 1. But the Arkansas Derby – Oaklawn's flagship race – earns its reputation as producer of American Classic threats because of the horses who win this race.
There are certain traits Arkansas Derby contenders have that make them ideal Derby contenders, even if they don't wind up draped in roses. Since the points era began in 2013, only one closer – Orb in 2013 – won the Derby. That race favors pace-pressers and stalkers with tactical speed who pounce at the right time, often coming out of the turn.
And so does the Arkansas Derby. One America's Best Racing analysis showed that nine of the last 15 Arkansas Derby winners were in the top three places after the first half-mile. That includes the last four winners: Magnum Moon (2018), Omaha Beach (2019) and Charlatan and Nadal in the two divisions last year. You need to be in the mix early to finish atop the mix late – just like we've seen in recent Derbies.
The Arkansas Derby tastes like chalk
Speaking of those aforementioned four, they all shared another trait: race favorites. Throw in Classic Empire in 2017 and favorites are 5-for-the-last-5. Bring in American Pharoah and they're six for the last seven. Classic Empire at 1.90-1 was the longest shot of the five, with three of those: Magnum Moon (4/5), Charlatan (2/5) and Nadal (9/10) going off odds-on.
Pressing on, what else are we looking for in an Arkansas Derby winner? Pedigree. Winning the Arkansas Derby requires stamina and no hiccups taking on two turns – just like the Triple Crown races require. The America's Best Racing analysis illustrated 11 of the last 15 Arkansas Derby winners have a sire who won a Grade 1 race at one mile or further.
One other key element bears mentioning: Bob Baffert. You knew he was lurking in the weeds here, unlike most of his high-powered charges over the last decade. If you count Charlatan's since-stripped victory — which we are here — Baffert claims four Arkansas Derby victories since 2012. That year, Bodemeister and Secret Circle completed the exacta. His horses finish in the money 80% of the time. Eighty.
Concert Tour checking off boxes aplenty
So what does all that mean with this year's six-horse field, the smallest since 1992? It means beginning with the Baffert-trained, even-money favorite, progeny of 2007 Kentucky Derby winner Street Sense: Concert Tour. If you want, throw in the fact Concert Tour won the Arkansas Derby prep – the Grade 2 Rebel Stakes. Just like American Pharoah, Magnum Moon, Omaha Beach and Nadal did.
In that Rebel, Concert Tour won his third race in as many starts displaying the tactical speed demanded of Derby contenders. He seized the lead, set reasonable fractions, then blew everyone away hitting the stretch. The 4 ¼-length victory was more impressive than that, considering Joel Rosario eased him in deep stretch.
When it comes to tactical speed, Concert Tour has it. Lots of it. He has been no worse than third at any call in his three races. From the top of the stretch in, he has been no worse than second. His 106 Equibase Speed Figure top is five points better than anyone in the field. He can set the pace. He can press the pace.
Can Caddo River sail past his last start?
The lone caveat here comes from home-bred Caddo River (7/2). We last saw the one-time front-row Derby product as the 6/5 Rebel favorite. And we saw the normally reliable Florent Geroux mysteriously ignore the front-running tactics that produced two perfect mile trips – including a 10 ¼-length boat race in the Smarty Jones.
Instead, Geroux put Caddo River in a stalking position. This not only neutered Caddo River's speed, but took the horse out of his natural rhythm. When Geroux asked for more at the top of the stretch, Caddo River had nothing. He retreated into a woeful fifth-place finish that mandates a top-two placing here to get him into the Derby.
Grade 1 Arkansas Derby/Oaklawn Park
Morning Line (Jockey/Trainer)
Super Stock, 6/1 (Ricardo Santana Jr./Steve Asmussen)
Caddo River, 7/2 (Florent Geroux/Brad Cox)
Hozier, 3/1 (Martin Garcia/Bob Baffert)
Get Her Number, 6/1 (Francisco Arrieta/Peter Miller)
Concert Tour, 1/1 (Joel Rosario/Bob Baffert)
Last Samurai, 15/1 (Jon Kenton Court/Dallas Stewart)
With that, it's a given Geroux won't get outridden by Rosario on Concert Tour again. Whether Caddo River has enough in the tank to back up the predictably aggressive trip awaiting him is another story. Three horses who beat him in the Rebel return: Concert Tour, Hozier and Super Stock. And Hozier (3/1) comes in off a bullet workout at Santa Anita.
Did we mention Hozier is a Baffert product?
The pick: Concert Tour. You could make a case for Hozier the closer snatching and grabbing this race if Concert Tour and Caddo River somehow hook up and turn Oaklawn into equine Daytona. But even with Hozier's 46.6-second bullet workout last Saturday, handicapping Baffert's charges means knowing which is the better Baffert. It also means when all the signs points to one horse, don't outthink the room.