It had to be a typo that Todd Pletcher's Bourbonic entered the Wood Memorial starting gate at 72/1. Surely, the trainer with the most Kentucky Derby starters in history couldn't have a moon shot like this in a race he's won five times.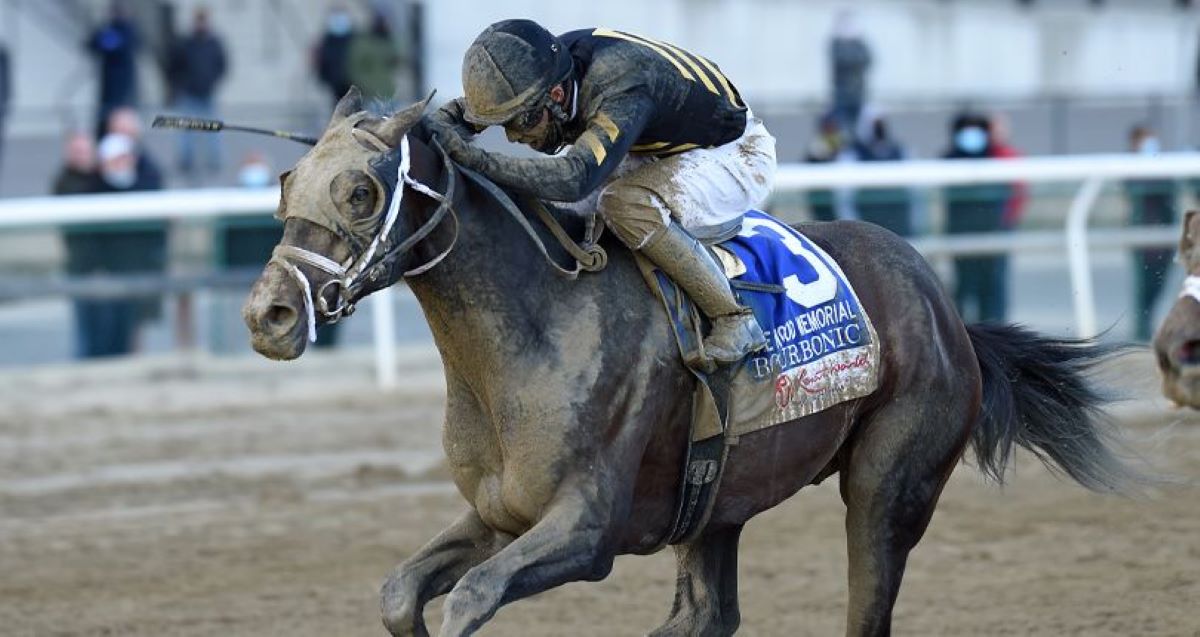 It was no typo. Bourbonic left the Aqueduct starting gate at 72/1 and, when he finished, Pletcher had his sixth Wood Memorial victory. That came courtesy of Bourbonic's stretch rally up the center of the track that nipped stablemate Dynamic One. The head victory produced the biggest upset in Wood Memorial history, one so surprising that Pletcher said afterward he didn't bet his own horse.
It also brought the son of Bernardini 100 Derby qualifying points and a spot in the Churchill Downs gate for the May 1 Kentucky Derby.
What it did for bettors with Bourbonic on their tickets was eye-popping. He paid $146.50 for a $2 win bet. Linking him with 15/1 Dynamic One on an all-Pletcher $2 exacta brought home $906.
A Pick-5 for the ages proves how fickle this game is
TVG commentator Ken Rudulph tweeted his Saturday Pick-5 ticket. Because he pushed the "ALL" button for the Wood Memorial, he caught the Bourbonic bomb. Even with all the chalk surrounding it on his other bets, Rudulph collected $1,556.75 for a $4 wager.
I spent $100 on a Pk5 out in first leg. I spent $182 on a Pk5 that paid $3. Then I didn't even bother to handicap the sequence except for the feature…and this happens. Crazy, crazy game.
🤷🏾‍♂️👍🏿💰💰💰😳@TVG pic.twitter.com/aK993HKf82

— Ken Rudulph (@MrKenRudulphTV) April 4, 2021
For this, however, those savvy/gutsy horseplayers had to sweat through a race where Bourbonic was last through the first half-mile. Jockey Kendrick Carmouche bided his time, let Gotham champion Weyburn tangle with Dynamic One and Crowded Trade, then opened up in the stretch. He reeled in all three at the wire for the victory.
"We always felt this horse would handle added distance," Pletcher said after the race. "He was able to get a perfect trip and sit back and make one late run. He was able to get there just in time. It was a big effort. To have any chance, I think the only way he could be successful was to stay back and make one late run. He doesn't have any early speed."
Putting Bourbonic's speed in perspective
Compared to his counterparts, Bourbonic doesn't have a lot of speed. His 1:54.49 clocking for the 1 1/8-mile Wood Memorial was the slowest of Saturday's three, nine-furlong Derby preps – by a significant margin. Rock Your World won the Santa Anita Derby in 1:49.17, earning a 100 Beyer Speed Figure along the way. Essential Quality and his 97 Beyer stopped the Blue Grass Stakes clock in 1:48.50.
Bourbonic clocked an 89 Beyer en route to his third victory in six races. He's 3-for-3 since returning to dirt after an abysmal 11th in an Aqueduct turf race last November. And, anyone could have claimed him for $50,000 after his maiden victory in December. Now, he's sitting on $465,800 in earnings with a punched ticket to the Kentucky Derby.
Pletcher back in the Derby saddle
As for Pletcher, the last two weeks illustrate how the fortunes of racing change. Two weeks ago, he was outside the Kentucky Derby starting gate looking wistfully in. Then, Known Agenda won the Florida Derby on March 27. Now, Bourbonic is safely – albeit surprisingly – in. And Pletcher can add to his record 55 Derby starters.
"Sometimes, the worst thing you can have is a hot hand in January and February," Pletcher said. "We were hoping something would come together and we always thought he had [the] potential to step up. It was good to see him do it."
As for the rest of the deep field, Crowded Trade grabbed third by 1 ¾ lengths over fourth-place Weyburn. The Gotham winner, Weyburn has 60 Derby points, but trainer Jimmy Jerkens said last week he may skip the Derby and train Weyburn up to the Belmont Stakes.
Brooklyn Strong finished fifth, buzz-horse Prevalence sixth, and favorite Risk Taking a dismal seventh. The Remsen Stakes winner, Risk Taking finished a non-threatening, 6 ¾ lengths back of Bourbonic.