Irad Ortiz Jr. broke Gulfstream Park's Championship Meet riding record with an exclamation point, Saturday, piloting Known Agenda to the Grade 1 Florida Derby title.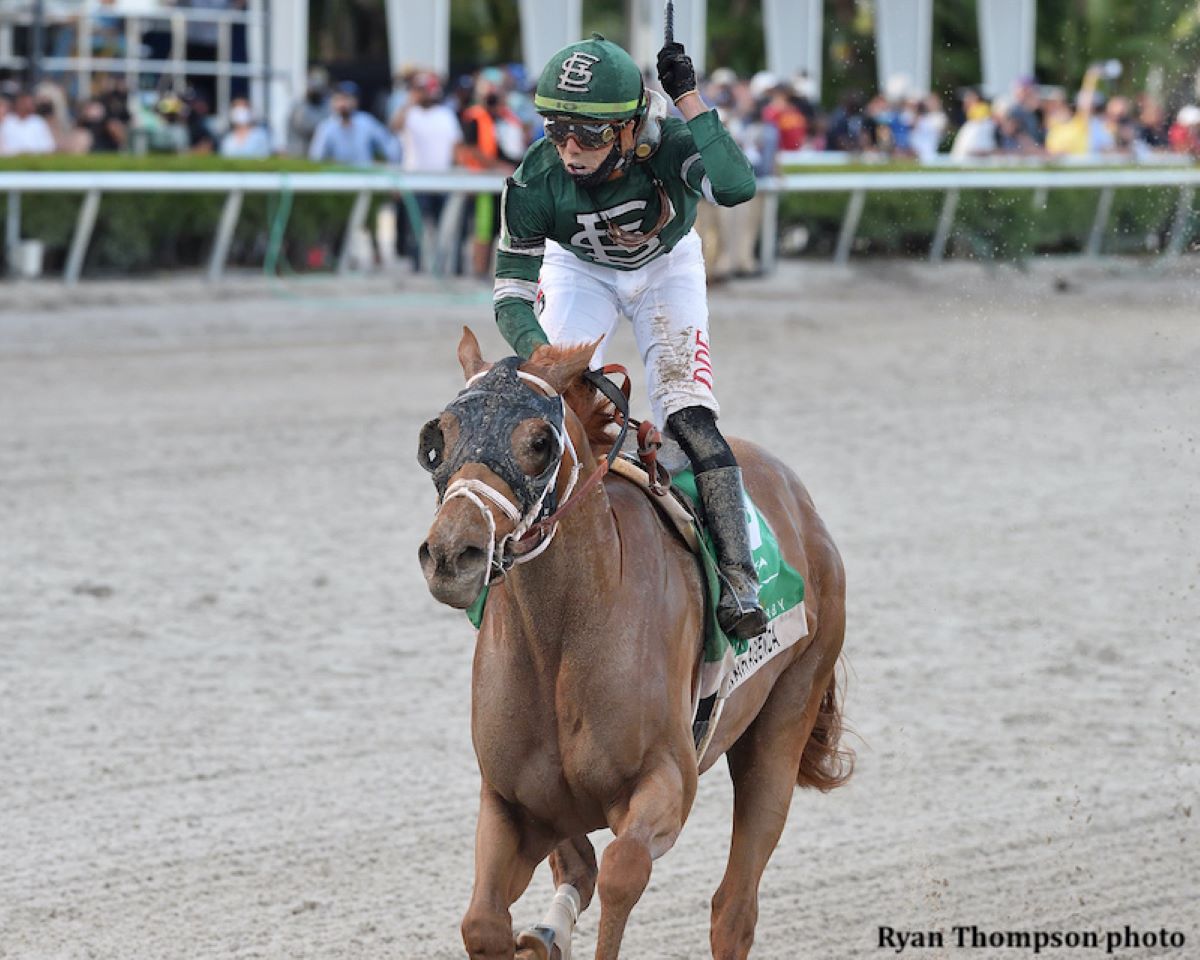 The victory not only gave Ortiz his first Florida Derby, but gave him 138 victories for the South Florida track's marquee meet. That sent the 28-year-old Ortiz past Luis Saez's 137 mark set in 2017-18.
"It means a lot. We work so hard. It feels so good to get the feedback from the owners and the trainers," Ortiz told Gulfstream Park. "They support me. I say thanks to all of them. When I say all of them, I mean all of them – from the claiming races to the stakes races. We have a lot of respect for Luis. It wasn't easy. He wins a lot of races here, too."
Not on Saturday. While Ortiz was tying his mark aboard Sweet Bye and Bye in the Sand Springs Stakes and breaking it aboard Known Agenda, Saez was in Dubai, winning the $12 million Dubai World Cup aboard Mystic Guide.
Ortiz big-times the biggest Gulfstream races
The 2 ¾-length victory aboard 5/1 Known Agenda gave Ortiz two of Gulfstream's biggest races this meet. In January, he rode Colonel Liam to the Pegasus World Cup Turf title. Those two Grade 1s represent two of Ortiz's 14 stakes wins at the meet.
Ortiz is the dominant riding presence at Gulfstream. This gives the three-time, defending Eclipse Award-winning jockey his third consecutive riding title. He nearly caught Saez's record in 2018-19, but finished two wins shy at 135. Last year, even taking a break during the COVID-19 outbreak, he took 115 horses to the winner's circle.
This calendar year, he's winning races at a hearty 27% clip (116-for-428). Nearly 60% of his mounts hit the board. In this meet along, Ortiz has a six-win day on Feb. 6, five five-win days, seven four-win days and nine days winning three races. He's enjoyed 43 days of at least two victories.
Watch the Florida Derby to see skill on display
Ortiz joins a select club of riders owning at least three consecutive Gulfstream riding titles. Javier Castellano won five consecutive between 2011-12 and 2015-16. Jorge Chavez (1999-2001) and Jeff Fell (1977-79) were the others.
What Ortiz did aboard Known Agenda gives you an inkling about his ability. With no other options available, Ortiz patiently kept Known Agenda on the rail down the backstretch because he had too much traffic outside. He realized that searching for space then would spend his horse come stretch-time.
On the far turn, Ortiz found his gap. He took Known Agenda three-wide around pace-setters Nova Rags and Soup and Sandwich. The colt's natural speed did the rest.
"The instructions were to try and stay as close as I can without going too crazy and start working my way out and put the horse in the clear outside," Ortiz said after the race. "I saw a couple horses outside of me and I had to take a hold to go around. I said it was too much, so I just followed the flow of the race. I had to go to the rail, and it worked out great. When I took him out, he started rolling."