If American Thoroughbred racing has a quality gap, it's in the area that Colonel Liam addressed on Saturday – the older male turf division.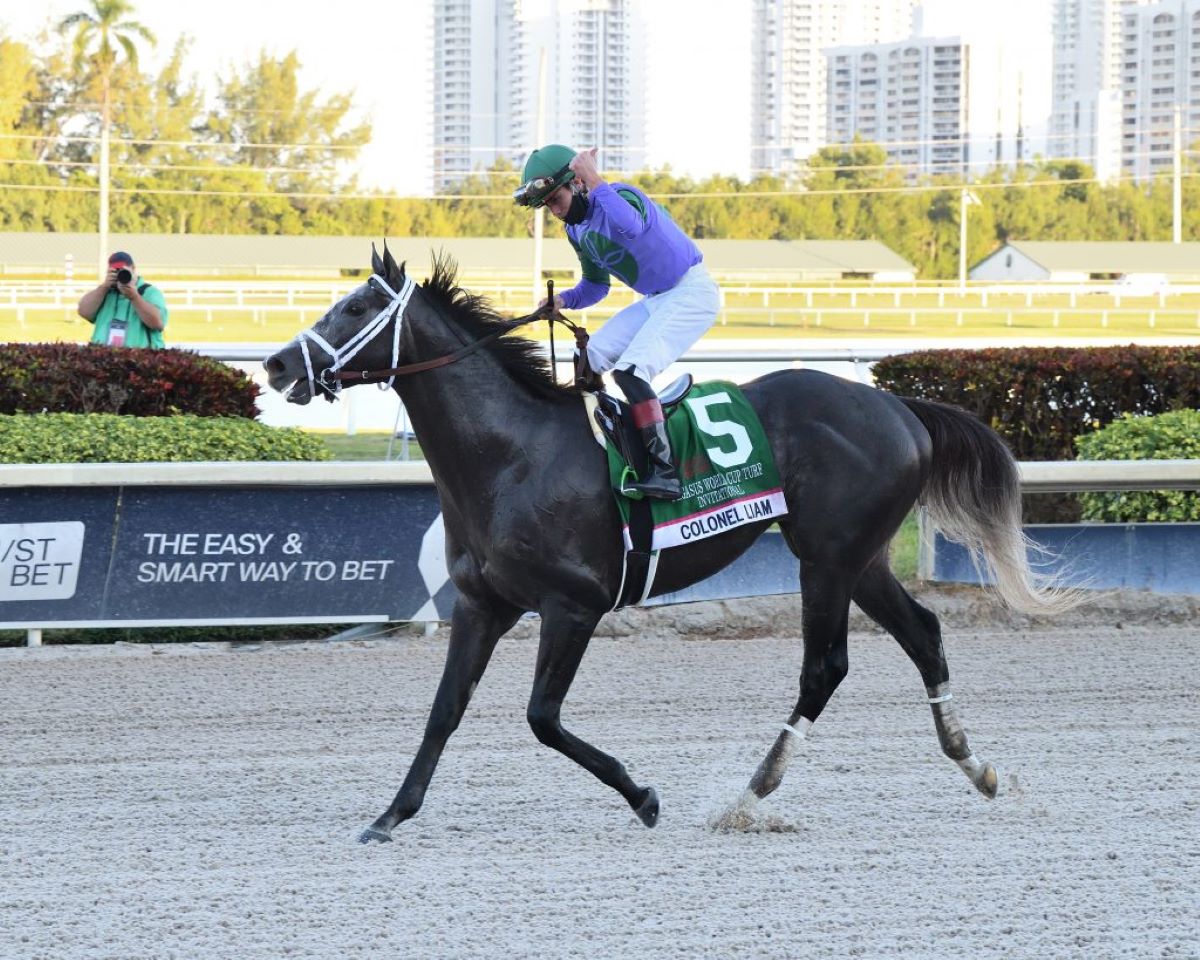 That division needs a standout, a go-to, must-watch horse who can grab eyes every time he enters a gate. And with his neck victory over stablemate Largent in Saturday's $1 million Pegasus World Cup Turf, Colonel Liam illustrated he may be that horse.
The 4-year-old Colonel Liam won his first graded stakes, giving trainer Todd Pletcher his first Pegasus win. Largent completed the exacta, with the third Pletcher horse in the field, Social Paranoia, finishing fourth. Mike Maker's Cross Border spoiled the Pletcher trifecta bid. He finished third in his bid to give Maker his second consecutive Pegasus Turf.
"I couldn't be more pleased with the way they all ran," Pletcher told Gulfstream Park. "It was a heck of a race between Largent and Colonel Liam at the end. I thought Social Paranoia put in a huge effort from the 12 post. (I'm) Just really, really happy with all three of them."
Bricks and Mortar Left a Hole Needing Filling
Colonel Liam put the biggest smile on Pletcher's face. In the big picture, he could put smiles on many faces. The lightest raced horse in the field, with only five starts on his resume coming in, Colonel Liam proved he may be the older male turf standout American racing needs. That division hit a dry spell after 2019 Horse of the Year and Pegasus Turf winner Bricks and Mortar retired at the end of that year.
On Saturday, Colonel Liam took strides to fill that gap. He and Irad Ortiz Jr. hit the stretch in fourth, but without any gaps to escape the rail. Then Ortiz – proving why he is America's top jockey – found a gap. He took Colonel Liam outside through a small seam and turned him loose. First, he reeled in fading leader Storm the Court and Anothertwistafate, then Social Paranoia.
Then, Colonel Liam caught and passed Largent right before the wire, finishing off a 1:53.09 trek for the 1-3/16 miles. Colonel Liam earned a 99 Beyer Speed Figure. As the 5/2 favorite, he paid $7.
Colonel Liam Mows Them Down on Grass
Ortiz, meanwhile, won his second Pegasus Turf in three years. He rode Bricks and Mortar to the 2019 title. Last year, Ortiz piloted Mucho Gusto to the Pegasus World Cup title. He was second aboard Jesus' Team this year.
This makes Colonel Liam 3-for-4 on the grass. The $1.2 million Liam's Map progeny began his career with a win via disqualification, and a third in two other races. Pletcher moved him to the turf and watched Colonel Liam find the winner's circle in all but last summer's Saratoga Derby. There, despite a troubled trip, he finished fourth by less than a length to Domestic Spending.
Last month, Colonel Liam won the ungraded Tropical Park Derby by 3-¼ lengths. That made him a tepid favorite in the Pegasus Turf, largely due to this event's field quality. There wasn't a standout turf runner that captured the public's fancy.
Largent Catches Himself Another Strong Effort
"He showed us a lot of ability in his couple of starts on the grass," Pletcher said. "We felt like he was getting better and better. We loved the way he handled the turf in the Tropical Derby and he had trained great. We were very optimistic. He's a little less experienced than some of the other horses, but I think this proves his quality."
Largent, meanwhile, hit the board for the 10th time in 10 races. He's never finished worse than second, winning six of the 10. That all-Pletcher $2 exacta paid $28.20. Cross Border brought home $192.10 for a $1 trifecta.
Where Colonel Liam goes next is up in the air. He earned a spot in the Feb. 20, $1 million Middle Distance Turf Handicap at King Abdulaziz Racetrack in Riyadh, Saudi Arabia. But, Pletcher told Gulfstream on Sunday that the Woodford Reserve on the Kentucky Derby undercard is tentatively next on the horizon.
"The question is kind of what we do between now and then," Pletcher said on Sunday. "The other two (Largent and Social Paranoia) we've got some options with, so we'll give it a week and kind of survey the landscape and see what the right moves are."