In October 2019, Greg Helm took a call that changed his horse racing ownership life forever. On the other end was bloodstock agent Dennis O'Neill, brother to trainer Doug O'Neill, with a proposition for Helm and the rest of his small Roadrunner Racing syndicate.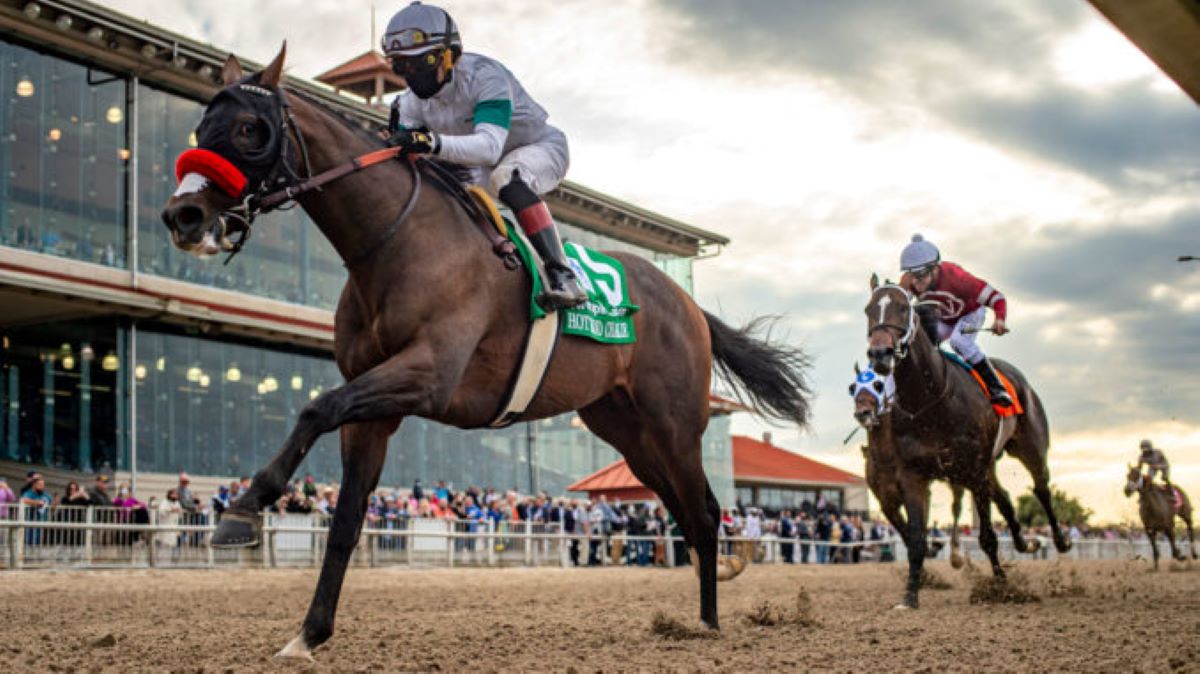 "He asked me if I wanted to buy a yearling. I said 'I don't know. We're getting into a new territory for Roadrunner Racing,'" Helm remembered, pointing out his group usually acquired claimers. "He said 'I have this yearling who is a half-brother to (champion sprinter) Mitole.' I said, 'We'll buy him.' This was prior to Mitole winning the Eclipse for Sprinter of the Year. Just on those credentials along, we'd buy half."
You know that one-time yearling as Hot Rod Charlie. After last Saturday, you also know him as the Louisiana Derby champion. Helm and the rest of Hot Rod Charlie's ownership group, which includes the other five members of Roadrunner Racing, Boat Racing, and William Strauss, know him as their ticket to the Kentucky Derby.
"We're in the yearling business now," Helm joked, about the $110,000 plunge he and his partners took at the Fasig-Tipton October 2019 Sale.
Meet your current Derby points leader
And business is very good. Named by Roadrunner Racing partner John Foster – who also owns the turf company that redid Santa Anita Park's turf course — Hot Rod Charlie now leads the Kentucky Derby points ladder (110). His two-length victory over Midnight Bourbon brought him into the millionaire's club ($1,005,770). His 1:55.06 clocking for the 1 3/16-mile Louisiana Derby broke the track record for that distance.
It also brought Hot Rod Charlie a 99 Beyer Speed Figure and an odds plunge on Kentucky Derby future boards. Circa Sports sliced his odds from 26/1 to +950.
All in all, not a bad haul for a colt who took four tries to break his maiden, but hasn't missed the board since. Hot Rod Charlie now owns two victories, a second, and two thirds in seven career starts. The second came in the Breeders' Cup Juvenile, when the 94/1 shot dueled winner Essential Quality to the wire, falling short by less than a length.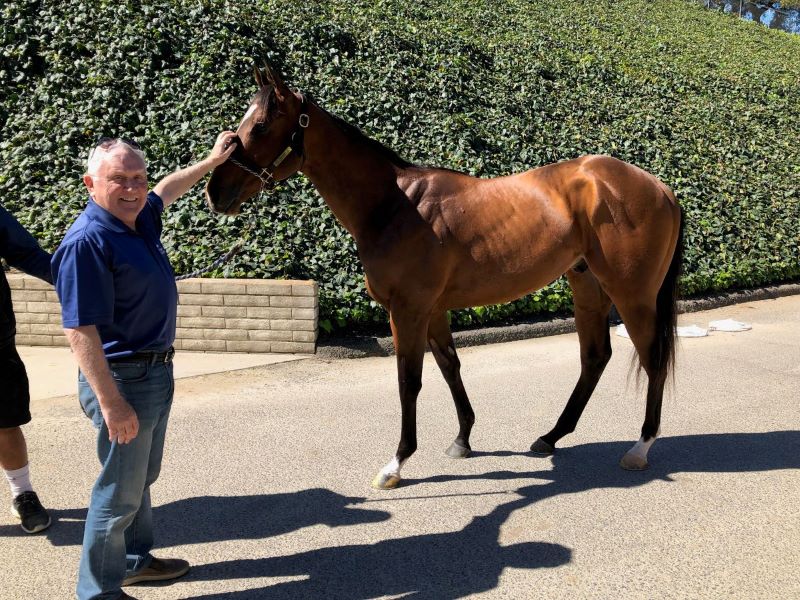 "He matured a little slowly but before he even ran his first race, he kept getting bigger and stronger, and smarter," Helm said. "We knew we had some kind of horse here. Doug and Dennis were beside themselves with the potential they saw in Hot Rod. We started running him and it did take four times to break his maiden, but he was getting stronger and stronger."
How about a Hot Rod Charlie sandwich?
Helm and his Roadrunner Racing partners watched what Helm called "that miracle" unfold in amazement from the terrace of the La Quinta Country Club in La Quinta, California. Now, members can order the "Hot Rod Charlie sandwich," a fried chicken breast with peppers and hot sauce.
"That's an amazing sandwich. And Hot Rod Charlie is an amazing horse," Helm said.
A retired ad executive, Helm got his first taste of horse racing when he took on the Hollywood Park account at his agency. During the 2000s, he dabbled in a small syndicate with John Everson, a fellow board member of Desert Classic Charities, a non-profit that used to operate the PGA Tour's Bob Hope Classic. Helm got the taste of owning small shares of horses, buying and flipping them.
Roadrunner Racing came out of the California desert
This continued until 2017, when Helm talked five of his fellow La Quinta CC members into forming Roadrunner Racing. The name came from the club's mascot, a roadrunner. In contrast to their mascot, Helm and his partners started slowly, pooling their money and claiming horses. One, English gelding Double Touch, captured Del Mar's Black-Type Wicker Stakes at 30/1 in 2018.
That hardly prepared Helm and his partners for the ride they're on now. Before Helm reached the Fair Grounds winner's circle on Saturday afternoon, his phone lit up like a pinball machine. Texts and calls cascaded in from all over the country. Fellow owners, friends, and even jockeys interested in riding Hot Rod Charlie in the Derby should Joel Rosario opt for Concert Tour.
"I hate to call Joel a jockey because he's part of Hot Rod Charlie and Hot Rod Charlie is part of him. They're a unit," Helm said. "He's not just a rider. He's a bit of a trainer himself on him. He and Hot Rod got to know each other so well. They communicate with each other. I'm in awe of Joel."
Hot Rod Charlie comes with a deceptive pedigree
Helm, for his part, remains in awe about everything Hot Rod Charlie. Even with 2013 Preakness Stakes champion Oxbow as Hot Rod Charlie's sire, Helm thought he had a sprinting star. After all, Mitole was one of the greatest sprinters of his generation.
And Hot Rod Charlie's broodmare sire (grandsire on his dam's side) was Indian Charlie. That's where the speed comes from, since according to Horse Racing Nation, only four of 69 graded or listed stakes winners on his dam's side won at a mile or longer.
"With the sprinter side of him, it's a little surprising to see him so strong at that distance," Helm said. "Then, you realize Oxbow won the Preakness, so it is in his blood to go that far."
Helm and his Roadrunner Racing partners understand how far they've come with Hot Rod Charlie already. They own 50% of the colt, with Strauss owning another quarter, and Boat Racing – a group of five Brown University former fraternity members – owning the other 25%. One of the Boat Racing members, Patrick O'Neill, is Doug O'Neill's nephew.
'Feeling like jumbo shrimp'
Patrick O'Neill was in Helm's company in the Fair Grounds winner's circle Saturday. The two did post-race interviews, an exercise Helm is well versed in from his Desert Classic Charity days giving interviews to television stations as the organization's marketing committee chairman. But like that October 2019 call from Dennis O'Neill, Helm wasn't ready for this.
"When I got the trophy and (co-owner) Patrick and I were being interviewed, the host asked me, 'What's it feel like?' You know, the question you always get and expect," Helm said. "I thought about it later and I should have said, 'I feel like a New Orleans jumbo shrimp. I feel so big, so jumbo for being in an ownership group for one of the 20 horses who will get to the Kentucky Derby.' You can't feel any bigger, having your horse get to the Kentucky Derby. But I feel like the shrimp when you talk about all of the people who got us there: all the men and women who work in the barn."