Highly Distorted became the 11/1 answer to a trivia question when he won the first race run from Santa Anita Park's new turf chute on Saturday.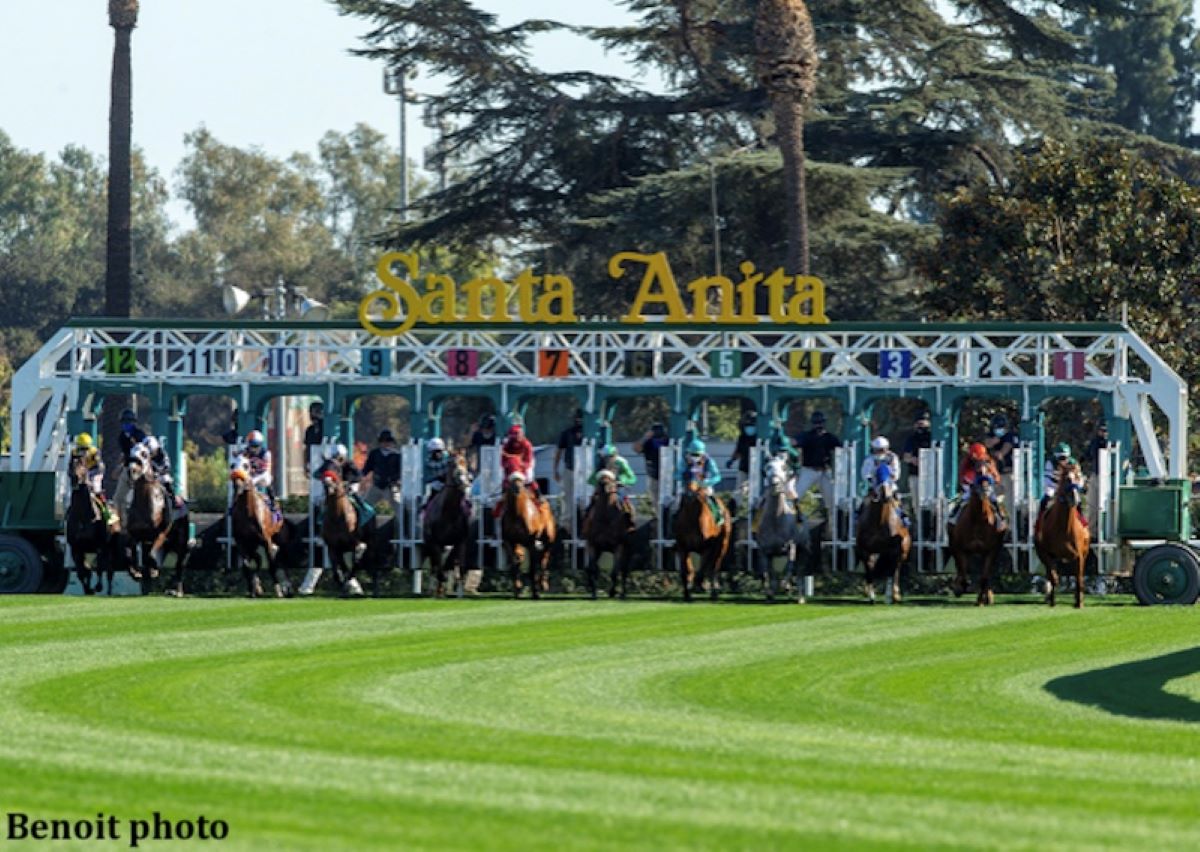 The 6-½-furlong allowance race was Santa Anita's sixth of 11 on its Saturday Winter/Spring Meet opening day card. Santa Anita Track Surfaces Consultant Dennis Moore designed the new chute for exactly this type of race.
"Everything looked good. It's nice to see it all come together from beginning to end," Moore told Santa Anita's Mike Willman.
That beginning came Aug. 17, when Aidan Butler, The Stronach Group's former executive director for California racing operations, announced plans for the new chute. He told the California Horse Racing Board the chute would be ready by early 2021.
New Turf Chute Arrives Earlier than Scheduled
Instead, Moore and his staff put it together six days earlier. The new chute parallels Santa Anita's seven-furlong main chute. It gives Santa Anita's racing department added options for six and 6-½-furlong races. In turn, this gives horsemen more opportunities for their horses, and handicappers more opportunities to break down races.
It also takes pressure off the track's existing one-mile oval and-6 ½-furlong downhill turf course – the only one of its kind in the United States.
"Our intent is to not only have a 6-½-(furlong) start on the turf oval, but to actually have a six-furlong (start). So that then would give us five-eighths, 5-½, six furlong, and 6-½ on the turf oval," Butler told the CHRB commissioners in August.
More Factors Led to New Turf Chute's Creation
Santa Anita's turf course took plenty of abuse in the past couple of years. First, in terms of weather and wear, and second, in terms of public opinion. The former happened during one of Southern California's wettest winters in a decade. The latter cascaded down after 30 horses died during a nightmarish 2018-19 season. Not all of the deaths happened on the turf course, but track owner TSG took steps to improve the surface.
Hence, the new chute and Highly Distorted's three-quarters of a length victory in the chute's first race. That victory paid $24.80 and continued a day of upsets. Favored, 5/2 Anaconda finished sixth.
Santa Anita fielded four turf races with 39 horses Saturday. Those included 6/1 Duopoly's victory in the Grade 1, 1-¼-mile American Oaks. The Chad Brown-conditioned Duopoly's win marked the only race won by a non-Santa Anita-based trainer on opening day.
"The (overall turf) course was very good," said trainer Leonard Powell, who sent 6/1 Avenue de France to a half-length victory in the day's first turf race. "There was just a tiny bit of cut in it, but it looked very good and safe, which is what we want."