Yes, the Grade 2 Louisiana Derby has a familiar look to it that goes beyond bringing us familiar names like Mandaloun, Midnight Bourbon, Proxy – and yes, California import Hot Rod Charlie.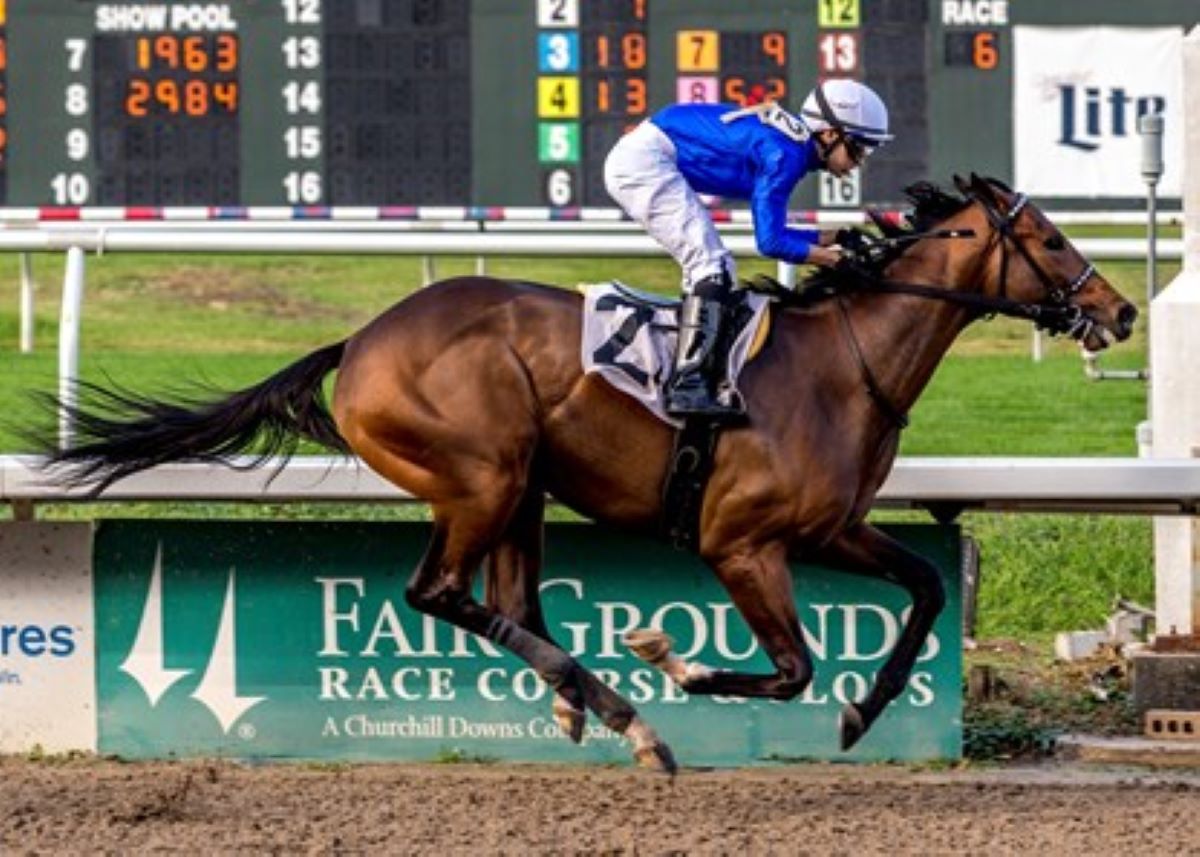 It's those first three that give the first of the 170-point Kentucky Derby preps that déjà vu look. Because, Derby prep aficionados, you have been there before.
In January, when Midnight Bourbon beat Proxy and Mandaloun in the Grade 3 Lecomte Stakes at Fair Grounds. And in February, when Mandaloun beat Proxy and Midnight Bourbon in the Grade 2 Risen Star. Yes, these three and their connections can't get enough of each other on the Derby trail.
Throw in Risen Star returners Starrininmydreams, Rightandjust and O Besos, add another half-furlong – making the 1 3/16-mile Louisiana Derby the longest Derby prep outside of the UAE – and you'd swear you were watching Risen Star 2.0.
Louisiana Derby a three-century event
Given the overriding presence in this eight-horse field of 8/5 favorite Mandaloun, 7/2 Proxy and 5/1 Midnight Bourbon, you might be.
Regardless of what those three do, you're watching one of the oldest Derby preps. The Louisiana Derby dates to 1894, only 19 years after the Kentucky Derby's debut. It took 30 years to produce a Derby champion, an oversight Black Gold rectified in 1924. It took another 72 years for the Louisiana Derby to produce another one – Grindstone in 1996.
Since then, the Louisiana Derby gave us two more Derby winners: Funny Cide in 2003 and the asterisk-wearing Country House in 2019. But it did send Master Derby to the 1975 Preakness title and Risen Star to the 1988 Preakness and Belmont titles.
Can Mandaloun extend favorite trend?
It could give us another one this year in Mandaloun, who owns three wins and that third in the Lecomte in his four career starts. Favorites won this race three of the past five years.
Mandaloun's trainer, Brad Cox, won this race last year with front-running Wells Bayou. Now, he has stalker Mandaloun, who executed that style perfectly in his Risen Star victory. En route to that 1 ¼-length victory over Proxy, Mandaloun reeled in a distracted Proxy at the top of the stretch and held him off for that victory.
His loss in the Lecomte came by a length. Like the Risen Star, Mandaloun clocked a 97 Equibase Speed Figure in that Lecomte. Afterward, Cox added blinkers and Mandaloun responded well.
Add blinkers, find winner's circle
"I think the blinkers did help out, Cox told Fair Grounds' Brian Nadeau. "(Jockey) Florent (Geroux) immediately made a comment after the race (that) he was much more focused in the post parade, more focused on his job."
What impresses Cox – and bettors – is the way Mandaloun handled the 1 1/8-mile Risen Star. Cox expects Mandaloun to be in the mix from the outset. And as an Into Mischief colt, stamina won't be an issue.
"(That race) was a mile and 1/8, and for a colt to be able to go a mile-and-an-eighth – a 3-year-old colt –to be able to go a mile-and-an-eighth in February, I think says a lot," Cox said on a National Thoroughbred Racing Association call earlier this week. "And the way he finished that race I thought was impressive."
Another blinkers candidate
That impressive finish came at the expense of Proxy, who turned in his own impressive finish to make it as close as it was. That said, Proxy has only himself to blame for his second consecutive runner-up. Had he not mentally checked out coming out of the far turn, we'd likely be talking about him as the Risen Star champion.
So enter blinkers for the son of Tapit out of multiple Grade 1 winner Panty Raid. Even factoring in Proxy hasn't finished worse than second in five career races (2-3-0), trainer Mike Stidham has seen enough of Proxy's tuning out this meet. When rider John Velazquez told Stidham after the Risen Star that losing that position in the turn cost him the race, Stidham was sold.
"There were just a number of reasons why the blinkers were added," Stidham told Fair Grounds' Nadeau. "If you look at all of his races here at the Fair Grounds, in every race, you can kind of see him doing a little erratic stuff, whether it be shying way, drifting out or losing focus like he did in the Risen Star. You can't win Kentucky Derbies or Louisiana Derbies by doing that."
Midnight Bourbon drinks up speed early
Proxy's last two Equibases were 95 and 97, which puts him on Mandaloun's level. That brings us to the third member of this rivalry trio: Midnight Bourbon. Like his two counterparts, the Tiznow colt hasn't finished out of the money in his six races (2-1-3). And like them, he clocked two 90-plus Equibases as a 3-year-old (95 and 99).
He went from a gate-to-wire win in the Lecomte to dealing with Rightandjust taking him out quickly in the Risen Star. That wore him down and opened up victory paths for Mandaloun and Proxy.
This scenario could repeat itself again, with Rightandjust and Run Classic setting the early pace and Hot Rod Charlie joining Mandaloun and Proxy as late stalkers/closers. This sets up an interesting tactical decision for jockey Joe Talamo.
Louisiana Derby comes down to tactics
"I'm really looking at the race and watching replays," he said on the NTRA call. "It almost seems like it could possibly be the exact same set up as the Risen Star. It's no secret he's (Mandaloun) a pretty quick horse. I'm sure he'll be in front, and unless something happens and no one goes to the lead, I'll definitely take advantage of that .but if not, I'll definitely be content just to track him."
Grade 2 Louisiana Derby/Fair Grounds
Morning Line (Jockey/Trainer)
Starrinmydreams, 20/1 (Luis Saez/Dallas Stewart)
Rightandjust, 20/1 (Colby Hernandez/Shane Wilson)
Run Classic, 12/1 (Brian Hernandez Jr./Bret Calhoun)
Proxy, 7/2 (John Velazquez/Mike Stidham)
Hot Rod Charlie, 3/1 (Joel Rosario/Leandro Mora)
Mandaloun, 8/5 (Florent Geroux/Brad Cox)
Midnight Bourbon, 5/1 (Joe Talamo/Steve Asmussen)
O Besos, 15/1 (Marcelino Pedroza/Greg Foley)
Then, there's Hot Rod Charlie (3/1), who comes in from California off his third in the Robert B. Lewis. He's 1-for-6, but does have that third in the Lewis and a second in the Breeders' Cup Juvenile to Essential Quality. He may be a bit of an underlay at 3/1, but belongs on your vertical exotics.
The pick: Proxy. We'll go with our Risen Star pick one more time and make Mandaloun beat us. The blinkers should make a difference this time on a horse who checks every other box.