The Risen Star Stakes is, to paraphrase Drew Carey from the old "Whose Line Is It Anyway?" improv show, the race where the points begin to matter.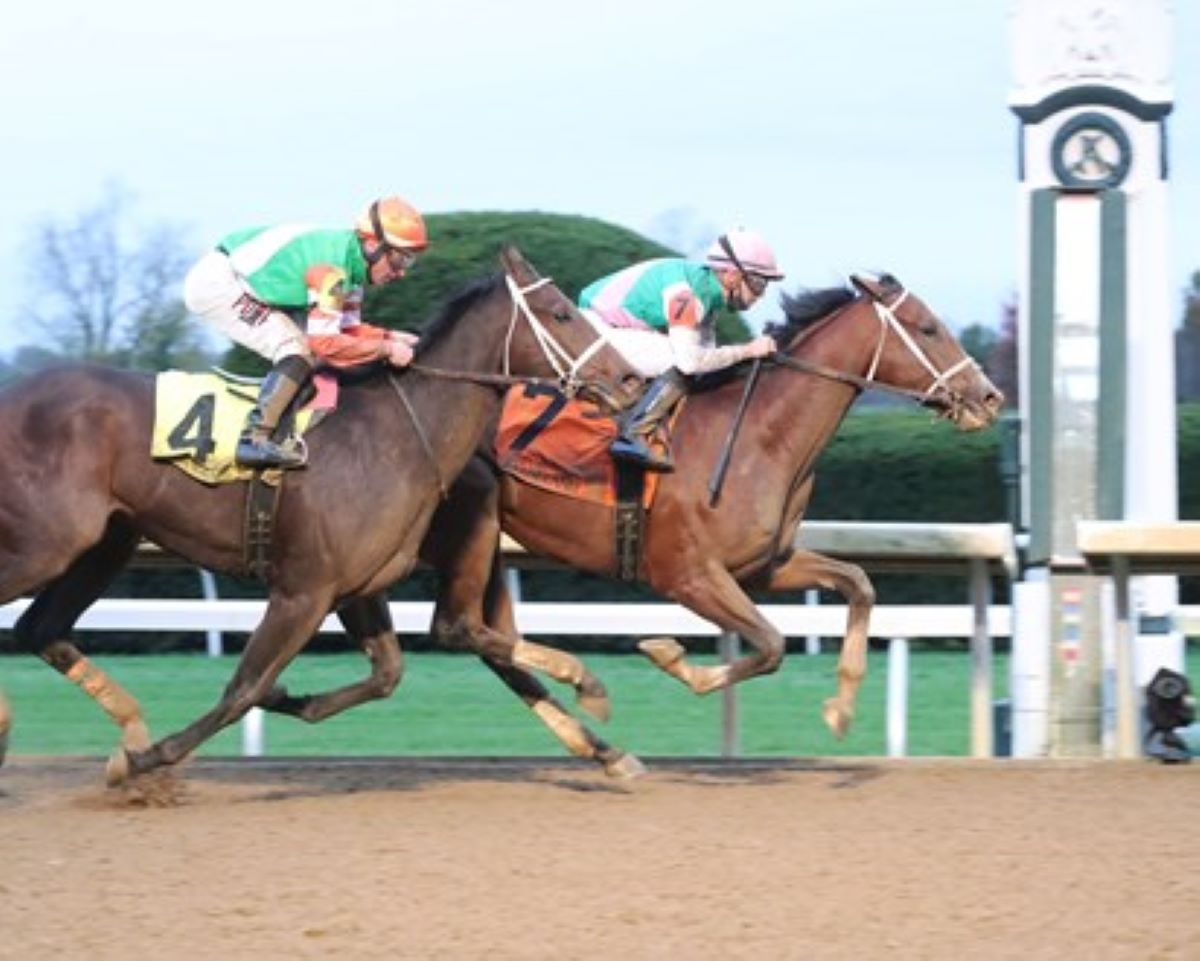 Saturday's 1 1/8-mile Grade 2 Risen Star at Fair Grounds is the season's first Kentucky Derby prep offering 50-20-10-5 qualifying points to the top four finishers. Essentially, that means the winner earns the first spot in the Churchill Downs starting gate for the May 1 Derby. And that makes the Risen Star a de-facto "win and you're in" Derby prep.
That makes Fair Grounds Saturday's racing epicenter. The 12-horse Risen Star headlines a six-stakes Fair Grounds card that also includes the Grade 2 Rachel Alexandra, which provides the same 85-point bounty for the Kentucky Oaks.
Named for the 1988 Preakness Stakes and Belmont Stakes winner, the Risen Star ran in two divisions last year. That came about after 23 entries zoomed into the race, which was lengthened by a half-furlong to 1 1/8 miles.
Fair Grounds Isn't Fertile Ground for Derby Contenders
As far as Derby prospects go, the Risen Star isn't a star attraction. While sending 28 alums to the Derby over the last decade, the Risen Star produced only two Derby winners in 52 editions: War Emblem in 2002 and asterisk-wearing Country House in 2019.
In its Triple Crown defense, the Risen Star did spawn two Preakness champions last decade: Oxbow (2013) and War of Will (2019). It also produced 2013 Belmont Stakes winner Palace Malice and 2017 Horse of the Year Gun Runner, who won the 2016 Risen Star and finished third in that year's Derby.
This year's Risen Star brings a full, 13-horse field that includes the top four finishers from Fair Grounds' last Derby prep. That was last month's Lecomte Stakes, won by Midnight Bourbon with Proxy, Mandaloun and Santa Cruiser following in order.
Mandaloun's Lecomte Rally Lacked Punch
And in this deep field, that gives us a good place to start, beginning with 9/2 favorite Mandaloun. Last time out, this Into Mischief progeny disappointed his connections and backers, finishing third in the Lecomte at 4/5. Aside from a wide trip, what was troubling was Mandaloun's lack of finishing power in deep stretch. Not only couldn't he reel in winner Midnight Bourbon, he couldn't catch runner-up Proxy either.
"I feel like the works with blinkers have shown some progression and he can take that next step forward with them and have more focus late," trainer Brad Cox told Fair Grounds. "He was right there in the Lecomte and he was wide. The two horses that finished in front of us had a little more seasoning and I think he got a lot out of that race."
The first horse finishing ahead of Mandaloun was Midnight Bourbon (6/1). This Tiznow offspring put everything together in the Lecomte: a gutsy Joe Talamo ride and a dream pace scenario that allowed Midnight Bourbon to front-run his way to a length victory.
Midnight Bourbon Needs His Versatility Here
Midnight Bourbon hit the board twice in graded stakes as a 2-year-old, where he showed he can run off the lead. With more speed here, he won't get the same cushy pace scenario he got in the Lecomte, but his pace-setting, stalking style could benefit from the added distance.
The same goes for Proxy, a wonderful overlay at 8/1. Somehow, this Tapit son managed an exacta finish after a troubled trip where he got bumped coming out of the gate and had issues down the stretch. Even with that, Proxy held off Mandaloun for third. He hasn't finished worse than second in four races and gets Hall of Fame jockey John Velazquez parachuting in to ride.
Grade 2 Risen Star Stakes/Fair Grounds
Morning Line (Jockey/Trainer)
Starrinmydreams, 12/1 (Brian J. Hernandez/Dallas Stewart)
Proxy, 8/1 (John Velazquez/Mike Stidham)
Beep Beep, 20/1 (Miguel Mena/Norm Casse)
Carillo, 15/1 (James Graham/Tom Amoss)
Señor Buscador, 6/1 (Luis Quinonez/Todd Fincher)
Midnight Bourbon, 6/1 (Joe Talamo/Steve Asmussen)
O Besos, 12/1 (Marcelino Pedroza/Greg Foley)
Sermononthemount, 50/1 (Declan Carroll/Tim Dixon)
Defeater, 12/1 (Diego Saenz/Tom Amoss)
Santa Cruiser, 15/1 (Adam Beschizza/Keith Desormeaux)
Mandaloun, 9/2 (Florent Geroux/Brad Cos)
Righandjust, 15/1 (Mitchell Murrill/Shane Wilson)
"He's still a work in progress, but I like having a 3-year-old that I think has something left that we haven't seen yet," trainer Michael Stidham said. "He's still figuring it out, both mentally and physically. But in his works and in his races, he seems to be getting a little better, and I think that's where he is right now. Now that we're getting into these longer races, it starts to separate them a little bit, and I think that's really going to help my horse. I'm not sure that's the case for everyone."
Señor Buscador is the Risen Star's X-Factor
Whether it's the case for the race's prime closer – Señor Buscador (6/1) – could decide the Risen Star. His 93 Beyer Speed Figure coming from 12 lengths back to win December's Springboard Mile is the best Beyer in this field. So is his 107 Equibase from that race. And the pacesetters could give this race the speed this Mineshaft progeny needs for his lethal finishing kick.
Closers do have a good record here, winning every Risen Star from 2012-2017. The last three years, front-runners and stalkers prevailed. But only two colts since 2008 won the Risen Star in their 3-year-old debut. Gun Runner was the last and he was a special horse.
As for his pedigree, Señor Buscador stretches out to nine furlongs for the first time. The 2003 Horse of the Year, Mineshaft, certainly provides distance. So does dam Rose's Desert, a multiple stakes-winning mare. The big questions come from the competition jump and the fact Señor Buscador runs without Lasix for the first time.
The pick: Proxy. Over the last decade, only two favorites found the Risen Star winner's circle and only four – including the two winners – found the board. Proxy hasn't missed it in four starts. His price, pedigree and stubborn temperament – especially in what could be a sloppy Fair Grounds – makes him irresistible here.