The Lecomte Stakes takes center stage this week because it's a Kentucky Derby prep, it's a Kentucky Derby prep run in mid-January, and because there are some interesting candidates among its 11-horse field.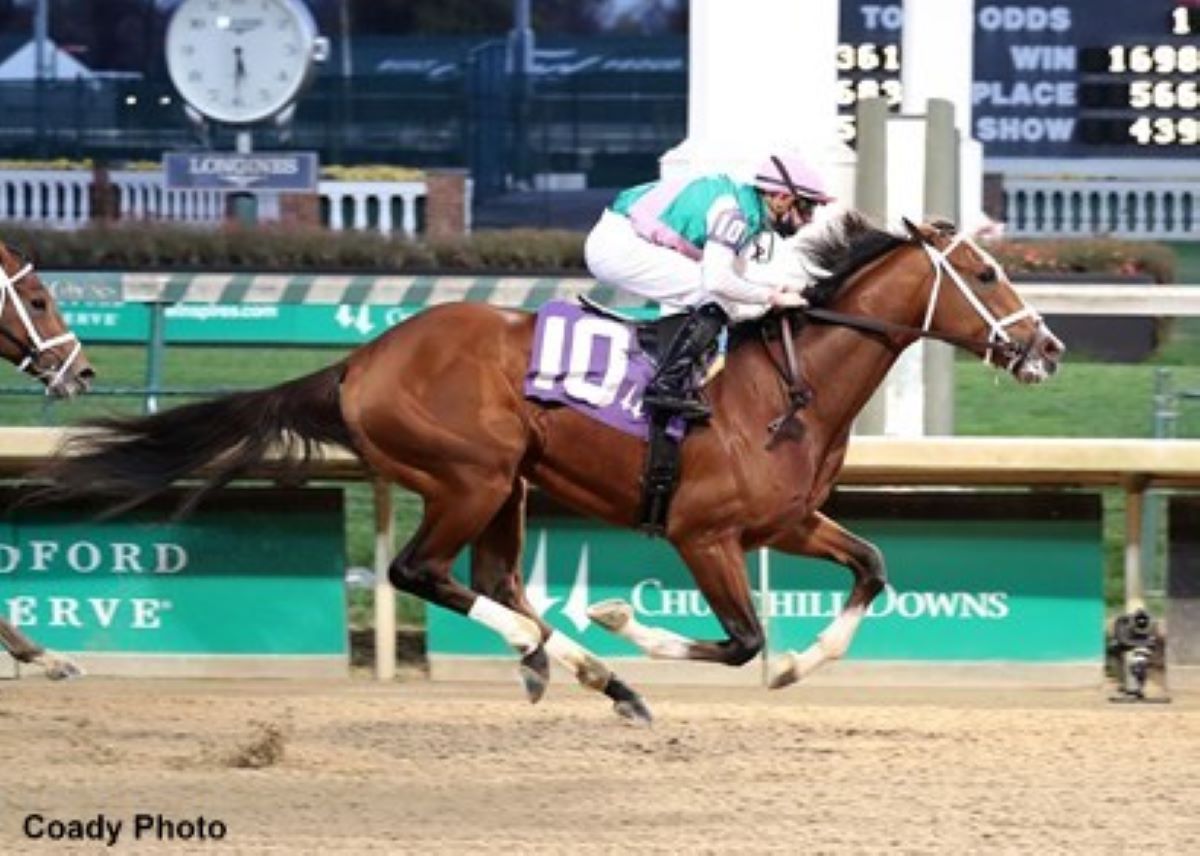 Eventually, the wheat separates from the chaff, and races like the Grade 3 Lecomte start the Derby prospect threshing process. The 1-1/16-mile Lecomte offers 10-4-2-1 Derby qualifying points to its top four finishers. It also caps a six-stakes, 13-race Fair Grounds card that includes the Silverbulletday for 3-year-old fillies, and the Grade 3 Louisiana for older males.
Even with one of last year's Derby prospects, 2020 Louisiana Derby winner Wells Bayou, returning for the Louisiana, the Lecomte takes featured status. Everyone wants to see what Derby prospects emerge, and which ones submerge.
History tells us the Lecomte winner will be one of the favorites, since four of the last five favorites either won or placed. It tells us it will likely be a closer, since Fair Grounds favors closers with its nearly 1,350-foot stretch. Besides, the last six winners were no closer than third at the second call. That includes last year's winner, Enforceable.
Lecomte History is a Brutal Mistress Concerning the Derby
History tells us you can scratch off the Lecomte winner as a legitimate Derby prospect. Since 1962, one horse – War Emblem in 2002 – pulled off the Lecomte/Derby double. Two others, Oxbow in 2013 and War of Will in 2019, captured both the Lecomte and the Preakness. The aforementioned Enforceable? A closer who finished a pedestrian seventh in last year's Derby.
The enduring lesson from the Lecomte: understand what you have here and realize that closers usually win the Lecomte, and rarely win the Derby.
So who can we expect to impress on Saturday, and probably disappoint in May? Start with the favorite, the Brad Cox-trained Mandaloun (3/1). The Into Mischief colt is 2-for-2, but more impressively, he's 2-for-2 while displaying two different running styles. He closed from eighth in his six-furlong maiden-breaking debut at Keeneland, then stalked and pounced in his seven-furlong second outing at Churchill Downs.
Mandaloun Ready to 'Go Long' in Lecomte Stakes
Now, Mandaloun makes his two-turn debut – always a key indicator for 3-year-olds early in the year. He does so from the No. 10 post Enforceable employed in his victory last year.
"We've always felt he was cut out to be a two-turn horse based on his physical make-up and how he trains," Cox told Fair Grounds' Brian Nadeau. "It shows how much talent he's got to be able to win his first two races at sprint distances and now, we're going to do what we've thought he's wanted to do all along, and that's go long."
Derby futures bettors have gone long on Mandaloun. He's 40/1 at Circa Sports and 35/1 at William Hill Nevada.
You May Want Arabian Prince Now, Rather than Later
They've done the same – at least at Circa – for Arabian Prince (6/1). He's 25/1 at Circa. As for the Lecomte, Arabian Prince fits the profile: a deep closer with stakes experience. He finished third in the Kentucky Jockey Club on Thanksgiving weekend. Dallas Stewart, Arabian Prince's trainer, already said his charge will "come running late."
One horse who won't is one of two Mike Stidham entries, Proxy (6/1). The Tapit progeny won two of his first three races, with both wins coming at Fair Grounds. He did so employing a slow pace that kept his competitors in the mix until he pulled away late. Proxy's Equibase Speed Figures in both of those races won't scare anyone: an 81 followed by an 85. And Stidham understands he has the Thoroughbred equivalent of an unruly adolescent.
---
Grade 3 Lecomte Stakes/Fair Grounds
Morning Line (Jockey/Trainer)
Midnight Bourbon, 7/2 (Ricardo Santana Jr./Steve Asmussen)
Arabian Prince, 5/1 (Brian Hernandez Jr./Dallas Stewart)
Beep Beep, 12/1 (Joe Talamo/Norm Casse)
Proxy 6/1 (Mitchell Murrill/Michael Stidham)
Regular Guy, 10/1 (Miguel Mena/Wayne Catalano)
Game Day Play, 20/1 (Gabriel Saez/Brett Calhoun)
Santa Cruiser, 6/1 (James Graham/Keith Desormeaux)
Red N Wild, 20/1 (Declan Carroll/Terry Eoff)
Manor House, 8/1 (Adam Beschizza/Michael Stidham)
Mandaloun, 3/1 (Florent Geroux/Brad Cox)
Dyn O Mite, 30/1 (Colby Hernandez/Keith Desormeaux)
---
"It's like a big, immature kid who is still learning with racing," Stidham said. "Last time when he won, he was a little green about switching leads coming down the lane, but once he leveled off, he drew away at the end, so we were pleased with that."
Midnight Bourbon Pours Out From the Rail
Then, there's Midnight Bourbon (7/2), who already tangled with some of his class' toughest runners. He passed his two-turn test in his lone victory in August at Ellis Park. Then, he finished second to Sittin On Go in the Grade 3 Iroqouis, and third – by 14 lengths – to Jackie's Warrior and Reinvestment Risk in the Grade 1 Champagne. Midnight Bourbon hasn't finished worse than third in his four starts, but this will be a reckoning of sorts for the son of Tiznow.
One other candidate bears mild attention: Santa Cruiser (6/1). The Keith Desormeaux product improved in each of his three races, posting a third, then a second, and then a first with a 98 Equibase in his last outing on Nov. 15 at Churchill Downs. His early speed – he wired the field in his victory — may make him a better prospect going forward than here.
The pick: Mandaloun. Yeah, going chalky in an 11-horse, wild-card field like this is asking for trouble. But what do you expect from the son of a horse named Into Mischief? Besides Mandaloun's closing abilities, Cox is winning races at a 23.6% clip thus far at Fair Grounds.