Wells Bayou put himself on last year's Kentucky Derby Trail with an electric, front-running style comprising equal parts promise and peril. Now, the reigning Louisiana Derby winner puts himself on the comeback trail in Saturday's Grade 3 Louisiana Stakes.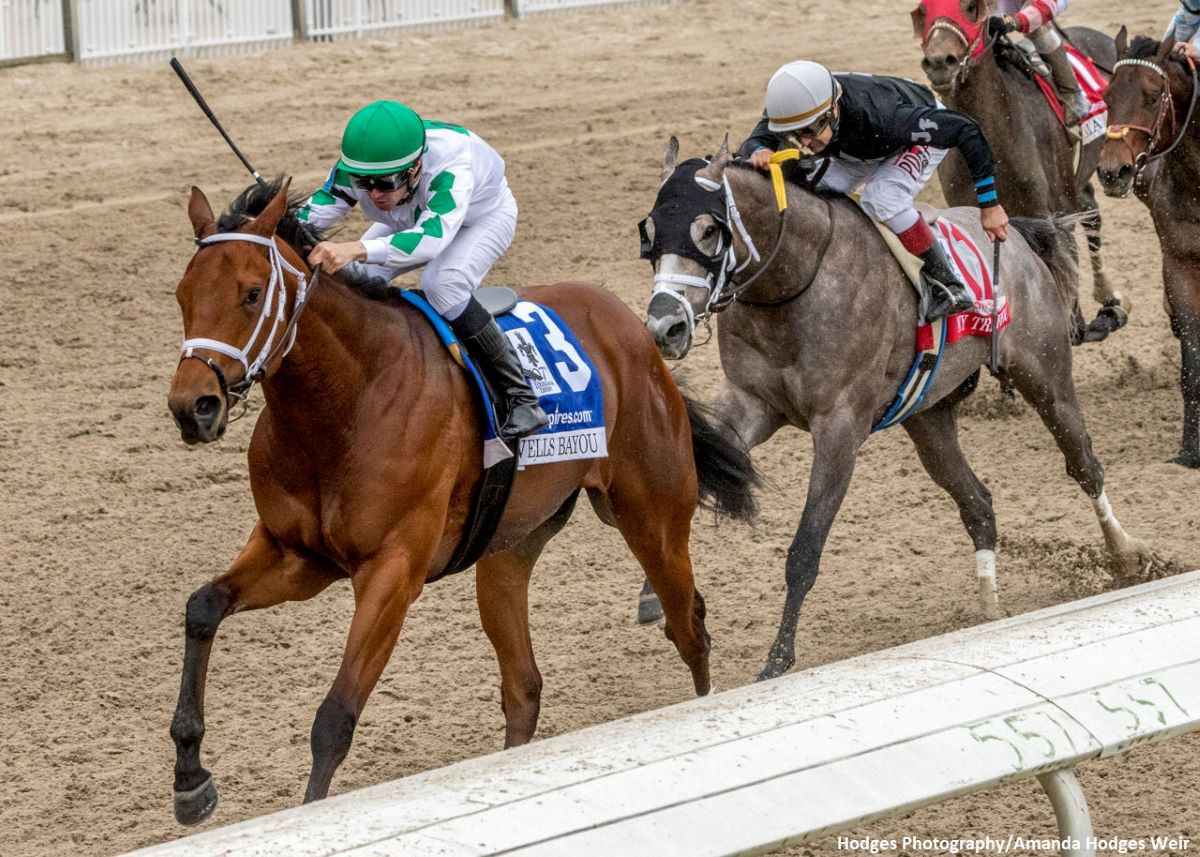 The $125,000 Louisiana is one of six stakes on Saturday's Fair Grounds card. It comprises the second leg of the card's $100,000 guaranteed "All Stakes Pick Five," and the opening leg of a $150,000 "All Stakes Pick Four." Both sequences conclude with the Grade 3 Lecomte, the 13th and final race.
By the time the Lecomte goes off, Wells Bayou will likely be back in his barn. He won't watch several of this year's Derby prospects tangle for the 17 Derby points up for grabs.
Instead, the 4-year-old son of Lookin At Lucky tangles with several of his former Derby Trail rivals in a 1-1/16-mile handicap race. After eight months on the sidelines, Wells Bayou finds himself the tepid 3/1 morning line favorite in a race helping define a murky handicap picture among older horses.
Wells Bayou Seeks a Piece of Silver Prospector
There are familiar faces waiting for him, starting with Silver Prospector. He spoiled Wells Bayou's Derby Trail debut at the Southwest Stakes last February. And there's Sonneman, last seen finishing a gutsy second to Maxfield in the Tenacious Stakes last month.
Speaking of gutsy second-place finishes, that defined Wells Bayou's runner-up placing in last year's Southwest Stakes. Wells Bayou came off a strong January allowance win at Oaklawn – his second in three races – before trainer Brad Cox put him on the Derby Trail at the Southwest. He finished a length behind Silver Prospector and 5-½ ahead of third-place Answer In.
A month later, Wells Bayou ran his perfect race, wiring the field in the Grade 2 Louisiana Derby. He overcame a bump with Mailman Money out of the gate, turning his front-running, seize-the-lead style into a 1-½-length victory over Ny Traffic.
Wells Bayou's Risk vs. Reward Style Put on Equal Display
The Louisiana Derby illustrated what Wells Bayou can do against outgunned opponents once he gets the lead – the reward. Six weeks later, the Arkansas Derby illustrated the flip side of that – the risk.
Once again, Wells Bayou broke sharply. He led through the first four calls: start, quarter-mile, half-mile, and three-quarters. But, when eventual winner Nadal came up to him on the second turn, Wells Bayou seized up. He "offered little resistance to the winner when confronted," according to the race notes.
The race notes took a snarkier – yet accurate – tone about what followed. Wells Bayou "folded when headed by that rival by late in the final turn."
Translation: Wells Bayou mailed it in when Nadal blew by him. He eventually finished fifth – 10-¼ lengths back and three lengths behind fourth-place Farmington Road.
That Arkansas Derby Changed Everything about 2020
That was May 2. And we haven't seen Wells Bayou since.
"We worked him a time or two after the Arkansas Derby and we weren't happy with the works," Cox told Fair Grounds' Brian Nadeau. "We sent him off for a bone scan. There was nothing major going on, just a little bone remodeling and young horse stuff, you know, some wear and tear. He just needed some time off, and he got that."
What you'll get Saturday after Wells Bayou's extended vacation is anyone's guess. He's 3-for-6 lifetime, with more than $860,000 in the bank. But proving that horses, like humans, can pack on the pounds during vacations, Wells Bayou apparently employed his front-running style on the feedbag.
"He's been a little slow to get back on track," Cox said. "He was very heavy when he came in. His last few works at Oaklawn have been really sharp. The race (Louisiana) was there, so we would enter and take a good look at it, and it looks like a really good comeback spot for him."