The Arkansas Derby is behind us and a work-in-progress Kentucky Derby Trail lies in front of us. With tracks around the country beginning to open again in the wake of the coronavirus pandemic, and Churchill Downs officials still mapping out prep races, it's a good time to see where the major Kentucky Derby hopefuls may be heading in the spring.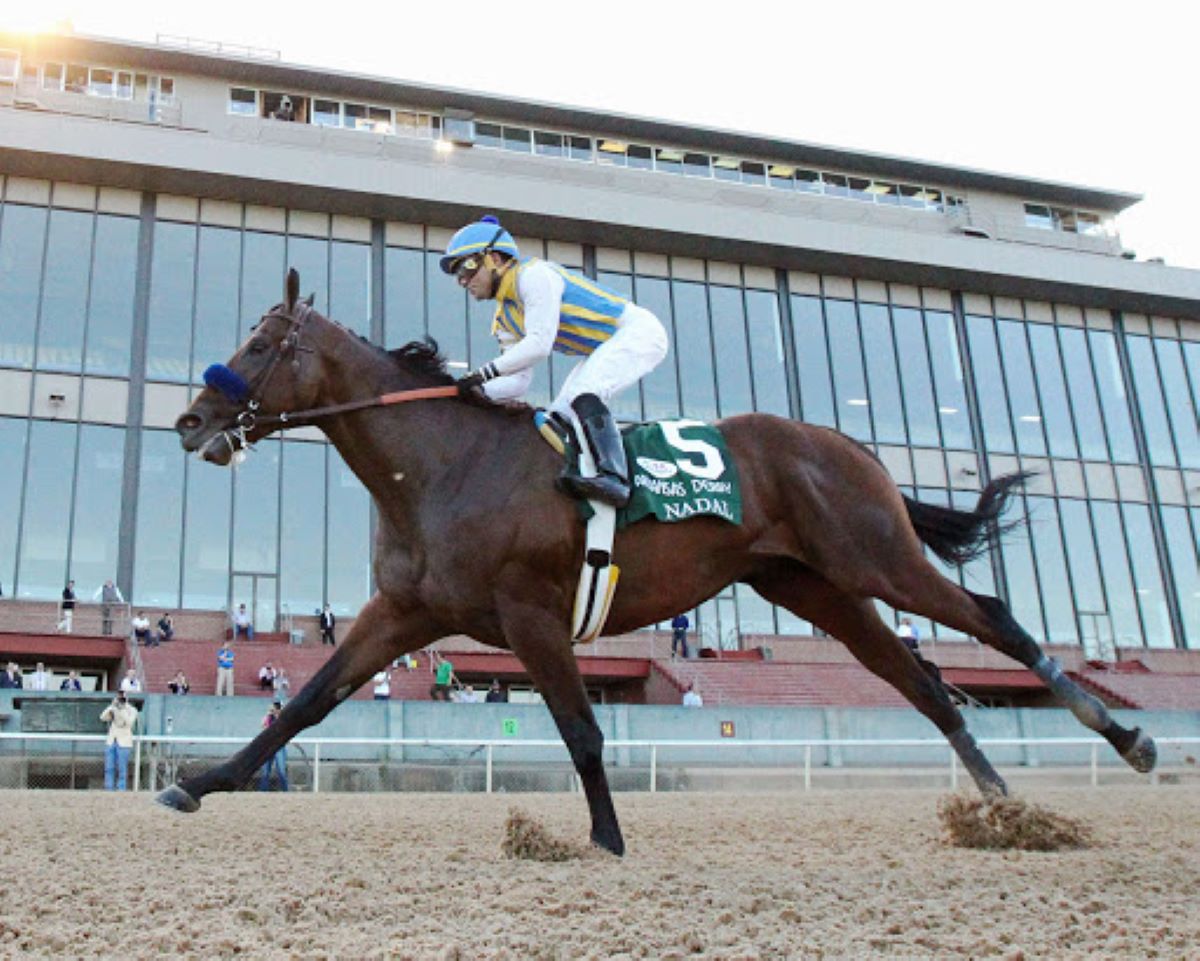 What did we learn from Saturday's two divisions of the Arkansas Derby? What lies ahead for those contenders who not only ran at Oaklawn Park, but those who didn't?
We know Hall of Fame trainer Bob Baffert came out of Oaklawn with two of his star 3-year-olds, Charlatan and Nadal, already gate-bound for the Sept. 5 Kentucky Derby. Both captured their respective divisions in different, yet impressive, fashions.
We also know the Derby Trail remains fluid, especially for 3-year-olds constantly maturing over a long and unpredictable summer. OG breaks down what we learned about several Derby hopefuls heading out of Oaklawn.
Charlatan Proves He's Anything But
Charlatan (100 points): One inevitable day, Charlatan will face a challenge requiring adaptability and demands heretofore unseen. Saturday was not that day.
In winning the Arkansas Derby's first division from gate-to-wire by six lengths, Charlatan drew further comparisons to 2018 Triple Crown winner Justify – who also didn't race at age 2. He formally anointed himself as a legitimate Kentucky Derby threat. Even with a career-low 96 Beyer Speed Figure, Charlatan left everyone gasping for adjectives.
"We knew that horse had lone speed. Man what a horse he turned out to be. He's in a different league," Anneau d'Or trainer Blaine Wright told Oaklawn's Jennifer Hoyt.
"Who wants to take on a horse going 22 (seconds for a quarter-mile) and 46 (seconds for a half-mile) going a mile and an eighth," said Jeremiah O'Dwyer, the trainer for My Friends Beer.
For now, Charlatan will get a couple of weeks off as Baffert hasn't said when he'll run again.
Nadal (150 points): As impressive as his Baffert stablemate was, Nadal was better. His 98 Beyer Speed Figure came against tougher competition. More importantly, Nadal showed heretofore unseen versatility in winning the Arkansas Derby's second division.
His two previous graded stakes victories came on the lead. This time, Nadal let Wells Bayou dictate matters until the far turn, then effortlessly breezed past him to win by 2 ½ lengths over King Guillermo.
"Down the backside, I just loved the way he was," Baffert said. "I figured if he was good enough, he can win from there. We just didn't want to go 22 (seconds for a quarter-mile) and empty out. It worked out perfectly."
Like Charlatan, Nadal heads back to California for some R&R and a TBD next race.
Already in the Derby, Wells Bayou Flunks Key Midterm
Wells Bayou (104 points): The Louisiana Derby winner opened the Arkansas Derby's second division with the perfect start: bolting from his outside post, making a hard left turn, and grabbing the lead. Wells Bayou held it for three-quarters of a mile, but when Nadal passed him on the far turn, Wells Bayou essentially shut down at the top of the stretch. He finished fifth.
With his ticket punched for the Derby, Wells Bayou faced an important question: could his front-running style handle not having the lead? The answer? Not really.
"No excuse. I think that we found out right now, he's a Derby horse. He's got enough points," trainer Brad Cox said. "We're going to have to show a little bit more between now and September to feel confident."
King Guillermo (90 points): The star of former major-league All-Star Victor Martinez's fledgling stable ran a solid, determined race, finishing second to Nadal in the second division. More importantly, that solid, determined race proved King Guillermo's Tampa Bay Derby victory was no fluke. He should be set for Kentucky.
Work Lies Ahead for Two Former Front-Line Contenders
Gouverneur Morris (34 points): Perhaps this son of standout sire Constitution is too laid back for his own good. His third-place finish in the weaker first division was better than his fourth at the Florida Derby, and that's about the best you can say. He has time to improve on his points, but trainer Todd Pletcher's considerable skills are in for a test motivating him.
Storm the Court (32 points): We may have seen the Champion 2-Year-Old's best work already. His sixth-place finish in the second division didn't earn him any points. Does he have the speed to contend with California rivals Nadal, Charlatan, Authentic, and Honor A.P., not to mention Tiz the Law, Maxfield, and King Guillermo? Right now, the answer is "no."
Authentic, Tiz the Law Watch and Wait
Authentic (50 points): Speaking of Authentic, Baffert's third undefeated 3-year-old sat out the Arkansas proceedings back in California. He passed the time turning in a 1:00.40 five-furlong workout last Sunday.
Owned by the same connections as Charlatan, Authentic's next race is likely the June 6 Santa Anita Derby, provided the track gets the necessary approvals to reopen. Honor A.P. is also likely for that race.
Tiz the Law (122 points): With his Florida Derby win booking his post at Churchill Downs, the now-former Derby points leader chilled out in Florida. There was no reason to run in Arkansas.
His New York-based connections at Sackatoga Stables, meanwhile, wait for the NYRA to flesh out its stakes schedule. Tiz the Law could run at a rescheduled Belmont Stakes sometime in June, along with the Travers at Saratoga in August. The July 18 Haskell at Monmouth Park is also a possibility.