With its plan to safely resume racing on May 15 officially in the hands of local legislators, Santa Anita Park laid out its revamped spring stakes schedule – a schedule featuring the Santa Anita Derby and Santa Anita Oaks on June 6.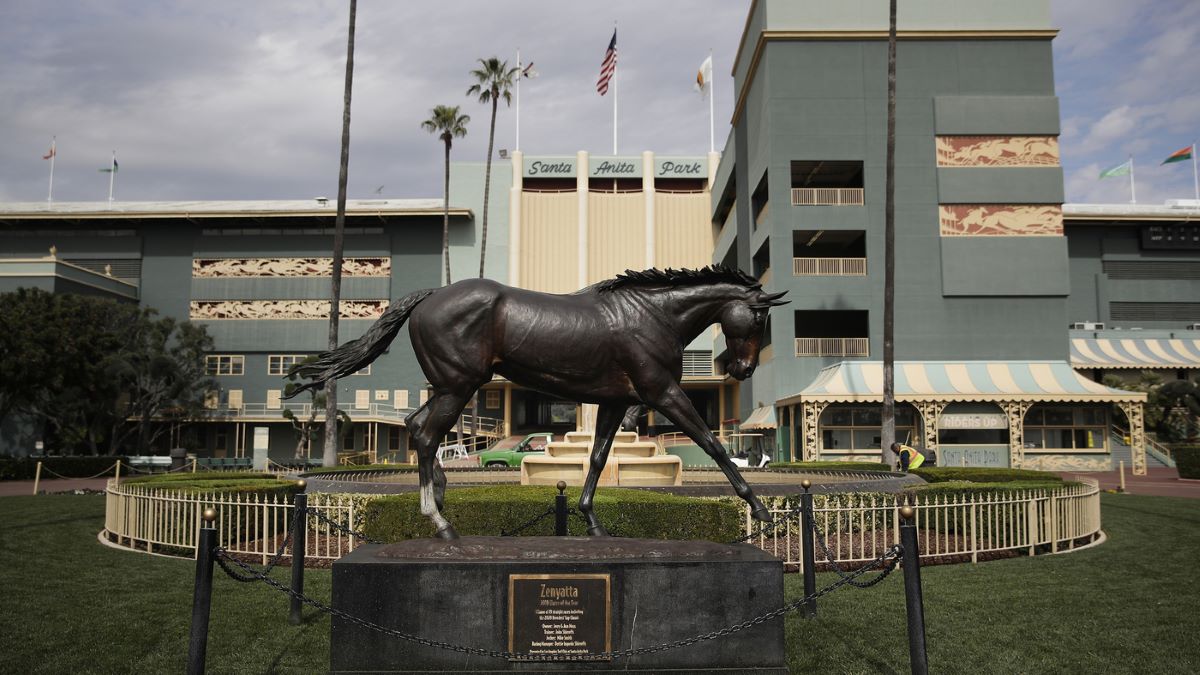 That day sets up as the revamped meet's best card. Aside from the Kentucky Derby prep and Kentucky Oaks prep for 3-year-old fillies, you'll find the Grade 1 $300,000 Gold Cup at Santa Anita for older horses, two other open stakes races, and a pair of Cal-bred races.
All told, June 6 is set to feature seven stakes races. The Santa Anita Derby will have its full complement of 100-40-20-10 Derby qualifying points, along with a reduced purse from $1 million to $400,000. It should also have Bob Baffert's undefeated Authentic as the favorite.
Improbable Probable for Gold Cup
Speaking of Baffert, expect Improbable in the Gold Cup. The Hall of Fame trainer scratched the Grade 1-winning 4-year-old from last Saturday's Oaklawn Handicap due to his outside post.
The June 6 card is one of two headline days on the California track's meet. The May 25 Memorial Day card offers the Grade 1 Shoemaker Mile and Grade 1 Gamely Stakes, a pair of $300,000 races, and the Grade 2 Monrovia Stakes. The Shoemaker Mile is a Breeders' Cup "Win and You're In" race.
---
Key Stakes Races
May 23 — Grade 2 Charlie Whittingham Stakes (1 1/4 miles on hillside turf/3-yr-olds and up)
May 25 — Grade 1 Shoemaker Mile (3-yr-olds and up)
May 25 — Grade 1 Gamely Stakes (1 1/8-mile turf/3-yr-old and up fillies and mares)
May 25 — Grade 2 Monrovia Stakes (5 1/2 furlongs/3-yr-old and up fillies and mares)
June 6 — Grade 1 Santa Anita Derby (1 1/8 miles/3-yr-olds)
June 6 — Grade 2 Santa Anita Oaks (1 1/8 miles/3-yr-old fillies)
June 6 — Grade 1 Gold Cup at Santa Anita (1 1/4 miles/3-yr-olds and up)
June 7 — Grade 2 Triple Bend Stakes (7 furlongs/3-yr-olds and up)
---
The track cards 29 total stakes races between May 16 and June 21. The first graded stakes race is the May 17 $100,000 Grade 3 Desert Stormer Stakes for 3-year-old and up fillies and mares.
All of this, however, remains contingent on Santa Anita getting the green light to resume spectator-free racing. Los Angeles County Health Department officials closed the track on March 27, deeming racing a non-essential business. Since then, officials from Santa Anita's parent company, The Stronach Group, have put on a full-court press to reopen, citing safety concerns for the horses and economic concerns for the more than 750 backstretch workers who care for them.
Should racing resume on May 15, the pandemic would cost Santa Anita 21 days of racing. The track ran without spectators from March 12 to March 27, when county health officials shut down racing 30 minutes before the first post.
Bonus Plan for Out-of-State Shippers
Late last week, Santa Anita released a condition book so horsemen would know about upcoming races if and when racing resumes. The stakes lineup fleshed that out further.
Now, Santa Anita needs to flesh out its sagging fields. To that end, racing officials instituted a bonus system to lure out-of-state owners to Santa Anita. The Sunshine Bonus would pay a 50% bonus to first through fifth-place finishers in non-stakes races if the horse has not raced in California over the last 12 months and had its last start outside the state. Along with that, the track will pay a $3,000 bonus to all horses whose previous starts were outside California.